Legendary 83 year-old hiker becomes oldest to complete the Appalachian Trail
By Julia Clarke
A man known as "Nimblewill Nomad" has become the oldest hiker to complete the long-distance hiking trail at the age of 83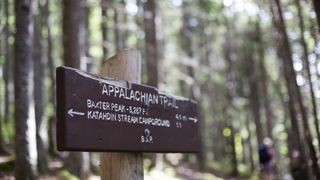 (Image credit: Portland Press Herald / Contributor)
An 83 year-old man who goes by the name of "Nimblewill Nomad" has completed the Appalachian Trail at the age of 83, becoming the oldest hiker to do so.
Meredith Eberhart, a former optometrist from Alabama, finished the 2,193 mile feat from Georgia to Maine on November 7, having turned 83 at the end of October. Eberhart has hiked tens of thousands of miles since retiring in 1993 and become something of a legend in the hiking community.
Living near Springer Mountain, Georgia, where the AT begins, Eberhart began hiking sections of the trail there in his late fifties, when his marriage was dissolving and he found himself estranged from his children. At the age of 61, he set off to walk 4,400 miles from the Florida Keys to Quebec, which he chronicled in his book Ten Million Steps. Since then, he has completed the Pacific Crest Trail, the Continental Divide Trail, and walked from New Mexico to Florida.
At the beginning of 2021, Eberhart announced that this journey, which he called "Odyssey 2021 'Bama to Baxter – Hike On" would be his last such adventure.
"This will be the ultimate journey in this old man's life, one of body, mind and spirit."
Eberhart hiked the trail in sections and completed it in Dalton, Massachusetts. Given his remarkable previous feats, the AT seems like a bit of an easy stroll for Eberhart, however he hiked from his home in Flagg Mountain, Alabama to the trail, adding some 420 miles to the already lengthy walk.
Nevertheless, in his journal entries he described his quest as being full of toil and tribulation, joy and anguish. In his 258th day on the trail, he reported mixed feelings about coming to the end.
"I've entered into a shadowy area, the final few days of this extended journey. I've hope, yet much anxiety, the mixed feelings of wanting to continue, yet the relief of knowing the end will be soon. It's perplexing, and I'm having a hard time dealing with it."
The record comes in the same year as a five-year-old completed the trail, and breaks the previous record held by Dale "Greybeard" Sanders of Memphis who completed it aged 82 in 2017 and drove for two days to be with him when he sauntered across the finish line. The youngest hiker to complete the AT was a four-year-old in 2020.
Julia Clarke is a staff writer for Adventure.com. She is an author, mountain enthusiast and yoga teacher who loves heading uphill on foot, ski, bike and belay. She recently returned to her hometown of Glasgow, Scotland after 20 years living in the USA, 11 of which were spent in the rocky mountains of Vail, Colorado where she owned a boutique yoga studio and explored the west's famous peaks and rivers. She is a champion for enjoying the outdoors sustainably as well as maintaining balance through rest and meditation, which she explores in her book Restorative Yoga for Beginners, a beginner's path to healing with deep relaxation. She enjoys writing about the outdoors, yoga, wellness and travel. In her previous lives, she has also been a radio presenter, music promoter, university teacher and winemaker.
All the latest inspiration, tips and guides to help you plan your next Advnture!
Thank you for signing up to Advnture. You will receive a verification email shortly.
There was a problem. Please refresh the page and try again.