How a 4-year-old hiked the length of the Appalachian Trail
The Netteburg family, including 4-year-old Juniper, hiked every section of the epic, 2,193-mile route from March to October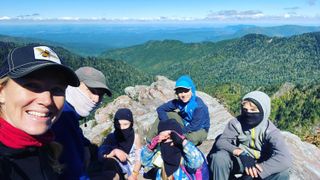 (Image credit: Netteburg family)
The Appalachian Trail is one of the world's great long-distance hiking paths, stretching 2,193 miles (or 3,539km) between Mt Katahdin in Maine and Springer Mountain in Georgia.
More than 3 million people year hike a portion of the trail every year, but a relative handful of motivated souls (about 1,150 in recent years) hike the whole route, either by going from one end to the other or by a 'flip-flopping thru-hike' or by covering every section in piecemeal fashion. Since its inception in 1936, the Appalachian Trail Conservancy (ATC) has recorded approximately 22,500 thru-hiking completions.
Of all of the ambitious thru-hikers who completed the full length of the trail in 2020, none is more impressive than 4-year-old Juniper Netteburg. Although she stands just 43 inches tall (109cm) and weighs 44 pounds (20kg), she had plenty of strength to walk the entire length of the 2,193-mile route on her own two feet during a seven-month excursion with her family between mid-March and mid-October.
How does a family embark on such an amazing adventure? Olen and Danae Netteburg decided to take a nine-month sabbatical from their work as physicians in the African country of Chad, and as they were preparing to travel back to visit family in the US, they came up with the idea to hike the Appalachian Trial with their four children.
They returned to the US in February and began taking day hikes in Pennsylvania then began the trail in earnest from Virginia in mid-March. They worked their way through large sections of the trail in mid-Atlantic State and eventually made it to the northern terminus on Mt Katahdin in Maine, before eventually making it down to Springer Mountain in Georgia.
Tribe called quest
Aside from the very capable Juniper, the family also includes Addison (7), Zane (9) and Lyol (11). With a combination of day hiking, backpacking and slack-packing, the family covered as little as 1 mile (1.6km) and as many as 30 miles (48km) in a single day, and completed the entire trail in piecemeal fashion over the course of 177 days on the trail. Overall, they averaged 12.4 miles (20km) per day, although they admittedly took many days off, too.
"It was pretty adventurous, but it was a lot of fun," Danae Netteburg said. "We don't ever want to be those parents that push their kids too much just because we wanted to push them. In the beginning, we wanted to try this and wanted to make them experience it for a few weeks, but if they didn't like it after a month, we would have stopped. But they absolutely wanted to keep going and really had a lot of fun doing it."
As per tradition of Appalachian Trail thru-hikers, the kids all took on trail names early in the trip. Juniper was given the name 'The Beast' and Addison became known as 'Angel Wings', while Zane was 'Boomerang' and Lyol took on the name 'Blaze'. (Danae and Olen were mostly known as 'Mom' and 'Dad' on the trail, but they eventually took the names 'Queen Bee' and 'Lion King').
"Yes, it was an amazing family adventure," said Olen Netteburg. "Our goal was to keep the kids happy and fed and warm and well-slept and dry. We did a pretty good job at that, at least at the beginning. Their legs would get tired and so we'd stop early and then have fun setting up the campsite. And then we'd let them sleep in the next day and let them wake up on their own. But the more we got into it and the stronger our legs became, the better they all got at hiking longer distances."
Big days on the trail
Although they started with shorter days that ranged from 2.9 miles (4.7km) to 8.4 miles (13.5km) in the first week, they quickly bumped their average daily mileage above 10 miles (16km). The Netteburgs covered at least 20 miles (32km) in a day on 12 occasions and were inspired to tackle their 30-mile (48km) day on August 31, after befriending another thru-hiker named 'Cascade'.
"It wasn't an easy day," Olen said, "It was mostly flat, but it was rockier than we expected it to be, so it took us a lot longer than we thought. It took us about 17 hours to compete it, but we enjoyed it."
Through it all, the family endured a lot of rain in Maine, the rugged, rocky terrain of the White Mountains in New Hampshire, a few bouts of spring snow, hot humid conditions in Virginia and North Carolina and plenty of other challenges along the way, including Olen badly spraining an ankle at one point. But through it all, they carried on and kept finding ways to have fun.
They sang songs, played trail games, enjoyed camp meals and generally enjoyed family time as they immersed in nature. Not only did the kids sing along to songs Danae had downloaded — including the soundtrack from Frozen — but they also made up and modified their own songs. Olen and Danae even did some basic home-schooling instruction and quizzed the kids about spelling, math, history and the natural world. Although they didn't see much wildlife, they did identify numerous bugs and a wide variety of birds along the way.
"Kids are so inquisitive. When you get them out of the house and into nature and they can see what's going on around them, they're going to be naturally curious and start asking questions," Olen said. "It is amazing what they'll remember based on what you tell them."
Hitting the high notes
Among the many highlights of the trip was celebrating Zane's ninth birthday at Mahoosuc Notch in Maine. Although less than a mile in length, Mahoosuc Notch is one of the most challenging parts of the entire Appalachian Trail, a section that includes massive rocks that must be climbed over or crawled under. The family had carried in a helium balloon, cupcakes and a piñata for that stint of the trail.
"They kids really loved that section and did well at it," Olen said. "They got through it all by themselves because they kind of approached it like a jungle gym on the playground."
Olen, an emergency room physician, and Danae, an obstetrics and gynecology doctor, have been working as medical missionaries at Bere Adventist Hospital through Loma Linda University School of Medicine since 2010. They are each called upon to handle a wide range of medical situations at the 100-bed hospital and have had to endure many challenging and unfortunate realities, for example, a high rate of maternal mortality when women die during pregnancy.
"Being out on the trail for that long gave me a sense of peace," Danae said. "Living in Chad, we deal with a lot of situations that you don't see in the US. We deal with a lot of illnesses and deaths that could be preventable, and that's a hard thing as a doctor and as a human being, so I think you carry that weight. So, for me, being on the trail with our family, I was able to find a bit of peace and slow down and enjoy being in nature."
After months of subsisting on a diet that typically included ramen noodles, oatmeal and hot cocoa, the Netteburgs completed the hike with a final, short walk up to Springer Mountain in Georgia on October 13 with Olen's parents, Kermit and Donna Netteburg, who greeted them with t-shirts that read "We did it! 2193 miles."
Setting the record straight
As for Juniper, she is the youngest to complete every mile of the trail (she was only carried across three fast-moving rivers by her father) but otherwise she walked the whole trail on her own. Appalachian Trail expert Warren Doyle, who has thru-hiked the route a record 18 times and assisted thousands of runners and hikers, confirmed that Juniper is the youngest to complete it, but she also believes the Netteburgs are the largest family to hike the entire trail. "They didn't do a traditional unidirectional thru-hike, but pieced long sections together all within one hiking season, Doyle said.
However, the Appalachian Trail Conservancy won't likely recognize those records because the organization was discouraging thru-hikers earlier this year because Covid-19 pandemic precautions resulted in several sections of the trail being closed. The Netteburgs are fine with that because they embarked on the adventure to have an extraordinary family experience, not to set any records.
As many can attest, 2020 has been a challenging year for many reasons. The Netteburgs went out of their way to respect Covid-19 precautions, wore masks and respected temporary trail closures and remain socially distanced on the trail. When trails were temporarily closed, they moved on to other sections and came back when they were re-opened.
"We fully respect the ATC for trying to keep everyone safe," Danae said. "That was the purpose. We still felt like we were sufficiently socially distanced from people to keep ourselves and others safe, too."
Despite the craziness of 2020, it was the ideal year for the family to hike the trail, Olen said. They kids enjoyed it so much, they want to consider doing another long-distance trail in 2021.
"We did our best to remain socially distant and not disturb the peace when we came up on a campsite, but as a family of six, we're not really very peaceful," Olen said with a laugh. "We had a lot more space to spread out and it was a lot easier to find a campsite for six people than it would have been in other years. Otherwise, it's hard for a group of six to do this. It's hard to rely on a campsite for six people to settle down at the end of a day. But we found a way to gently and respectfully pull of an unforgettable adventure."
All the latest inspiration, tips and guides to help you plan your next Advnture!
Brian is an award-winning journalist, photographer and podcaster who has written for Runner's World, The Times, Outside, Men's Journal, Trail Runner, Triathlete and Red Bulletin. He's also the author of several books, including Kicksology: The Hype, Science, Culture and Cool of Running Shoes. He lives in Boulder, Colorado, and loves to run, bike, hike, camp, ski and climb mountains. He has wear-tested more than 1,500 pairs of running shoes, completed four Ironman triathlons, as well as numerous marathons and ultra-distance running races.