Amputee ultrarunner Dave Mackey completes Grand Canyon Rim-to-Rim-to-Rim run
Former FKT holder returns to the Grand Canyon five years after his lower left leg was amputated, and runs rim to rim and back again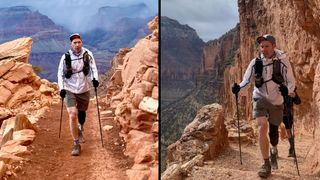 (Image credit: Bob Africa)
The last time Dave Mackey set foot on South Kaibab Trail, it was in the closing moments of setting a new unsupported Fastest Known Time (FKT) by running across the Grand Canyon and back.
On that November day back in 2007, he covered the 44 miles (with 11,000 feet of vertical gain) in the roundtrip run from South Rim to North Rim and back in 6 hours, 59 minutes and 56 seconds. In doing so, he became the first runner to break the 7-hour barrier, and smashed Kyle Skaggs' year-old record of 7:37:00.
But when Mackey returned to Grand Canyon National Park on March 11 this year, things were a little bit different. The Rim to Rim to Rim FKT has been lowered several times and is now held by Jim Walmsley, who ran it in 5:55:20 in 2016. And the 51-year-old Mackey is going into his fifth year running as an amputee.
The veteran ultrarunner suffered a horrific fall while trail running in 2015 in his hometown of Boulder, Colorado, that badly injured his left leg. After 18 months of less-than-complete healing, he eventually decided to have his leg amputated below the knee.
Nonetheless, he has returned to the endurance challenges he loves since getting used to running with a prosthetic, carbon-fiber running blade, twice completing the six-event Leadman competition in Leadville, Colorado, and competing in the 2019 Eco-Challenge in Fiji. His return to the Grand Canyon with Bob Africa, Mike Hewitt and Charles Corfield wasn't with the intent to set a record, but just to complete the epic adventure with friends.
They started from the South Kaibab Trailhead at about 4 am, ran down to the Colorado River, ran and hiked up the North Kaibab Trail to the North Rim. From there, they turned around and retraced their steps back to the South Kaibab Trailhead, completing the journey in just under 14 hours. Mackey said the moving time on his watch was roughly 10 hours.
"It was fun," says Mackey, a two-time North American Ultrarunner of the Year. "I had no idea how long it would take. I thought maybe 12 hours or slightly under that. It was definitely a lot harder than I thought it would be, but we took our time, took a lot of water breaks and took a lot of photos and videos and generally had fun."
Mackey said he didn't have any challenges with his prosthetic leg while running through the Grand Canyon, but he did take it off during two breaks to adjust it slightly for comfort.
"He never ceases to amaze me," Africa says. "He was always a tough athlete, but it's been at a next level since he lost the leg and began doing things with the prosthetic. He knows how to grind and turn himself inside out and finish things when the going gets tough."
Before losing his leg, Mackey was one of the top ultrarunners in the US, as well as being a strong rock climber and adventure racer. He set numerous FKTs, won several U.S. ultrarunning titles and was a three-time top-10 finisher at the Western States 100. He also turned in strong efforts in the Marathon des Sables in Morocco, Hong Kong Ultra 100K and the CCC 100K in Chamonix, France.
Like most trail runners, he didn't enter any races in 2020 because of the Covid-19 pandemic. He admitted his training volume had been modest at best, logging several trail runs a week while also working full-time as a physician assistant and spending time with his family. He had been hoping to return to run the Grand Canyon for more than a year and finally settled on a date with his friends about a month ago.
"I wasn't fit enough for that distance, but it's hard to get two-a-day workouts like I used to," he said. "The longest I had run since the Leadville 100 in 2019 is about 15 miles, so I knew it was going to be a challenge. But we all know what it takes to get through something like that and did what it took to get through it without any trouble."
Mackey's not sure if any other amputee has ever covered the Rim to Rim to Rim endeavor, but he wasn't worried about setting a record just an positive example. He set up the Grand Canyon run as a motivational fundraiser for ROMP, a Denver-based global non-profit organization dedicated to providing prosthetic care to amputees without access. He had intended to join a ROMP fundraising mountain climbing adventure in Ecuador in 2017 but had to back out because of an infection in his leg.
"I am trying to get much more involved for raising awareness for people with disabilities," Mackey says. "I haven't been super active in the amputee community, except for doing my thing and the races I compete in. Part of that is coming to terms with who I really am. I really am an amputee. I don't really see myself that way, but coming to terms with my reality is also being supportive who are athletes with disabilities."
Mackey says he'll be returning to Leadville this summer to compete in the Leadman competition for the fourth time. That summer-long series includes a trail marathon, a 50-mile mountain bike race, a 50-mile trail running race, a 100-mile mountain bike race, a 10K run and a 100-mile trail run, all in the span of about seven weeks.
He finished second overall in 2014 a year before his accident and then returned in 2018 and 2019 and placed 12th both times competing with a prosthetic leg.
"People do a lot of crazy things and they don't put it out there because they don't really care about the notoriety as an amputee or as a disabled athlete, and I typically fall into that category," he says. "I just kind of do my thing. People do crazy stuff and don't really talk about it, but I would love to hear more about people doing those things because it's super inspiring."
All the latest inspiration, tips and guides to help you plan your next Advnture!
Brian is an award-winning journalist, photographer and podcaster who has written for Runner's World, The Times, Outside, Men's Journal, Trail Runner, Triathlete and Red Bulletin. He's also the author of several books, including Kicksology: The Hype, Science, Culture and Cool of Running Shoes. He lives in Boulder, Colorado, and loves to run, bike, hike, camp, ski and climb mountains. He has wear-tested more than 1,500 pairs of running shoes, completed four Ironman triathlons, as well as numerous marathons and ultra-distance running races.