The best women's trail running shoes for fast and light adventures on technical trails
By Amanda Loudin , Fiona Russell
Our selection of the best women's trail running shoes for all kinds of skyrunning, fell running and trail racing adventures, no matter what the conditions
Included in this guide:
1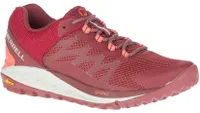 Merrell
Antora 2
2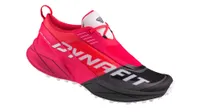 Dynafit
Ultra 100
3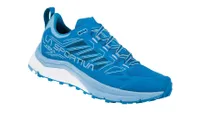 La
Sportiva Jackal
4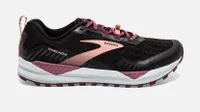 Brooks
Cascadia 15
5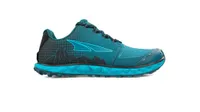 Altra
Superior 4.5
6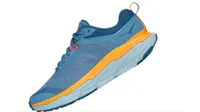 HOKA
One One Challenger ATR 6
7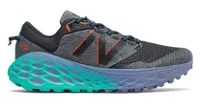 New
Balance Fresh Foam More Trail v1
8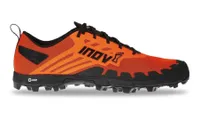 INOV-8
X-Talon G 235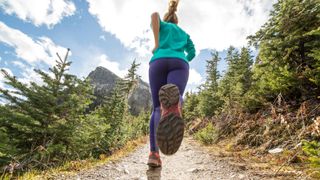 (Image credit: Getty)
The best women's trail running shoes are in high demand. More women than ever before are taking to the trails with speed in mind. The influence of the incredible exploits of athletes like Emelie Forsberg, Sabrina Verjee, Lizzy Hawker and Nicky Spinks has been steadily snowballing, seeing more and more people getting into this exciting and challenging sport.
With a pair of the best women's trail running shoes, there's a whole new world beneath your feet that far outstrips the excitement of road running. Soaring ridge lines; deep, dark forests; exciting rocky scrambles; and muddy tracks await you. The thrill of travelling fast and light across a wild landscape is intoxicating, addictive and downright awesome.
We've rounded up and tested the best women's trail running shoes to help you figure out which fits your needs. These are shoes designed specifically for the female foot, which is what sets them apart from the best trail running shoes for men, some of which work well as a unisex pair. One helpful hint: if you like a road shoe from a particular brand, trying their comparable trail shoe can often be a good starting point.
But more than anything, knowing your preferences for cushioning and fit – along with an understanding of the types of trail conditions you'll take on – should determine your choices, and help you select the best women's trail running shoes for you. With winter in full swing, if you're planning to hit the trails, you might want to consider getting a pair of the best women's running leggings too.

The best women's trail running shoes you can buy today: our top picks
Without further ado, we introduce you to our selection of the best women's trail running shoes in 2021.
The best women's trail running shoes overall
Merrell Antora 2
Lightweight, tactile runners for women who like to feel the trail beneath their feet
Specifications
RRP:
$110 (US) / £84 (UK)
Weight (per shoe):
270g/9.5oz
Materials used:
Mesh and TPU upper, lightweight EVA foam midsole, Vibram TC5+ rubber sole
Colours:
Black / Lichen / Black and Camo / Black and Shark / Capri / Highrise
Compatibility:
Women-specific, lightweight shoes for running a wide range of trails in moderate conditions
Reasons to buy
+

Good ground feel
+

Snug fit
+

Good traction
Merrell began its trail shoe journey with barely-there, minimalist offerings, and continues in that vein for, the most part, to this day. This sets the brand apart to a degree, as trends over the past few years have seen trail running shoes become increasingly more cushioned and maximalist in design. The Antora 2 is one of Merrell's latest models and is designed for females only. Like most Merrell shoes, it delivers a lightweight, natural feel, but comes armed with a burly, super-grippy Vibram sole. With a lower stack height than many of today's trail shoes, this model works well for those who prefer a closer-to-the-ground feel and some agility when jumping over roots and rocks. With a medial post for slight pronation control, the ride in this shoe is stable and firm, which is worth noting for those who prefer something a bit more free-feeling.
Best women's trail running shoes for ultras
Shoes that offer maximum cushioning and a comfortable fit for long-distance training on trails
Specifications
RRP:
Standard: $140 (US) / £135 (UK); GTX: $170 (US) / £170
Weight (per shoe):
Standard: 270g/9.5oz; GTX: 290g / 10.2oz
Materials used:
Pomoca outsole, mesh upper covering laces, GTX membrane in more expensive option
Colors:
Fluro / Pink & black / Poseidon / Silvretta / Poseidon & super mint
Compatibility:
Longer distance trail running
Reasons to buy
+

Women's specific design
+

Comfort
+

Cushioning
+

Stretch lace cover
+

Great colors
Reasons to avoid
-

Traction for trails not hills
-

Small sizing
-

Less color options in the women's range than the men's
Dynafit have designed a new and very comfortable last (the mold upon which the shoe is shaped) for the Ultra 100. The shoe also offers high levels of cushioning, and it is aimed at runners who train over long distances. The 'Pomoca' outsole – a material with its feet in the ski industry – also provides grip for a range of surfaces, although I would recommend them for hard-packed trails, rather than muddy hills. The heel-to-toe drop is a nice neutral 6mm, and a 'Heel Preloader' gives good support and fit around the heel while also offering comfort due to a lower and softer profile on the back of the shoe. The durability of the upper part of the shoe is enhanced by a rubber toe and heel bumpers. The lacing system is hidden beneath an in-built stretch cover that provides protection against dirt and pebbles, and also helps prevent the laces coming undone.
Dynafit have put some thought into the women's version of this shoe, which is considerably lighter than the men's (by around 40g per shoe) and has a narrower fit, including in the forefoot and heel. There are only three colour ways for women, compared to five in the men's range, but they are all bright and beautiful.
Note that the shoes are short – I recommend going a whole size up from your normal running shoe size.
Best women's mountain running shoes
A cushioned all-mountain trail running shoe for medium-distance training runs and ultra distance races
Specifications
RRP:
$140 (US) / £130 (UK)
Weight (per shoe):
250g/8.8oz
Materials used:
Sandwich Mesh upper with No-Sew thermo-adhesive reinforcements and breathable Mono-burr nylon inserts, TPU toe cap; 4mm Ortholite Insole with compression molded EVA and Infinitoo PU inserts; 1.5mm Dual Density Compressed EVA Rock Guard underfoot; FriXion XT 2.0 outsole with impact brake System, FLEX Inserts and 3mm lugs
Colors:
Hibiscus & Malibu blue / Neptune & Pacific blue / Celery & kiwi
Compatibility:
This is an all-terrain off-road shoe, but it excels on mountain trails
Reasons to buy
+

Cushioned sole
+

Traction on a range of terrain
+

Soft, fitted tongue
+

Higher volume forefoot
+

Comfortable
Reasons to avoid
-

Only 3 color options for women
The La Sportiva Jackal is designed to be a comfortable fit for medium to long distances on a range of mountain terrain. The cushioned sole has a 7mm heel-to-toe drop and boasts 'Infinitoo' high-energy return technology. The midsole also incorporates a high-density EVA Rock-Shield for a more stable run with rock-guard effect (supplying protection for your sole from sharp rocks and sticks). The sole has longitudinal grooves to enhance the flex of the sole along the fold lines, while the dual compound 'Frixion Red tread', with differentiated 'Impact Brake System lugs', gives grip, traction and control on different terrains, including mud, wet rocks and tree roots. The uppers include lateral 'Net-Mesh' to improve ventilation and climate comfort, while protection comes from a toecap and rand. A soft, elastic tongue has what La Sportiva call 'internal bellows' to give protection against intrusion of stones and mud. An extra wider pair of eyes at the top of the lacing facilitates the adaptation of the foot volume during long-distance runs, and therefore accommodates feet that may swell.
The women's Jackal is built on a different Tempo Ultra last to the men's shoes, and this takes into account the fact that women's feet are naturally slimmer and lower volume than men's. In addition, the female version shoes weigh on average 50g less than the men's, and the color options are brighter. La Sportiva shoe are often slightly shorter than other brands, so it might be worth going up a half or full size.
Best women's trail running shoe for general use
The latest update of Brooks' popular trail running shoe boasts rugged protection, trusted stability, plus improved fit and breathability
Specifications
RRP:
Standard: $130 (US) / £120 (UK), GTX: $160 (US only)
Weight (per shoe):
283.5g / 10.4oz
Materials used:
Monoloop mesh upper; TrailTack sticky rubber outsoles
Colors:
Black, ebony & coral cloud / Nocturne, zinfandel & black
Compatibility:
A wide range of trails
Reasons to buy
+

Trusted and popular
+

Great comfort fit
+

Rock plate for protection
+

Wide range of sizes
+

Two widths
+

Good price
Reasons to avoid
-

Fairly stiff sole
-

Not the lightest
-

High volume forefoot
The latest update of the tried-and-trusted Brooks Cascadia trail running shoe includes an upper made of newly engineered monoloop mesh with a '3D Fit Print' for increased breathability and faster dry time. Available for a pretty decent price (compared to many similarly featured trail running shoes, the uppers also feature a full circumference rand for protection from stones and vegetation, and a sole that folds up over the toe area for further durability. The sole has a built-in rock plate to provide greater protection underfoot from pointy rocks and roots, while there is enhanced cushioning thanks to something called 'BioMoGo DNA'. We are not sure what BioMoGo DNA is exactly, but on test the shoes did feel very comfortable and cushioned. A 'Pivot Post System' offers a stable platform that allows the foot to adapt to any terrain, and the outsoles give added grip on off-road terrain. Other details include neutral support with an 8mm heel-to-toe drop; a choice of widths and a wide range of sizes for women; a lace-keeper loop to stow laces out of the way; and attachment points for gaiters if you choose to wear them. The forefoot offers high volume, which some runners will like while others will find too much. A more expensive GTX version is available in the US.
The women's specific Cascadia is designed to fit the female foot and is sold in a medium (1B) and wide (1D) fit. Each shoe weights on average 283g, which is lighter than the men's equivalent. (This is not the lightest shoe on test but it is good to have a choice of width.) The three colorways available for the women's shoe each feature pink, to a lesser or greater extent. This is fine if you like pink but not so good if you prefer not to wear girlie pink.
Best lightweight women's trail running shoe
Altra Superior 4.5
A minimalist shoe that lets you connect intimately with the trail
Specifications
RRP:
$110 (US) / £115 (UK)
Weight (per shoe):
198g/7oz
Materials used:
Seamless wrap-around engineered knit upper, MaxTrac rubber outsole, Contour footbed insole with removable StoneGuard
Colours:
black pink / Capri breeze
Compatibility:
From woodland paths to technical singletrack trails – you can take this shoe most places, but your legs and feet need to be barefoot fit
Reasons to buy
+

Lightweight, barely there feel
+

Wide toe box
+

Flexible ride
Reasons to avoid
-

Less traction than some others
-

Less protection
Altra has been around for about a decade now and it has remained true to its origins, offering up a foot-shaped design that allows for comfort and a barefoot feel. This translates into fantastic ground feel. The sole is also extremely flexible, a feature loved by those who prefer to let their feet move as designed. With less cushioning and bulk, the Superior also feels light and in touch with the trail. Another mainstay of Altra is its zero drop design, which appeals to minimalist runners. If you've never tried a zero drop shoe, however, do ease your way into it in order to prevent lower leg injury. If you like protection from obstacles on the trail, this probably isn't the shoe for you, but it coped with the Appalachian Trail on our test.
Best maximalist women's trail running shoe
HOKA One One Challenger ATR 6
A versatile maximalist shoe, comfortable on trails, roads and lanes alike
Specifications
RRP:
$130 (US) / £115 (UK)
Weight (per shoe):
229g/8.1oz
Materials used:
recycled yarn, CMEVA foam midsole, rubber outsole with zonal construction
Colours:
Black iris and hot coral / Cascade and ombre blue / Provincial blue and saffron
Compatibility:
Ideal for mixed terrain runs that take in sections of road and stretches of rough stuff, but nothing super gnarly
Reasons to buy
+

Well cushioned
+

Versatile
+

Roomy
Reasons to avoid
-

Not made for very technical conditions
-

Lower ground feel
If you are looking for a shoe that transitions well from road to trail and back again, the Challenger ATR 6 is for you. HOKA designed this shoe with a versatile, all-terrain sole that is suitable for a wide variety of surfaces. The outsole features 'zonal' construction with the goal of optimizing grip, while keeping the weight low. As the original 'maximalist' shoe, HOKA is known for its cushioning and has earned a cult following for the soft landing it provides. The Challenger stays true to this mission, while also feeling quite agile. The tradeoff for this cushioning is the lack of ground feel, which some runners are loath to give up on tricky trails. HOKA has a wide variety of model options, allowing you to pick the one that best fits your needs. The Challenger stands out for its versatility.
Best women's trail running shoes for cushioning
New Balance Fresh Foam More Trail v1
Highly featured, versatile maxi shoe for a range of trails
Specifications
RRP:
$165 (US) / £140 (UK)
Weight (per shoe):
252g/8.9oz
Materials used:
DWR-treated mesh upper, FRESH FOAMx midsole, Vibram outsole
Colours:
Lead with magnetic blue and tidepool
Compatibility:
Can handle technical trails, but performs better in drier conditions than slurpy mud
Reasons to buy
+

Thoughtful design elements
+

Maximal cushion
+

Agile ride
This is a brand that doesn't wade into trails nearly as much as roads, but in carrying over its popular fresh foam design from the road to the trail, New Balance will likely find some fans. This is particularly true for runners who wear the popular Fresh Foam 1080, which offers a similar, roomy fit in the mid- and forefoot. In spite of the roominess in the middle of the shoe, the heel fits snugly and the shoe feels secure when jumping over a small stream or rocks. It also provides a surprisingly agile ride for a maximal shoe. New Balance also paid attention to details, like sewing the tongue into the upper, helping to keep dirt and debris on the outside. The lug design on the sole features bigger lugs toward the rear of the shoe, graduating to smaller lugs up front. These serve to make the shoe equally stable on ascents and descents, and add a bit of versatility to where you can take the shoe.
Best women's trail running shoes for running in mud
INOV-8 X-Talon G 235
Aggressive, toothy trail-hugging high performer in adverse conditions
Specifications
RRP:
$180 (US) / £140 (UK)
Weight (per shoe):
235g/8.3oz
Materials used:
Synthetic upper, Powerflow+ midsole, Graphene Grip sole
Colours:
Orange and black
Compatibility:
The muckier, rougher, tougher and more technical the trail the better – a classic fell running shoe
Reasons to buy
+

Good grip
+

Minimal, lightweight feel
+

Fast ride
Reasons to avoid
-

Low cushioning
-

Expensive
-

Narrow toe box
This British brand has multiple models to select from, but the X-Talon is a consistently popular choice for experienced rough-terrain runners who frequent technical and challenging trails. It offers a rare combination of a flexible, lightweight feel equipped with a good grip in the sole. In fact, some users have commented that it gives the sensation of a trail shoe combined with cleats. It does all of this with a full rock plate running down the bottom. The shoe wraps and hugs the foot thanks to its gusseted tongue, which means your foot doesn't slide around when hopping from rock to rock or slogging through mud. As a result, the shoe is a bit on the narrow side, not offering the toe splay you might find from a wider toe box. Cushioning is minimal, so this is not the shoe for someone who likes a pillow-like landing.
How to choose the best women's trail running shoes
Just like choosing road shoes or hiking shoes, picking the best women's trail running shoes is a very individual decision. However, there are different benchmarks to use when selecting the right pair.
If you're new to trail running, the easiest place to start is probably finding the hiking shoe equivalent in the brand you prefer as a starting point. But if that doesn't work for you, experiment a bit until you find your sweet spot. While doing so, think carefully about the following:
Where you run
Think about the type of terrain you usually take on – is it dry, muddy (see: Running in mud), rocky, smooth, or what? If you'll be sloshing through streams or lots of mud, keep an eye out for upper materials that afford some waterproof qualities. Also look for an upper that offers quick drainage so that you're not lugging around all that extra weight when wet. For more on this, check out Anatomy of a trail running shoe and How to choose trail running shoes.
Protection and padding
If you're intending to run on rough trails, with sharp rocks and sticks, you'll need more protection – ideally a shoe with a rockplate, for instance. Think about whether you're a tactile runner, who wants to feel the trail beneath your feet – if so, consider a more barefoot-style shoe. But if not, look for cushioning in the midsole.
Profile
A big difference between road and trail shoes is the size of the drop between heel and toe. For extra stability on tricky trails, off-road shoes tend to have less drop, although the exact amount varies.
Weight
If you like something light on the end of your leg, you'll probably have to forgo some of the protection you'll get from a heavier duty trail shoe. Whereas, if you run in winter, you may want more protection and warmth and should go for a bulkier option. Anyway, you'll already be wearing running gloves, leggings and your best running hat so a bit of extra weight is just more water under the bridge. Speaking of water, there's your weight saving: at least you won't have to carry as much in the colder months.
Other considerations
Depending on where you live and what conditions you typically take on, you might want to add on gaiters to keep elements out and off of your shoes. Running socks matter, too – for trail running, an ankle length or higher sock will keep your ankles and lower legs protected from branches, rocks and other natural obstacles. Lightweight wool socks might be the best all around choice to help keep your feet dry and warm.
A US-based freelancer with a penchant for dirt, when she's not writing about the outdoors, Amanda is in it, running trails with two-legged and four-legged friends alike. You can find her work in the Washington Post, Outside magazine, REI's Co-op blog and many other outlets. Visit Amanda's website to read some of her latest pieces.
All the latest inspiration, tips and guides to help you plan your next Advnture!
Thank you for signing up to Advnture. You will receive a verification email shortly.
There was a problem. Please refresh the page and try again.