Best women's trail running shoes: for off-road running and racing
Our pick of the best women's trail running shoes for hitting the hills, wending through woodlands and taking on technical terrain in all kinds of conditions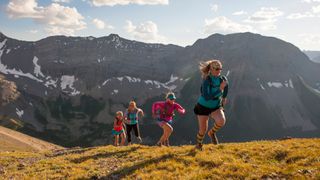 (Image credit: Getty)
Slipping on the best women's trail running shoes and putting in your daily or weekly quota of miles on the trails instead of the roads is a great way to super-charge your fix of aerobic exercise and enjoy oodles of natural eye-candy while doing your workouts. If you're going to make that transition, however, your best bet is to swap out the smooth treads of your road shoes to something better suited to dirt, rocks and roots.
The influence of the incredible exploits of athletes like Emelie Forsberg (along with hubby Kilian Jornet) and Lizzy Hawker has been steadily snowballing, seeing more and more people getting into this exciting and challenging sport.
We've rounded up and tested the best women's trail running shoes to help you figure out which fits your needs. One helpful hint: If you like a road shoe from a particular brand, trying their comparable trail shoe can often be a good starting point.
But more than anything, knowing your preferences for cushioning and fit – along with an understanding of the types of trail conditions you'll take on – should determine your choices, and help you select the best women's trail running shoes for you. If you're looking for men's or unisex trail running shoes, check out our selection of the best trail running shoes for 2021. And if you're new to trail running or simply looking to get your hands on kit that can seriously enhance your performance, check out our best leggings for running, best sports bras for running, best trail running socks, and best women's running shorts.
The best women's trail running shoes you can buy today: our top picks
Without further ado, we introduce you to our selection of the best women's trail running shoes in 2021.
The best women's trail running shoes overall
Merrell Antora 2
Lightweight, tactile runners for women who like to feel the trail beneath their feet
RRP: $110 (US) / £84 (UK) | Weight (per shoe): 270g/9.5oz | Materials used: Mesh and TPU upper, lightweight EVA foam midsole, Vibram TC5+ rubber sole | Drop: 8mm | Colours: Black / Lichen / Black and Camo / Black and Shark / Capri / Highrise | Compatibility: Women-specific, lightweight shoes for running a wide range of trails in moderate conditions
Good ground feel
Snug fit
Good traction
Stiff ride
Merrell began its trail shoe journey with barely-there, minimalist offerings, and continues in that vein for, the most part, to this day. This sets the brand apart to a degree, as trends over the past few years have seen trail running shoes become increasingly more cushioned and maximalist in design. The Antora 2 is one of Merrell's latest models and is designed for females only. Like most Merrell shoes, it delivers a lightweight, natural feel, but comes armed with a burly, super-grippy Vibram sole. With a lower stack height than many of today's trail shoes, this model works well for those who prefer a closer-to-the-ground feel and some agility when jumping over roots and rocks. With a medial post for slight pronation control, the ride in this shoe is stable and firm, which is worth noting for those who prefer something a bit more free-feeling.
Best lightweight women's trail running shoe
Altra Superior 4.5
A minimalist shoe that lets you connect intimately with the trail
RRP: $110 (US) / £115 (UK) | Weight (per shoe): 198g/7oz | Materials used: Seamless wrap-around engineered knit upper, MaxTrac rubber outsole, Contour footbed insole with removable StoneGuard | Drop: 0mm | Colours: black pink / Capri breeze | Compatibility: From woodland paths to technical singletrack trails – you can take this shoe most places, but your legs and feet need to be barefoot fit
Lightweight, barely there feel
Wide toe box
Flexible ride
Less traction than some others
Less protection
Altra has been around for about a decade now and it has remained true to its origins, offering up a foot-shaped design that allows for comfort and a barefoot feel. This translates into fantastic ground feel. The sole is also extremely flexible, a feature loved by those who prefer to let their feet move as designed. With less cushioning and bulk, the Superior also feels light and in touch with the trail. Another mainstay of Altra is its zero drop design, which appeals to minimalist runners. If you've never tried a zero drop shoe, however, do ease your way into it in order to prevent lower leg injury. If you like protection from obstacles on the trail, this probably isn't the shoe for you, but it coped with the Appalachian Trail on our test.
Best maximalist women's trail running shoe
HOKA One One Challenger ATR 6
A versatile maximalist shoe, comfortable on trails, roads and lanes alike
RRP: $130 (US) / £115 (UK) | Weight (per shoe): 229g/8.1oz | Materials used: recycled yarn, CMEVA foam midsole, rubber outsole with zonal construction | Drop: 5mm | Colours: Black iris and hot coral / Cascade and ombre blue / Provincial blue and saffron | Compatibility: Ideal for mixed terrain runs that take in sections of road and stretches of rough stuff, but nothing super gnarly
Well cushioned
Versatile
Roomy
Not made for very technical conditions
Lower ground feel
If you are looking for a shoe that transitions well from road to trail and back again, the Challenger ATR 6 is for you. HOKA designed this shoe with a versatile, all-terrain sole that is suitable for a wide variety of surfaces. The outsole features 'zonal' construction with the goal of optimizing grip, while keeping the weight low. As the original 'maximalist' shoe, HOKA is known for its cushioning and has earned a cult following for the soft landing it provides. The Challenger stays true to this mission, while also feeling quite agile. The tradeoff for this cushioning is the lack of ground feel, which some runners are loath to give up on tricky trails. HOKA has a wide variety of model options, allowing you to pick the one that best fits your needs. The Challenger stands out for its versatility.
Best non-technical women's trail running shoes
Nike Air Zoom Terra Kiger 6
An agile shoe that will take you around non-technical trails at a furious pace
RRP: $110 (US) / £115 (UK) | Weight (per shoe): 242g/8.5oz | Materials used: Synthetic leather upper, Nike React foam midsole with a Zoom Air unit in the heel, high-abrasion rubber outsole | Drop: 4mm | Colours: Enigma Stone, limelight and melon tint / Seaweed, spiral sage, aurora green, beyond pink / Off noir, black, iron grey and spruce aura | Compatibility: Perfect for shorter, faster off-road routes across more forgiving terrain
Light and flexible
A road-like ride
Fast in the right conditions
Not made for long runs
Slippery in some conditions
With the brand known far more for its road offerings, many runners are surprised to learn that Nike also produces trail shoes. The Terra Kiger 6 offers up a lightweight, road-like shoe chassis with a trail sole. For those who like to take on the trails at a good clip, this is a solid offering as it feels light and agile. If you're looking for a long-haul trail shoe, however, you might want to opt for something with a bit more cushion and substance. There is a rock plate, but it's not very noticeable, and the sole is less grippy than many other options, particularly if you're taking on wet, slippery conditions. Put it on a smooth, dry trail, however, and it's a performer.
Best women's trail running shoes for gnarly trails
Salomon Wildcross
A fast, lightweight, high-performing shoe with superb grip that can handle pretty much any terrain you throw at it
RRP: $130 (US) / £120 (UK) | Weight (per shoe): 242g/10.2oz | Materials used: full rubber Contagrip outsole, synthetic upper with Gore-tex SensiFit wings and water-repellent TUP mesh | Drop: 8mm | Colours: Black / Meadowbrook, black and North Atlantic / India ink, wine tasting and black | Compatibility: Any trail, any time, any conditions
Versatile traction
Lightweight, fast ride
Low profile
Lacing can be loose
Lack of cushion
Salomon cut its teeth in the mountains and that carries over to all of its shoes. The new Wildcross offers up some of the best traction of any model in this review. The sole features a unique lug pattern that transitions easily from mud to rocks and everything in between, making it a good all-around choice. The sole also provides a solid line of defense against obstacles, keeping your foot safely enmeshed and protected. That said, it doesn't come with much flexibility, if that's what you prefer, nor is it cushioned. The Wildcross is also a lightweight, fast-feeling shoe that hugs your foot. Its lacing system stands out from others – a Salomon hallmark – that allows for quick, one-pull fastening. The result is convenient but not extremely snug, which might be a turn off for some. The toe box is wider than other Salomon models, which are often a bit narrow. Overall, a good workhorse to add to your shoe closet.
Best women's high-drop trail running shoes
New Balance Fresh Foam More Trail v1
Highly featured, versatile maxi shoe for a range of trails
RRP: $165 (US) / £140 (UK) | Weight (per shoe): 252g/8.9oz | Materials used: DWR-treated mesh upper, FRESH FOAMx midsole, Vibram outsole | Drop: 4mm | Colours: Lead with magnetic blue and tidepool | Compatibility: Can handle technical trails, but performs better in drier conditions than slurpy mud
Thoughtful design elements
Maximal cushion
Agile ride
Pricey
Fragile upper
This is a brand that doesn't wade into trails nearly as much as roads, but in carrying over its popular fresh foam design from the road to the trail, New Balance will likely find some fans. This is particularly true for runners who wear the popular Fresh Foam 1080, which offers a similar, roomy fit in the mid- and forefoot. In spite of the roominess in the middle of the shoe, the heel fits snugly and the shoe feels secure when jumping over a small stream or rocks. It also provides a surprisingly agile ride for a maximal shoe. New Balance also paid attention to details, like sewing the tongue into the upper, helping to keep dirt and debris on the outside. The lug design on the sole features bigger lugs toward the rear of the shoe, graduating to smaller lugs up front. These serve to make the shoe equally stable on ascents and descents, and add a bit of versatility to where you can take the shoe.
Best women's trail running shoes for running in mud
INOV-8 X-Talon G 235
Aggressive, toothy trail-hugging high performer in adverse conditions
RRP: $180 (US) / £140 (UK) | Weight (per shoe): 235g/8.3oz | Materials used: Synthetic upper, Powerflow+ midsole, Graphene Grip sole | Drop: 6mm | Colours: Orange and black | Compatibility: The muckier, rougher, tougher and more technical the trail the better – a classic fell running shoe
Good grip
Minimal, lightweight feel
Fast ride
Low cushioning
Expensive
Narrow toe box
This British brand has multiple models to select from, but the X-Talon is a consistently popular choice for experienced rough-terrain runners who frequent technical and challenging trails. It offers a rare combination of a flexible, lightweight feel equipped with a good grip in the sole. In fact, some users have commented that it gives the sensation of a trail shoe combined with cleats. It does all of this with a full rock plate running down the bottom. The shoe wraps and hugs the foot thanks to its gusseted tongue, which means your foot doesn't slide around when hopping from rock to rock or slogging through mud. As a result, the shoe is a bit on the narrow side, not offering the toe splay you might find from a wider toe box. Cushioning is minimal, so this is not the shoe for someone who likes a pillow-like landing.
Most versatile women's trail running shoes
Saucony Peregrine 10
Tenth generation, tried and tested trail performer
RRP: $120 (US) / £115 (UK) | Weight (per shoe): 278g/9.8oz | Materials used: PWRRUN+ Topsole, FormFit and PWRTRAC Outsole | Drop: 4mm | Colours: Black and red / Steel / Pine and orange / Red mutant | Compatibility: This utility player is reliable on almost all trail types, with the exception of deep mud and bogs
Affordable
Comfortable all around
Versatile
No water drainage
Somewhat narrow toe box
If there's a bread-and-butter trail shoe with widespread appeal and popularity, it's the Peregrine from Saucony, now in its 10th iteration. It's a versatile trail runner that can work in multiple conditions, although it's lacking any sort of water drainage system. Regardless, the mesh upper does a good job of keeping the dirt and debris outside, a decent trade-off. The overall feel hits a nice middle ground, not too stiff and not too flexible. The shoe comes with a rock plate for those who need it, but the ride is still responsive enough to take on the ascents and descents as fast as you'd like. The sole feels grippy enough for most conditions, although heavy mud might be a challenge. Overall, this is a great, middle-of-the-road shoe that will please many runners.
How to choose the best women's trail running shoes
Just like choosing road shoes, picking the best women's trail running shoes is a very individual decision. However, there are different benchmarks to use when selecting the right pair (for a more in-depth look at these, check out our comprehensive guide how to choose trail running shoes).
If you're new to trail running, the easiest place to start is probably finding the trail shoe equivalent in the brand you prefer as a starting point. But if that doesn't work for you, experiment a bit until you find your sweet spot. While doing so, think carefully about the following:
Where you run
Think about the type of terrain you usually take on – is it dry, muddy, rocky, smooth, or what? If you'll be sloshing through streams or lots of mud, keep an eye out for upper materials that afford some waterproof qualities. Also look for an upper that offers quick drainage so that you're not lugging around all that extra weight when wet.
Protection and padding
If you're intending to run on rough trails, with sharp rocks and sticks, you'll need more protection – ideally a show with a rockplate, for instance. Think about whether you're a tactile runner, who wants to feel the trail beneath your feet – if so, consider a more barefoot-style shoe. But if not, look for cushioning in the midsole.
Profile
A big difference between road and trail shoes is the size of the drop between heel and toe. For extra stability on tricky trails, off-road shoes tend to have less drop, although the exact amount varies.
Weight
If you like something light on the end of your leg, you'll probably have to forgo some of the protection you'll get from a heavier duty trail shoe.
Other considerations
Depending on where you live and what conditions you typically take on, you might want to add on gaiters to keep elements out and off of your shoes. Socks matter, too – for trail running, an ankle length or higher sock will keep your ankles and lower legs protected from branches, rocks and other natural obstacles. Lightweight wool socks might be the best all around choice to help keep your feet dry and warm.
A US-based freelancer with a penchant for dirt, when she's not writing about the outdoors, Amanda is in it, running trails with two-legged and four-legged friends alike. You can find her work in the Washington Post, Outside magazine, REI's Co-op blog and many other outlets. Visit Amanda's website to read some of her latest pieces.
All the latest inspiration, tips and guides to help you plan your next Advnture!
Thank you for signing up to Advnture. You will receive a verification email shortly.
There was a problem. Please refresh the page and try again.