Hiker survives grizzly attack in Denali National Park after using bear spray
By Julia Clarke
A 55 year old man is in stable condition after the attack by a grizzly bear and her cubs in the Alaskan preserve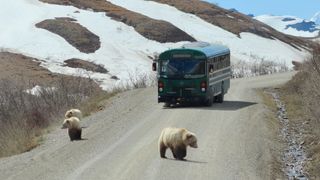 (Image credit: R Lolli Morrow)
A hiker has survived an attack by a grizzly bear in Denali National Park after successfully using bear spray to defend himself.
According to a news release from the National Parks Service (NPS), the 55 year-old man is in stable condition after the attack by a grizzly bear and her cubs in the Alaskan preserve. The tourist was hiking alone in the Thorofare Pass area of the park when the attack took place, and sustained puncture wounds to his calf, left ribs, and left shoulder. 
He reported that he was hiking through dense fog when a grizzly with two young cubs charged at him from the bushes approximately 100 feet away. The bear knocked him down, but he was able to deploy bear spray after which the bears departed quickly, and the man was able to walk 1.5 miles to the Eielson Visitor Center to seek medical attention. 
The NPS has said that due to the apparent defensive nature of this attack, there are no plans to locate the bear involved since female bears with cubs are naturally defensive of their young, especially when surprised.
Denali National Park spans 9,462 square miles of wilderness and is home to hundreds of black and grizzly bears.
Bear attacks are relatively rare, though this summer has seen five fatalities across the country from bear attacks so far which is unusually high. In addition to staying on the trail and remaining visible at all times, bear spray has proven to be an effective measure against bears. If you are hiking in bear territory you should always carry bear spray, and if you are camping overnight, be sure to store your food in a bear canister to avoid inviting bears into camp. You can also check out our guide to what to do if you meet a bear in the wilderness.
Julia Clarke is a staff writer for Adventure.com. She is an author, mountain enthusiast and yoga teacher who loves heading uphill on foot, ski, bike and belay. She recently returned to her hometown of Glasgow, Scotland after 20 years living in the USA, 11 of which were spent in the rocky mountains of Vail, Colorado where she owned a boutique yoga studio and explored the west's famous peaks and rivers. She is a champion for enjoying the outdoors sustainably as well as maintaining balance through rest and meditation, which she explores in her book Restorative Yoga for Beginners, a beginner's path to healing with deep relaxation. She enjoys writing about the outdoors, yoga, wellness and travel. In her previous lives, she has also been a radio presenter, music promoter, university teacher and winemaker.
All the latest inspiration, tips and guides to help you plan your next Advnture!
Thank you for signing up to Advnture. You will receive a verification email shortly.
There was a problem. Please refresh the page and try again.