Big bream and carp haul landed after super heavy feeding
Spessy ace Phil Morton proved heavy baiting can pay even on day sessions.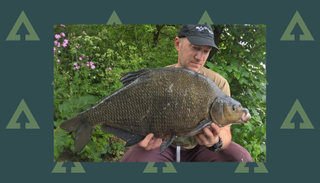 (Image credit: Angler's Mail)
Welcome to Advnture, the new home of AnglersMail.co.uk
Big bream starred in a truly sensational haul for Phil – one that also included carp. It involved using nearly 150 lb of feed!
Tackling Walthamstow No.1 Reservoir on the prolific north east London day ticket complex, firefighter Phil took 29 big bream weighing double-figures.
The slabs ran to 14 lb 12 oz plus he netted carp to 25 lb during the hectic trip.
The 39-year-old, from Chessington, Surrey, said: "It was an amazing day and I only had two bream under 10 lb.
"Amongst these fish were a number of carp to 25 lb with a couple of recent stockies which already look like old London warriors.
"This really pleased me to see the carp stocks already recovering from the fish kill last year and proving good sport.
"During this trip I got through 65 kilos of bait which consisted of hemp, crushed maize and Vitalin as bulking ingredients with Bait-Tech's The Juice' groundbait and stick mix. And I put in 500ml liquids in Berry and Scopex flavours to provide a significant amount of attraction.
"I also included a gallon of maggots and 5 kilos of Bloodworm Micro Pellet mix to hold the huge shoals of big bream which continually move around the lake."
Big bream tactics and tackle
Phil continued: "I Spomb continuously over the rigs at 90 yards which holds the big bream in the area.
"If a bite isn't forthcoming a few Spombs over the top usually sees the indicators dancing once again.
"I fished helicopter rigs consisting of 3 ft of ESP leadcore to a 3 oz zip style lead.
"The hooklength consists a 10 inch length of fluorocarbon with a hair-rigged piece of corn stopped with a fake maggot.
"I then thread seven maggots onto a size 10 hook and balance the hookbait with a no.8 shot on the hair.
"This ensures the hookbait jumps into the fishes mouth as they hoover across the bed of bait.
"Main line consists of 10 lb E-S-P Synchro XT which enables long distance casting whilst providing good abrasion resistance with the large amount of weed now in the lake," concluded the Surbiton Angling Centre consultant.
All the latest inspiration, tips and guides to help you plan your next Advnture!
Running from 1964 until 2020, Angler's Mail was the UK's leading weekly magazine devoted to coarse fishing, telling readers everything they needed to know about which fish to catch, where to catch them, and what kit they needed to do it. Now, loads of the magazine's expert advice can be found on Advnture.com, as a helpful resource for angling newcomers and experts alike.