Farewell to angling great Bob Baker
Tributes have been paid to the pioneer who helped the carp fishing bait industry become the huge enterprise it is today.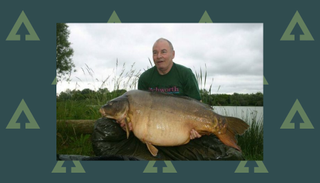 (Image credit: Angler's Mail)
Welcome to Advnture, the new home of AnglersMail.co.uk
Boilie pioneer Bob Baker passed away aged in his early 70s, and there was huge praise for his achievements – and the man himself.
Bob and his wife, Eileen, owned Richworth for 34 years, after they bought out founders Clive Diedrich and Malcolm Winkworth.
Bob took control of the firm in 1982, and put it under parent company Streamselect. It became the first company in the world to sell frozen, ready-rolled boilies in 1983. Tackle shops around the country had to buy chest freezers to accommodate the new range.
Richworth, then based in Surrey, was clearly the market leaders throughout the 1980s. Their products included Tutti Frutti, Salmon Supreme, Honey Yucatan, Pineapple Hawaiian and Plum Royale. The baits came in frozen and shelf-life formats, becoming famous in the UK and abroad.
By the 1990s, Richworth had stiff competition on the boilie scene, but it still had a loyal following, bringing out new baits such as Multi-Plex.
Bob, who lived in Fetcham, continued with his thriving family business, working with his sons, Colin, Steve and Alan, until he retired and sold the firm to Mistral Baits in 2016.
He was a highly accomplished angler, having caught specimens from all over the country. Most notably, Bob scored at Savay Lake, other Colne Valley waters and historic Redmire Pool. But he was best known for his humour and good nature.
Tributes to Bob Baker
Long-time pal Andy Little said: "I am finding it very hard that my dear friend Bob Baker has passed away.
"I met Bob back in the mid-'70s, and we fished and worked together for many years.
"We never lost touch, and I always used to look forward to our phone calls, putting the world to rights.
"He was such a gentleman, and I will always have fond memories of our friendship.
"My thoughts and love go out to Eileen and the boys. God bless you, Bob."
Former carp record holder Lee Jackson, of Kent's The Tackle Box, said: "It is so sad to hear the news that Bob Baker, the man behind the legendary Richworth baits and Tutti Frutti boilies, has passed away.
"Love and condolences to his family and friends.
"His legacy will live on, and he will always be remembered in the hearts of all who knew him.
"RIP, old friend. Hope you find peace fishing the Great Lake in the next dimension and meeting up with old friends."
Bob Baker's son, Alan, now living in New Zealand, said: "Thanks to everyone for their condolences. It's lovely to see how much my dad was liked.
"He will be missed massively, not only by family, but by friends and all those who had the pleasure of knowing him. Rest in peace, dad."
Carpworld magazine closes
There was more bad news for carp fishing when it was announced that monthly magazine Carpworld is closing down.
Co-owner Bev Clifford confirmed that the current March issue will be the last. The same publishers closed weekly magazine Carp-Talk in 2018.
Carp ace and writer Julian Cundiff said: "Having contributed to Issue 1, in 1988, I was pleased to appear in this one, albeit not an article as such.
"Going 32 years with 354 issues is some achievement in the print industry. Sad times."
Big Carp magazine, started in 1991, has also recently announced that it has ceased its print version.
All the latest inspiration, tips and guides to help you plan your next Advnture!
Running from 1964 until 2020, Angler's Mail was the UK's leading weekly magazine devoted to coarse fishing, telling readers everything they needed to know about which fish to catch, where to catch them, and what kit they needed to do it. Now, loads of the magazine's expert advice can be found on Advnture.com, as a helpful resource for angling newcomers and experts alike.