Big bream history made with angler's second 20 lb-plus giant
James Crameri created big bream history when he became the first angler to nab two 20 lb-plus bream.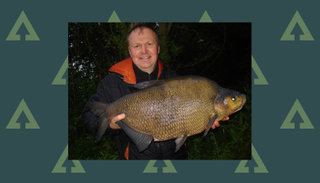 (Image credit: Angler's Mail)
Welcome to Advnture, the new home of AnglersMail.co.uk
The 21 lb 12 oz fish is the third biggest bream ever recorded. James is especially chuffed to have caught it now as he doesn't know how much longer the venue's big bream will last.
They are under threat as otters have recently found the secret Fenland pit.
The 47-year-old from Horringer, Suffolk, explained: "I baited with 4 kilos of mixed particles including corn, casters, pellets and maggots at 80 yards into a deep silt gulley.
"Nothing happened the first night but at 10am I had a bite but as I was playing it in the hook fell out.
"Seeing as the lake is rock hard to get bites from and the stocks of bream are incredibly low in this vast water I was pretty disappointed to lose the first fish of the session.
"More often than not you have to expect blank after blank so to lose that fish was really annoying."
James' big bream "truly special"
James did not have to wait too long though for further action.
He said: "About 7.45pm the bobbin rose on the right hand rod and then slowly started to drop back. I struck immediately and connected with a heavy fish.
"Praying that the hook wasn't going to fall out this time I coaxed the fish back towards me. As it came into the margins it started to kite into some reeds.
"Giving it plenty of side strain brought the fish once again straight in front of me where I managed to net the fish first time.
"Seeing the sheer size of the bream in the net I knew I'd got something truly special. And then lifting it into the unhooking cradle I realised I'd probably caught another bream over 20 lb as my previous best was 20 lb 15 oz.
"To have caught two different bream over 20 lb is mindblowing. Talk about being ecstatic is to say the least."
Big bream threatened by otters
James continued: "The following morning I caught a common carp of 32 lb 4 oz which had been badly damaged by an otter attack.
"Seeing that has made me truly thankful that I caught the bream when I did as I'm seeing regular sightings of otters on the lake now," added the station supervisor for Greater Anglia Trains
As well as his two 20s, James has also notched bream of 19 lb 3 oz and 18 lb and other PBs include barbel 18 lb 15 oz, pike 27 lb 7 oz, rudd 2 lb 8 oz, zander 16 lb 11 oz, carp 44 lb 8 oz, tench 10 lb 4 oz and chub 7 lb 6 oz.
Top 10 big bream caught in UK
22 lb 11 oz Scot Crook Ferry Lagoon 2012
22 lb 9 oz Mark McKenna Ferry Lagoon 2009
21 lb 12 oz James Crameri Fen pit 2018
20 lb 15 oz James Crameri Fen pit 2015
20 lb 12 oz Michael Kennedy Cambs lake 2013
20 lb 1 oz Simon Lavin Secret pit 2011
19 lb 10 oz James Rust Midlands pit 2005
19 lb 8 oz Myles Gibson Syndicate lake 2010
19 lb 6 oz Gordon Ramsden Oxfordshire lake 2009
19 lb 5 oz Chris Ladds Oxfordshire lake 2011
All the latest inspiration, tips and guides to help you plan your next Advnture!
Running from 1964 until 2020, Angler's Mail was the UK's leading weekly magazine devoted to coarse fishing, telling readers everything they needed to know about which fish to catch, where to catch them, and what kit they needed to do it. Now, loads of the magazine's expert advice can be found on Advnture.com, as a helpful resource for angling newcomers and experts alike.