Camping limited in US parks as Covid-19 surges
Many National Forests and National Parks are open for day use only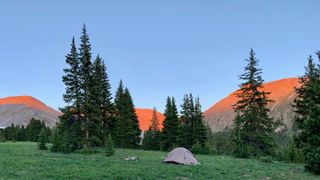 (Image credit: Brian Metzler)
As another Covid-19 surge is causing havoc in the US, it's having an impact on camping, trail access and other recreational opportunities in State and National Parks. If you're itching for a camping trip, there are opportunities available but it might take a bit of research to find the optimal spot at least until springtime.
While most US National Parks and National Forests are open, many have reduced services, lodging, roadways and camping opportunities. That includes typical service reductions because of winter operations and also extended shutdowns because of Covid-19.
For example, it was announced recently that campgrounds at 12 National Forests in California will remain closed through at least January 29. The closure is an extension of the stay-at-home orders in effect across most of the state, according to a Thursday announcement from the US Department of Agriculture.
Several of the campgrounds are in popular outdoor areas across the Sierra Nevada, including Lake Tahoe and the mountainous regions surrounding Yosemite, Sequoia and Kings Canyon national parks, according to a story in the San Francisco Chronicle.
Developed campgrounds – the kinds with picnic tables, fire pits and bathrooms – at many national forests in California have been shut down intermittently during the past 10 months due to the coronavirus pandemic, lockdown mandates and wildfires. Dispersed camping is still available in many national forests on a site-by-site basis. Camping is also available on a limited basis in some Bureau of Land Management properties in California.
Meanwhile, camping in National Parks across the US is also limited, both because of Covid-19 precautions and typical winter operations schedules.
Acadia National Park (Maine)
Acadia National Park is currently open for day use but camping and some picnic areas are closed for the winter season. All visitors entering Maine from another state are expected to quarantine for 14 days before entry to the park.
Arches National Park/Canyonlands National Park (Utah)
All park roads, trails, restrooms, and some camping/backcountry access at Arches National Park and Canyonlands National Park in Moab are open with some restrictions. Backcountry permits and climbing/canyoneering permits for both parks are now available.
Great Smoky Mountains National Park (Tennessee)
Great Smoky Mountains National Park is opened on a limited basis due to Covid-19 and winter operations. Camping is available only at backcountry locations with reservations made in advance.
Hawai'i Volcanoes National Park (Hawaii)
The state of Hawai'i is considering reduced tourism in the wake of a new Covid-19 surge in early January. For now, Hawai'i Volcanoes National Park, on the Big Island of Hawai'i, is open on a limited basis, including backcountry camping with a permit.
Shenandoah National Park (Virginia)
Shenandoah National Park is open for day use but campgrounds are closed until springtime. Park visitors should be aware of winter driving conditions and the possibility of the popular Skyline Drive being closed periodically.
Grand Canyon National Park (Arizona)
Grand Canyon National Park is open with limited services and lodging during its winter operations period. Many day-use services require advanced reservations.
Yellowstone National Park (Wyoming)
Yellowstone National Park is mostly open to day-use visitors, but it has limited roadways and facilities including the closure of some lodges and visitor centers for the duration of the winter.
Yosemite National Park (California)
Yosemite National Park is open for day-use only, but the mandate for reservations for daytime activities (hiking, climbing, cycling, sightseeing) has been rescinded. There are no shuttle services available for the time being and only limited lodging and dining opportunities.
Zion National Park (Utah)
Zion National Park is open with limited operations, but camping is only available via reservations at Watchman Campground. Shuttles are not operating during the winter season. Also, visitors should be aware of the toxic cyanotoxin-producing algae blooms in several bodies of water inside park boundaries.
To search for more National Park recreational opportunities during the winter months, visit the NPS site. For access to BLM lands, visit the BLM recreation pages.
All the latest inspiration, tips and guides to help you plan your next Advnture!
Brian is an award-winning journalist, photographer and podcaster who has written for Runner's World, The Times, Outside, Men's Journal, Trail Runner, Triathlete and Red Bulletin. He's also the author of several books, including Kicksology: The Hype, Science, Culture and Cool of Running Shoes. He lives in Boulder, Colorado, and loves to run, bike, hike, camp, ski and climb mountains. He has wear-tested more than 1,500 pairs of running shoes, completed four Ironman triathlons, as well as numerous marathons and ultra-distance running races.