Best camping chair: for wilderness breaks, picnics, fishing trips and all outdoor occasions
By Sian Lewis
Our top 10 picks of the best camping chairs, from lightweight backpacking stools to cosy two-person loveseats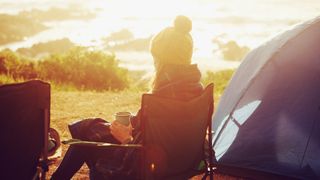 (Image credit: Getty)
We don't think it's an exaggeration to say that the best camping chairs can change your outdoor life. If you've never taken one camping before, give them a try – you'll be astonished at how comfy they make things, letting you sit off the cold ground when you're cooking, eating or just chilling out around the campfire, and making every evening at camp a social occasion.
There's a portable chair out there to suit everyone, from wild campers and backpackers who only carry the essentials to glampers and campervan campers who like a bit of luxury. From tiny portable stools that fold up to the size of a torch to massive cushioned monster chairs that wouldn't look out of place in your sitting room, we've rounded up 10 of the best camping chairs, at prices to fit all budgets.
The best camping chairs you can buy today
After a portable mini chair for lightweight adventures? Look no further than the Helinox Zero. It may look and feel like your standard comfortable camping chair, but this clever design is lightweight and packs down small enough to fit in the side pocket of a backpack, or into a small daysack. It may be compact but it feels very strong and solid, made with ripstop polyester and aluminium poles, and can support up to 120kg. It's also surprisingly comfortable even though it's so low to the ground, and hugs your back nicely and supports most of your body even if you're tall. The Zero currently comes with a free removable padded seat warmer, which you can leave behind if space is at a premium but which definitely makes the minimalist nylon bucket seat comfier and warmer if you do use it. This chair has a three-digit price tag, but we'd argue it's well worth it if you're often exploring off the beaten track.
We weren't sure we saw the point of two-person 'loveseat' camping chairs – until we tried Kelty's Low model. We've been testing the Low Loveseat out for over a year now, and it's come along on every camping trip and been trotted out for every BBQ. There's plenty of room for two people (you don't need to be a couple to use it – as Kelty attest, there's loads of space for 'two people and the dog') and it also supports solo sitters. The wide padded polyester fabric is super comfortable, dries quickly and doesn't show dirt, and like the alloy steel frame, looks and feels like great long-lasting quality. Wide feet make the Loveseat sturdy and unsinkable on any surface – we've even used it on the beach with no issue. As the name hints, the Low Loveseat has short legs and sits close to the ground (34cm/13.5in), making it nigh-on impossible to get up from it without looking rather ungainly – not ideal if you have reduced mobility. There is a taller version available for a similar price, but what you gain in height you lose in stability. The Low Loveseat folds up in seconds and fits easily into its sturdy carry case. If you'd rather go for a single chair version, try the Kelty Lowdown ($55/£49.50).
Keep your camping drinks and snacks on hand with Coleman's comfy director-style chair – the handy side table means you don't need to bring a separate folding camp table with you. We like the curved arms and wide supportive back panel of this model, which only weighs 3.5kg but can still take up to 113kg of weight. A smaller weight and size makes the Deck ideal for popping into motorhome storage space and car boots when you're on the go. Top marks for easy transportation, too – the chair folds up in seconds, and two built-in straps mean you can carry the Deck chair without needing to stick it in an easy-to-misplace carry bag. The aluminium legs are connected, so you won't sink into soft ground. The chair's coated polyester material is easy to wipe clean but we'd still have preferred a darker colour to this light khaki, which does look dirty quickly.
Meet Snow Peak's Folding Chair, a seriously stylish camping chair that wouldn't look out of place on safari. This Japanese brand specialises in beautifully made compact furniture for small spaces, and their director's chair is our top pick of their outdoor-ready designs. Lightweight at under 4kg, it folds down small and flat for easy storage and comes with a built-in carry handle. It's easy to stick in the boot, to store in small campervans or to pop in a shed. The chair itself is made with a tough polyester canvas and a strong aluminium frame and is very comfy, with a wide back panel that looks low but actually offers good support to the lower back, and is designed to promote good posture. Top marks – but is the Folding Chair worth its price tag? If you rate style as highly as substance and want gorgeous chairs to go with your top-of-the-range bell tent, Snow Peak may be for you. Otherwise you'll find decent quality for far less elsewhere. If you love their simple aesthetic, Snow Peak also does a range of beautiful bamboo camping chairs and mini versions of their designs for kids.
Bucket-style chairs are a great choice if you don't want to feel weighed down by bulky camping kit, and are ideal for quick overnighters as well as day trips and festivals. Alpkit's Vagabond is one of the lightest bucket chairs we tested at under 1kg, but despite looking dinky it takes campers of all shapes and sizes easily, and feels reassuringly solid. It doesn't fold up quite as small as some of the other bucket chairs we tested, such as the Helinox Zero, but it will still fit in a larger backpack. We liked the tough fabric and the mesh panels, which are great for keeping you cool in the dog days of summer. The Vagabond doesn't pop into shape instantly, but assembly is quick and easy. The only downside is that the slim feet do sink into soft muddy ground or sand, so it's only really suitable for harder surfaces. The Vagabond's low height is great if you're cooking on a stove that's perched on the floor, or you could make things easier with a table – Alpkit also make an easy to assemble low Vagabond camping table to match their chair.
A perfectly functional camping chair for a paltry £18? (And typically reduced to less than half that.) We're sold – and if you're short on time, you could probably stop reading this review right here. Eurohike's Peak may be the most basic of the best camping chairs we tested, but it still has a comfortable wide seat and a tall back rest, and will take up to 90kg in weight with no issues. The frame doesn't feel as solid as some of the more expensive chairs we tested but it will still stay put, and wide rubber-bottomed legs help mitigate too much sinking into soft ground. At this pocket-friendly price the Peak Chair doesn't need to boast of many extra design features but there's still a cup holder in one arm that will hold your beer, plus a carry case for easy transportation. A great all-rounder, and ideal if you're buying chairs for casual camping trips for a family of four and don't want to break the bank. The Peak is available in multiple colourways, in case you like your camping kit to be matchy-matchy.
Ever heard of a papasan chair? Also known as a moon chair, these round cushioned designs are as comfy and inviting as they look. They translate well as folding camping chairs, and our top pick if you want to go for a portable moon is Outwell's Kentucky Lake. Made with a steel frame, it will hold pretty much anyone's weight, and a thick, padded circular cushion is lovely for lounging around in. We also like the adjustable and removable headrest, which makes the Kentucky Lake comfy for reading. There's one downside here – the hefty weight and bulk of the chair, which means it's only really suitable for larger car boots and longer camping or glamping holidays where you're setting up in one spot. That said, the Kentucky Lake is also brilliant set up in the garden all summer long, and wouldn't even look out of place in your sitting room. Extra features include a mesh pocket on back of the chair and a carry bag.
In the market for a lightweight bucket chair but don't want to splash too much cash? Decathlon, purveyors of affordable and functional camping kit, have come through yet again with this low folding camping chair, which at just 1kg is great for wild camping, weekend camping and bike packing. This little chair packs down very small indeed – we even managed to squeeze the pack into a water bottle pocket – which is perfect for multi-day hikes or for popping in your pannier for a pit stop on longer cycle rides. You'll need to assemble the chair when you need it, which we found a faff to figure out on our first attempt as no instructions are included, but it does only take a minute or two once you get the hang of it. Like with all the smaller chairs we tested, there's some sinking if you're on soft ground (a pity, as wider ski pole-style basket tips would help stop this). The Low Chair doesn't feel as strong and sturdy to sit in as some of its best camping chair peers (the Helinox Chair Zero, for example, which it otherwise resembles), but then again it does cost a fraction of the price, and it's definitely comfy for stopping for a cuppa or stirring your evening meal.
This deckchair-style chair has no hidden bells and whistles – as the title suggests, this is a soft padded armchair, and for that price, what more do you really need? The larger size and middling weight of Mountain Warehouse's offering makes it best suited for longer camping holidays or for popping in larger campervans. Once you get to your home from home it unfolds in seconds, and the surprisingly tough steel frame feels like it will take years of use. Like most deckchair-style camping chairs, this design sits quite low to the ground, so anyone with dodgy knees might want to pick something with a higher seat. A head rest would have made a good addition, but we liked that the longer back rest gives great support to the tall and the short alike. The Armchair is great for sunbathing in the garden as well as at camp, and the smart khaki or orange colourways are easier on the eye than most garish camping chairs – we recommend picking the khaki, which doesn't show up dirt.
Remember when the ultimate in teenage bedroom furniture was an inflatable bubble chair? Get a slice of that '90s nostalgia for your camping setup with Hi-Gear's inflatable Pod chair. Ok, so it isn't practical for more adventurous camping (or indeed, for camping anywhere but on grass and other forgiving surfaces) but it's great fun, and surprisingly comfortable for lounging around on for children and adults alike. You'll need a pump to inflate the Pod, which isn't included, but once blown up it holds its shape well. Plus, deflating the Pod and rolling it up into a slim tube makes it easy to pack away, and at 1.4kg it doesn't add much weight to your camping set-up. The soft-flocked surface feels nice against bare skin, unlike the plastic chairs of yore, and the Pod will easily support anyone weighing up to 100kg, although you do end up very low to the ground. Great for festivals and perfect for free-ranging kids, who will love sitting on (and playing with) these squashy chairs.
What to look for when buying the best camping chairs
Not only will they improve your average camping weekend, but the best camping chairs should last you for decades of camping and festival adventures to come – and they double up as handy garden furniture, too. There are all kinds of designs on the market aimed at different users – our buying guide below explains exactly what key features to look for in a well-made chair. All 10 of the best camping chairs we've recommended are sturdy, long-lasting and easy to unfold and pack away.
Weight and size
Have a think about where and how you plan to use your new camping chair before you invest. If you're going wild camping or usually only camp for a weekend at a time, small, lightweight models such as camping stools and bucket chairs that can fit into or strap onto your backpack are your best bet. If your idea of a good camping holiday is full bells and whistles for two weeks, staying in a posh glamping tent or a plush campervan, you can afford to pick larger but heavier recliner chairs that are big on comfort. Don't forget to consider how you'll transport your new chairs – once folded, they need to fit easily into your car boot as well as in the storage space you'll be keeping them in when you aren't camping. Most brands list the weight and pack size of their chairs, so it's easy to compare. If you want to carry a chair in your backpack for any reasonable distance, we recommend choosing a model weighing around 1kg.
Design
Just like in Goldilocks, there's a camping chair out there designed to suit everyone. The style of folding chair you go for – deckchair, director's chair, recliner, stool or even round moon chair – is up to you, and there are also two-person sofa-style seats available, which are lovely for kicking back around a campfire. Even the cheapest chair will usually support up to 90kg of weight, but if you weigh more it's a good idea to pick a sturdy, well-made model over a cheaper number. We do recommend spending as much as you can afford to on a quality design, as they'll last you longer – some camping chairs are so well-made and attractive that they work as patio furniture or even as spare indoor chairs, which makes more expensive models worth the investment if you can use them year-round. If you plan to use your chairs to eat around a camping table, make sure they sit at the right height for your chosen table. Many portable camping chairs tend to be low to the ground – if you'd find that a struggle to get in and out of, make sure you choose a model that's as tall as the chairs you find comfortable at home.
Features
Whatever kind of chair you go for, there are some key factors to keep in mind. The best camping chairs are lightweight but sturdy, easy to fold down to stow away and made with tough materials. We'd recommend picking a chair built with a water-resistant material such as textaline or a rip-stop nylon, both of which are long-lasting. Look for sturdy aluminium legs, which have a good weight to strength ratio, or steel. Any extra gadgets and gizmos after that are designed to make your life easier and comfier – some chairs have head rests, arm rests, cup holders and mesh compartments for storage, and we'd also recommend picking chairs with their own carry bags, as these are useful if you're popping the chairs away in the garage for the winter and for carrying in and out of campsites or festivals with ease.
All the latest inspiration, tips and guides to help you plan your next Advnture!
Thank you for signing up to Advnture. You will receive a verification email shortly.
There was a problem. Please refresh the page and try again.