Carp poachers ejected for stamping on fish
Angry match anglers confronted poachers at Sookholme Ponds.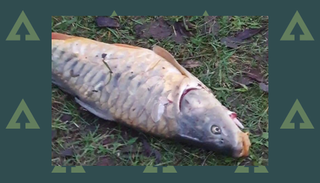 (Image credit: Angler's Mail)
Welcome to Advnture, the new home of AnglersMail.co.uk
The carp poachers were caught red-handed stamping on carp that they wanted to eat, at a prime Nottinghamshire fishery.
The carp poachers, believed to be Romanian, were swiftly ejected from Mansfield's Shirebrook Miners' Welfare AC water Sookholme Ponds.
Club bailiff Des Hallam explained the full story.
"I wasn't on the water at the time, but a local club called Maid Marion had hired one of our three ponds for a match," said Des.
"They noticed some anglers chucking fish back into the water roughly, and then the angler nearest them spotted one stamping on a carp of about 4 lb.
"After the match had finished, all of the anglers decided to go over to these guys, to confront them about their behaviour.
"And that's when they found a black plastic bag with three dead carp in it.
"They took the carp from them and chucked them off the lake.
"A Facebook post about the incident went viral, but had to be taken down, as it prompted too much racial abuse," Des added.
Club secretary Martin Wilkinson added: "As far as I'm aware, the incident wasn't reported to the Environment Agency or the Police.
"Past experiences have left us with no confidence in either of them.
"I can recall one time when a Polish guy thought it was acceptable to kill fish and take them away.
"Fortunately, a member saw him and fetched me. I took one dead carp off him and sent him on his way. He hasn't been back.
"We have also had incidents of baited lines being staked out on the bank, and have found tethered fish, some alive and some dead.
"We have a membership and do sell day tickets on the bank.
"They had three dead carp of between 2 and 4 lb in a bag, which were taken off them, and they were ejected from the fishery," Martin concluded.
All the latest inspiration, tips and guides to help you plan your next Advnture!
Running from 1964 until 2020, Angler's Mail was the UK's leading weekly magazine devoted to coarse fishing, telling readers everything they needed to know about which fish to catch, where to catch them, and what kit they needed to do it. Now, loads of the magazine's expert advice can be found on Advnture.com, as a helpful resource for angling newcomers and experts alike.