Colorado votes for reintroduction of gray wolves
Gray wolves will be returning to the wild lands of Colorado in three years, thanks to Colorado voters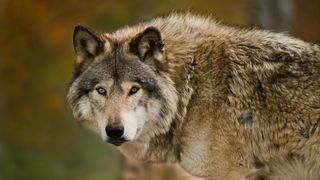 (Image credit: Getty)
A controversial, narrowly approved measure will see wolves running wild in Colorado once again, as early as 2023.
After the razor-thin victory of Proposition 114 on November 5, the controversial reintroduction measure instructs Colorado's Department of Parks and Wildlife to take steps to reintroduce wolves west of the Continental Divide by the end of 2023. The proposition passed with a 50.6 percent approval rate among 3 million voters.
Supporters of the reintroduction believe it can be the start of a wildlife management shift away from prioritizing hunting and agricultural interests toward a holistic re-balancing of ecosystems by restoring a predator.
A strong opposition from rural parts of the state was led by elk hunters, farmers and cattle ranchers. They conceded defeat two days after election day, complaining about 'bad policy' driven by well-funded organizations along Colorado's densely populated Front Range.
Colorado Parks and Wildlife (CPW) declined to respond to media questions after the measure passed, but said it will begin planning for the directive immediately. Cost estimates for the reintroduction effort of he yet undetermined number of gray wolves ranged from $5 million to $6 million over six years.
"CPW is committed to developing a comprehensive plan and in order to do that, we will need input from Coloradans across our state," CPW director Dan Prenzlow said in a statement. "We are evaluating the best path forward to ensure that all statewide interests are well represented."
The wolves are native to Colorado but were completely wiped out in the state by the mid-1940s. Millions of gray wolves once called North America their home, but they were shot, trapped, and poisoned to near-extinction to make way for western development and livestock.
Protections for gray wolves from state to state are patchy. In Colorado, they're still listed as an endangered species. But across the border in Wyoming people are allowed to kill them.
Prop 114 marks the first time voters have made the call on whether or not to reintroduce an animal.
The ballot issue marks first time a state's voters have forced their government to re-introduce an imperiled species. It also prohibits the state from placing land use restrictions on private owners in connection with wolf reintroduction, and requires the state to compensate ranchers for losses due to predation on livestock.
The wolves will be reintroduced on former habitat in the state west of the Continental Divide. Wolves last roamed Colorado in the 1940s. Proponents suggest there could be numerous ecological benefits to their reintroduction, including a reduction in overgrazing, erosion and a better natural balance among species.
The ballot issue gained considerable support in January, when Colorado Parks and Wildlife confirmed the presence of the state's first wolf pack in nearly a century. While opponents seized on that fact as proof that wolves were naturally migrating into Colorado and that reintroducing them would be a waste of money, proponents of the measure argued, with the support of numerous scientists, that those wolves were unlikely to form a sustainable population on their own.
The local victory for supporters of the wolf in Colorado is all the more important because it follows what conservationists see as a huge national roadblock for wolves' recovery. In October, the Trump administration announced it was ending federal protection for gray wolves and returning their management to the states under the Endangered Species Act in the lower 48 states, making the case that the wolves had already successfully made a comeback.
Conservationists in opposition to the reintroduction have said that they'll challenge the decision in court.
"The decision to remove critical protections for still-recovering gray wolves is dangerously short-sighted, especially in the face of an extinction and biodiversity crisis," said Bonnie Rice, senior representative for Sierra Club's Our Wild America Campaign. "We should be putting more effort into coexistence with wolves and reinstating endangered species protections critical for their full recovery."
Bringing all of those perspectives together will be an important next step after the election, says Rebecca Niemiec, an assistant professor in the Human Dimensions of Natural Resources Department at Colorado State University.
"Research shows that with these contentious issues, if we don't bring together people with these diverse values – actually together in a room to engage in shared dialogue and shared decision-making – then conflict between people over wolves can actually escalate. And this can result in negative outcomes for both people and for wolves," Niemiec said.
Gray wolves were reintroduced to Yellowstone National Park in 1995 after a 75-year absence despite strong opposition from ranchers and hunters. But in the 25 years since the reintroduction, the wolf population has become self-sustaining and also contributed to numerous aspects of ecological change, including helping to increase beaver populations and bring back aspen, and vegetation. As of 2020, an estimated 95 wolves reside in Yellowstone, while an additional 500 or so live in the outlying areas.
How will the wolf reintroduction impact hikers, trail runners, mountain bikers and other recreational activities? That remains to be seen, but those in support of the measure are quick to point out that attacks on humans by wolves are extremely rare.
"Based on what's happened in and around Yellowstone, I don't foresee any human interaction at all," says Stephen Grant, a trail runner and backcountry skier from Jackson, Wyoming. "Colorado has a larger human population and greater trail density than Wyoming, but I think any impacts would be ecological and have little impact or interaction with hikers, hunters and other human activity."
All the latest inspiration, tips and guides to help you plan your next Advnture!
Brian is an award-winning journalist, photographer and podcaster who has written for Runner's World, The Times, Outside, Men's Journal, Trail Runner, Triathlete and Red Bulletin. He's also the author of several books, including Kicksology: The Hype, Science, Culture and Cool of Running Shoes. He lives in Boulder, Colorado, and loves to run, bike, hike, camp, ski and climb mountains. He has wear-tested more than 1,500 pairs of running shoes, completed four Ironman triathlons, as well as numerous marathons and ultra-distance running races.