Huge park lake common carp is a regional record
Record-breaking north west common carp weighs in at a massive 57 lb 4 oz.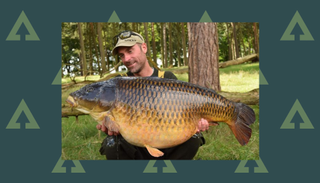 (Image credit: Angler's Mail)
Welcome to Advnture, the new home of AnglersMail.co.uk (opens in new tab)
Captor Rob Allen finally hooked the monster common carp after countless hours of baiting and fishing without putting a fish on the bank.
The 36-year-old builder from Warrington, Cheshire said: "Massive amounts of bait were used over a two-year baiting campaign.
"I mixed my baits using Sticky Baits Manilla and The Krill using a bag a of each one, plus lots of hemp and mixed particle's from Cheshire Particles.
"Four day sessions the weekend before resulted in my first fish of the entire year, after months and months of silent rods. But what a fish it was, the finest looking common I'd ever seen, tipping the scales to an impressive 32 lb 8 oz.
"It was a season-maker itself but made me believe I was very close to achieving my goal," said Rob.
"It almost broke me – mentally & physically"
Rob continued: "So, the following weekend couldn't come quick enough as busy as I was at work, but I had to let the lads down once again, and do another four days session, although it was actually on the first day I hooked the fish of a lifetime.
"What a campaign it was, unexplainable in small words, but it was the toughest challenge you could ever imagine, and almost broke me both mentally and physically.
"But it was worth every minute as now I've caught the north west record and the finest looking carp I will ever set my eye on, so incredible it almost brought me to tears.
"I won't lie, there was a few when it went in the net," he added.
Rob used a simple hair rig, with a very long hair, to take two 20 mm bottom baits as this allows swapping from bottom only to a snowman presentation.
It was a snowman, the topping being a 16 mm White Manilla pop-up, that tricked the stunning common carp.
All the latest inspiration, tips and guides to help you plan your next Advnture!
Running from 1964 until 2020, Angler's Mail was the UK's leading weekly magazine devoted to coarse fishing, telling readers everything they needed to know about which fish to catch, where to catch them, and what kit they needed to do it. Now, loads of the magazine's expert advice can be found on Advnture.com, as a helpful resource for angling newcomers and experts alike.
All the latest inspiration, tips and guides to help you plan your next Advnture!
Thank you for signing up to Advnture. You will receive a verification email shortly.
There was a problem. Please refresh the page and try again.