Damian Hall wins Montane Winter Spine Race 2023
Dream comes true for British ultra runner in his fourth attempt at infamously gruelling race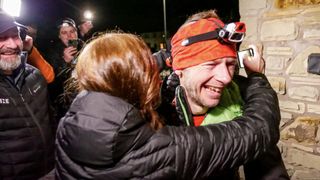 (Image credit: Wild Aperture)
British ultra runner Damian Hall has won the Montane Winter Spine Race 2023 on his fourth attempt. The 47-year-old athlete, who is supported by running brand inov-8, described the triumph as a dream come true.
Hall, who set a fastest men's time for the extreme 268-mile race, crossed the finish line with runner up Jack Scott, also British. Damian completed the race three hours faster than previous male record holder John Kelly (USA).
However, Scott's overall time was reduced by 40 minutes after he made a navigational error and received a penalty.
Hall's time of 84:36:24 and Jack's time of 85:16:24 are both the fastest men's finishes for the Montane Winter Spine Race. Jasmin Paris still holds the overall record time of 83:12:23.
Hall, a running coach, first took part in the Spine Race in 2014, coming fourth, then in 2015, when he was third. An injury forced him to pull out of last year's race.
He said: "It has been a long-held dream to win the Spine Race. When I first took part, I never thought I was someone who could win it.
"Then, last year, I did think that but I retired after 180 miles. That really frustrated me and that feeling has been bubbling away for the past 12 months.
"I wanted to come back this year and do better. Jack pushed me incredibly hard for the win and I'm really pleased that between us we ran the second and the third fastest times for the course."
Hall has also broken eight fastest known times (FKTs) along routes such as the Wainright's Coast to Coast, the South West Coast Path, the Cape Wrath Trail, as well as the Pennine Way FKT.
The Montane Winter Spine Race 2023 extends the length of the long-distance walking trail, the Pennine Way, from northern England across the border to Scotland. It is notorious for its savage nature.
Held in winter over remote mountainous terrain, runners carry their kit throughout and sleep only when they choose to. They ascend a total of 11,250m, which is more than the equivalent height of Mount Everest from sea level.
This year the weather was described as particularly brutal, with temperatures as low as -15C, winds, deep snow and ice.
This year's Spine
Hall looked strong from the start of the race at Edale and created an impressive lead alongside another top British ultra runner, Kim Collison. Collison was forced to retire at 125 miles.
Scott, who is also supported by inov-8, then showed an impressive performance and closed the gap on Hall. The battle between the two runners in the later stages of the Spine race kept the 'dot-watchers' tuned in to the live tracker as the runners closed in on the finish at Kirk Yetholm.
Hall, who slept in total for only 2 hours and 20 minutes, said: "I thought we were going to have a nice time running together but every time I saw Jack he seemed to keep pushing harder."
A navigational error after Scott, 28, took the lead unfortunately resulted in him taking a shortcut. He incurred a 48-minute time penalty for this, which was shortened to 41 minutes when he gained a seven-minute time credit for helping a fellow runner in need.
Scott, who is also a running coach, found the sport of ultra running while overcoming a gambling addiction. He said: "The Spine Race was an amazing experience. I was blessed to have the opportunity to run with Damian and to race him.
"I thoroughly enjoyed it and Damian fully deserves first place. I think we both only slept about two hours each throughout the race and at times the weather up on the tops was barbaric.
"Maybe we could have pushed closer to the overall course record if they had been better, but Jasmin's time is awesome."
Duo take third place in Montane Winter Spine Race
Douglas Zinis (GB) and Joe O'Leary (Ireland) crossed the line together to take joint third place in this year's Montane Winter Spine Race. Having paired up during the race, they stayed together as they battled the conditions over the Cheviot Hills.
Many other runners also paired up due to the severe conditions.
Claire Bannwarth first female in Spine Winter Race 2023
Claire Bannwarth (France) was the first female to finish the Montane Winter Spine Race 2023. She pulled ahead of the other women in the field steadily throughout the early stages of the race and for a time, ran with Douglas Zinis and Joe O'Leary in joint third. She took fifth place overall in 97:39:58.
The second female was Hannah Rickman (GB) in 121:25:52, while Edwina Sutton (GB) was third in 125:56:43.
Heart-ache for many with high DNF rate
Of 159 starters, some 77 retired or DNF'd (did not finish). The weather was particularly brutal this year.
In a tense end to the race, the final runner Roberto Semprini (Italy) crossed the finish line 44 minutes before the 8am cut off on Sunday January 22.
There was heartache for Silvia Delgado Ortiz and Raf Willems, who having courageously battled together for the almost the full Pennine Way, retired seven miles from the finish line.
Damian said: "The Spine Race is always one hell of a ride. The historic trail, the drama of winter, the incredible community around the race and the excitement of racing others.
"I'll be back for a fifth time."
All the latest inspiration, tips and guides to help you plan your next Advnture!
Fiona Russell is a widely published adventure journalist and blogger, who is better known as Fiona Outdoors. She is based in Scotland and is an all-round outdoors enthusiast with favourite activities including trail running, mountain walking, mountain biking, road cycling, triathlon and skiing, both downhill and back country. Her target for 2021 is to finish the final nine summits in her first round of all 282 Munros, the Scottish mountains of more than 3,000ft high. Aside from being outdoors, Fiona's biggest aim is to inspire others to enjoy the great outdoors, especially through her writing. She is also rarely seen without a running skort! Find out more at Fiona Outdoors.