Female runner sets incredible world record in Scottish mountains
Jamie Aarons is fastest ever to complete a non-stop, self-propelled round of Munros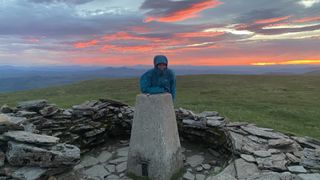 (Image credit: Fiona Outdoors)
Female ultra runner Jamie Aarons set an astonishing new record of just 31 days, 10 hours and 27 minutes for a round of all 282 Munros in Scotland. The 43-year-old is 12 hours and 35 minutes quicker than Donnie Campbell, who set the previous fastest time in 2020.
Aarons, 43, started her huge self-propelled feat – Jamie's Munro Challenge – to reach every Scottish mountain listed with a height of at least 3000ft (914.4m) on May 26 on Ben More, Isle of Mull. She finished on Ben Klibreck in Sutherland yesterday. The social worker ran the mountains and then cycled or kayaked in between.
Aarons, a social worker originally from California and now living in Stirlingshire, said: "It is undoubtedly the toughest challenge I've ever done. It was always going to be an ambitious schedule to reach all the Munros non-stop and as fast as I could go on foot, by bike and kayaking. I never set out to break a record – but it is a bonus that I have set a new fastest time."
Her round amounted to a total climb (135,366km) more than 15 times the height of Mount Everest. She also ran 1,315km, cycled 1,249km, and kayaked 11.5km.
Tough times: record-breaking Munro round
Aarons knew the challenge was ambitious and spent two years preparing for the feat. She said: "There were so many variables I couldn't control and so I aimed to build up resilience. I knew I would need to be unbreakable."
The weather was changeable throughout the month, from sunny days with very high temperatures to days of high winds and rain. She faced the threat of thunderstorms and lightning.
She also suffered injuries to her knee, hamstring and feet throughout the round.
"I had a few niggles with my legs at the start and that was worrying but they went and I didn't feel any pain after that. It was my feet that were the main concern later in round," she said.
"I had two very painful blisters on my outer heels and then a nerve in my forefoot made every step agony. This did slow my pace over the final few days, which was frustrating."
Yet Jamie didn't take any time off and kept moving day and night. She slept for no more than four hours at any one time, preferring to nap when needed.
The micro-nap 'super power'
Aarons calls her ability to go for long periods on very little sleep her "super power".
She is a successful veteran of many long-distance and multi-day running races. In 2015, she won Scotland's 95-mile West Highland Way Race. She has twice won the Snowdonia 100-miler in Wales.
In 2018, she won the 100km MaXi Race Madeira and she was the second-fastest female in the infamously tough 340km Tor des Geants in Italy in the same year.
The record Munro round is also her third completion. In 2013, she did a round with her partner Andy Taylor in a year while working full-time. Her second round she did with her rescue dogs, Pirate and Hope, and finished in 2020.
The inspiration for another faster Munro round came when listening to an interview with Donnie Campbell.
Aarons, who wore two pairs of Saucony Peregrine shoes for the record round, said: "I heard Donnie talking about his record round and he said he had slept for eight hours each night, except for a final 48-hour push.
"While I knew I'd never be as quick as Donnie on the hills or on the bike, I've got other skills and one of these is the ability to keep going with only micro-naps wherever and whenever I need them.
"This was where the start of an idea to do the non-stop round come from."
Aarons was also looking for a new challenge to push her own limits. She said: "Ever since I moved to Scotland, I have loved being in the mountains. I really enjoy the ultra running scene and I have made many friends through it.
"So, I wanted to take on a challenge in Scotland's mountains – and to do something I didn't know if I could. I also wanted it to be an adventure with friends."
A Munro round with friends
Aarons and a group of friends planned a route that they thought would be as as efficient as possible over and between all the Munros.
Throughout the round, she was supported by a team of more than 100 people, including her partner Andy Taylor. They met her at different points, moved bikes and kayaks, gave her food and water and helped with medical needs.
She said: "I am indebted to so many people and I am grateful for all the support on the mountains and in between.
"I really could not have succeeded without everyone's help. Many friends – and also strangers – turned out to form a community and it felt amazing to be part of this.
"They all have a passion for the outdoors and as a team we succeeded in this challenge together. I have had a great time."
Campbell, who joined Aarons on a Munro on day 30, said: "Jamie's new record is an absolutely amazing achievement. I am very impressed, especially by how she has managed to keep going on so little sleep. It looks like it has been a massive team performance from planning to execution. Congratulations to her and her team."
The Munro round has raised more than £12,000 for the World Bicycle Relief. Jamie said: "This means we have raised enough money for at least 100 bikes to help people to access education and other help and care. It's such a good fit because I have really enjoyed the bike sections between my Munros."
All the latest inspiration, tips and guides to help you plan your next Advnture!
Fiona Russell is a widely published adventure journalist and blogger, who is better known as Fiona Outdoors. She is based in Scotland and is an all-round outdoors enthusiast with favourite activities including trail running, mountain walking, mountain biking, road cycling, triathlon and skiing, both downhill and back country. Her target for 2021 is to finish the final nine summits in her first round of all 282 Munros, the Scottish mountains of more than 3,000ft high. Aside from being outdoors, Fiona's biggest aim is to inspire others to enjoy the great outdoors, especially through her writing. She is also rarely seen without a running skort! Find out more at Fiona Outdoors.