Munro Round record smashed
Donnie Campbell sets a new record for running to the summit of all 282 Scottish mountains higher than 3000ft, cycling and kayaking between them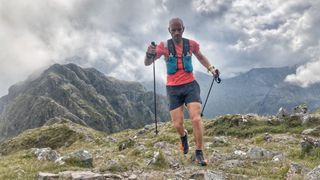 (Image credit: Donnie Campbell)
Scottish runner Donnie Campbell has set an incredible new record for the fastest human-powered round of Scotland's 282 Munros, completing a non-stop, self-propelled circuit of every mountain in the country with a summit of more than 3000ft (914.4m), in just 31 days, 23 hours and two minutes.
Not only did he run up and down all the hills, the accomplished mountain runner, who is raising money for the British Red Cross, also cycled and kayaked between the trailheads for the peaks. No motorised transport was used, although he did have a back-up motorhome driven by his wife, Rachael, in which he slept each night.
Donnie, 35, of Inverness, completed his challenge on Scotland's most northerly Munro, Ben Hope, in Sutherland, at 5.02am on 2 September.
After finishing, Donnie said: "It is great to have done it – and I am really pleased I don't have to run again today.
"Doing all the Munros is something I had dreamed about for a long time and for it to finally come true in a fastest time feels surreal."
Donnie, the founder of Get Active Running, started his Munro Round bid on August 1 on Ben More, on the Island of Mull. He then kayaked to Glenfinnan, before traversing the Cairngorms and then scaling the most easterly Munro, Mount Keen.
Next came the Munros of the southern Highlands, including the most southerly of the lot: Ben Lomond (3,196ft / 974m). He returned to the north-west of Scotland, with the most westerly Munro of Sgurr na Banachdich to come on the Island of Skye and a finish on Ben Hope.
In total the running coach, who is originally from Skye, ran 883 miles (1422km) and ascended (413,854ft) 126,143m on foot, which is the equivalent of doing more than 14 ascents of Mount Everest in a row. He also cycled 896 miles (1443km), ascending 46755.249ft (14,251m) in the saddle.
His total time is almost eight days quicker than the previous record of 39 days, nine hours and six minutes, set by English fell runner Stephen 'Spyke' Pyke, which had stood for just over 10 years.
His original goal had been 33 days. "Spyke's record was an incredible time, but I wanted to push my limits and see what I could achieve," Donnie says. "The 33 days was simply the outcome of my planning."
"I knew my schedule was very ambitious but it excited and scared me. With the right conditions, I thought it might be achievable.
"I feel very pleased to have finished ahead of schedule and in less than 32 days. It also feels great to have done a Munro round finally.
"I had always wanted to do a round but I needed the motivation to do them all, especially the ones that I thought were very remote or very boggy."
Donnie – who is sponsored by Salomon Running, Run4It, Active Root, Suunto, Red Bull and Teko Socks – already has a string of running successes to his name. He was the winner of the British Trail Championships in 2016 when he ran a record-breaking time for the 53-mile Highland Fling in 6:51:06. He has also crossed the Namib desert on foot and run from Glasgow to Skye.
In 2015, he was sixth in the Mont Blanc 80k Skyrunner World Series Race and the winner of the Iznik Ultra Race. In 2018, he took third place in the Mont Blanc 80k. He. This new Munro Round record, however, is a career defining achievement.
The Munros were first defined and listed by the late Sir Hugh Munro in his Munro's Tables of 1891. Since then, some 6,700 people have walked and climbed a round, with the average time being around two decades.
The first continuous self-propelled round of the Munros (except for passage on the Skye and Mull ferries) was completed by Scottish mountaineer and author Hamish Brown between 4 April and 24 July 1974.
In 2000, Charlie Campbell, a Glasgow postman, completed the challenge in 49 days. He summited 284 Munros as then officially listed. In June 2010, Spyke set his record, running the 283 listed Munros at that time. Due to re-measurement of the Munros, the list now sits at 282.
On average, Donnie spent 12 hours every day running, cycling or kayaking. He slept for around eight hours each night. Many of his toughest moments were during the final days, as the clock ticked and his self-imposed target time raced towards him.
On the last day of August he summited an incredible 18 Munros in the north-west Highlands, from Slioch near Kinlochewe to Ben Wyvis near Dingwall. Then, after only 30 minutes' sleep, he cycled to Am Faochagach, near Ullapool, and then completed another 10 Munros to finish on Ben Hope.
Agonisingly, on day 29, he was also forced to climb the same Munro twice. He said: "It was annoying when I realised at the bottom of Moruisg in Glencarron that I needed to go up again… It was my own fault due to cloud and a lack of concentration at the top.
"I reached a large cairn which I thought was the summit but my tracker showed later that I needed to go another 200m to a small pile of stones.
"It wasn't the end of the round or the record but it did mean another 90 minutes of climbing and some 600m of ascent on the end of an already long day."
The very hardest time for Donnie was the 17th day when he said he felt fatigued both physically and mentally. He said: "This was the lowest point, I think. I'd been going hard and it felt relentless and I was only around halfway.
"I'd just done several long and tough days back-to-back and I was questioning what I was doing.
"I'd been busting a gut for so long but I couldn't see the end.
"At no point did I think I would give up but I had to work hard to keep going. I told myself it wouldn't last forever and I simply focused on the routine of eat, run, sleep and do it again.
"Of course, it did get easier mentally the closer I got to the finish."
Now Donnie plans to put his feet up and get back to his day job coaching other runners. He said: "It feels great to have finished and I am sure it will all sink in at some point.
'I still can't really believe it is over after all the planning and then all the days in the mountains.
"I am looking forward to a rest and being back home. I want to thank my wife and all my friends who have helped and supported me on the round. I could not have finished it without them."
To date, Donnie has raised over £11,000 for his chosen charity, the British Red Cross, but donations are still open.
Now Donnie plans to put his feet up and get back to his day job, coaching other runners.
For an extended interview with Donnie, and to learn more about Munros, please visit www.fionaoutdoors.co.uk.
All the latest inspiration, tips and guides to help you plan your next Advnture!
Fiona Russell is a widely published adventure journalist and blogger, who is better known as Fiona Outdoors. She is based in Scotland and is an all-round outdoors enthusiast with favourite activities including trail running, mountain walking, mountain biking, road cycling, triathlon and skiing, both downhill and back country. Her target for 2021 is to finish the final nine summits in her first round of all 282 Munros, the Scottish mountains of more than 3,000ft high. Aside from being outdoors, Fiona's biggest aim is to inspire others to enjoy the great outdoors, especially through her writing. She is also rarely seen without a running skort! Find out more at Fiona Outdoors.