Hiking the West Highland Way
A guide to walking, eating and sleeping along Scotland's original long distance hiking trail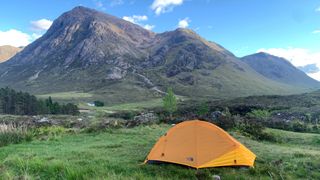 (Image credit: Julia Clarke)
I first heard about the West Highland Way, Scotland's first official long distance hiking route, in the mid 1990s, but it took me nearly 30 years to walk it. Growing up in Glasgow, I started doing lots of hillwalking around Loch Lomond and the Trossachs as a teenager in preparation for an outward bound trek across Lapland. Given my age and means at the time, hiking the entirety of the West Highland Way wasn't an option, but I spent many a weekend that summer taking buses and trains from Glasgow to various points on the trail for day hikes, and it was always in the back of my mind to walk the entire route some day.
Life had different plans for me, and a couple of years later I ended up moving to the US, where I lived for 20 years and continued to feed my love of the outdoors in the Rocky Mountains instead. But the West Highland Way lingered in the recesses of my mind as a journey I had to take some day and on any visit back home, I'd walk a section of it and daydream about doing the rest. I had plans to return home for the summer in 2019 and walk it, but a knee surgery sidelined that idea, then I got so far as buying a flight home for the spring of 2020 to tackle it, which was of course canceled due to the pandemic.
However, I did make my way home to Scotland permanently later that year, and this summer I finally completed the West Highland Way in its entirety, and I can honestly say that it's one of the most wonderful adventures I've ever had. I'm already planning my next walk on the Way and if you've been thinking about getting your hiking boots on for a long walk in the Scottish countryside, there are few things I'd recommend more. Here, I'll share some details of the route to help you plan your walk, including where to sleep and what to pack for a truly splendid Scottish adventure.
How long is the West Highland Way?
The West Highland Way is a 96.5 mile long distance trail that runs from Milngavie, a small town in the outskirts of Glasgow, northwards to Fort William in the west Highlands. People have been hiking this trail for much longer, but it wasn't officially designated as a trail until 1980. Because of the distance it travels, the Way takes you through incredibly diverse scenery, from rolling farmland just outside the urban metropolis of Glasgow, to the glittering shores of Loch Lomond and the rugged high country of Glen Coe and the Mamores.
Due to its incredible natural beauty and – relative to long distance trails like the Appalachian trail – shorter distance, the West Highland Way has become a major attraction for hikers from around the globe, with some 35,000 people a year completing the trail in its entirety. I've chatted to people from dozens of different countries on the Way, of all different ages, experience levels and abilities and found it to be a remarkably democratic hiking trail.
Hiking the West Highland Way: route description
The vast majority of hikers walk north on the West Highland Way, leaving the urban bustle of Glasgow behind and heading for the hills. If you choose to hike northwards, you'll certainly feel a sense of camaraderie as you'll most likely be setting off with dozens of other hikers each morning, and you'll no doubt enjoy the slow immersion into Scotland's rugged highlands. Because this is the most popular direction of travel, you'll also find that all guidebooks describe the route in this direction, however some also contain information for southbound hikers, such as Cicerone's Walking the West Highland Way, which was my walking companion.
That said, I've hiked the Way south from Fort William to Milngavie, and that direction has its own advantages. For one, you'll be hiking by yourself far more often – I found that I'd encounter a large group of hikers for about an hour in the late morning, and a smaller group later in the afternoon, but otherwise enjoyed a fair amount of solitude, which is unusual on this popular path. Further, in this direction you'll have fresh legs for the more mountainous region (and a fresh mind for the stunning Highland views). The other advantage for me was that, upon arriving in Milngavie, I had a 20-minute bus trip to the comfort of my own home, bath and bed. However, if you're visiting Scotland, this might not be of any great concern when it comes to your choice.
Most people walk the West Highland Way over the course of seven days, while some take longer, and others fastpack it in as little as five days. Having done it over the course of a three-day stretch followed by a two-day stretch, which adds up to nearly 20 miles a day, and examined the condition of my feet afterwards, I can say that next time I'll slow it way down and not attempt more than 15 miles a day.
In general, most route planners divide the Way up into the following seven sections:
Stage 1: Milngavie to Drymen (12.5 miles)
Stage 2: Drymen to Rowardennan (15 miles)
Stage 3: Rowardennan to Crianlarich (20 miles)
Stage 4: Crianlarich to Bridge of Orchy (13.5 miles)
Stage 5: Bridge of Orchy to Kingshouse (12 miles)
Stage 6: Kingshouse to Kinlochleven (8.75 miles)
Stage 7: Kinlochleven to Fort William (15 miles)
Traveling northwards, the first stage of the Way takes in rolling farmland outside of Glasgow at the foot of the Campsie Fells and does spend a little more time than you might like on a small country B-road. However, if your legs are fresh you'll simply be excited to be on your way and if you're nearly home, you'll be equally forgiving of the tarmac intrusion. After Drymen, you'll ascend the flanks of Conic Hill, a sharp little summit rising above Balmaha on the banks of Loch Lomond that made our list of best hikes near Glasgow. This hill is on the Highland Boundary Fault and offers absolutely fantastic views over Loch Lomond and its islands. Though the official route of the Way doesn't take you to the summit, to do so would entail a matter of mere minutes.
After Conic Hill, you arrive in Balmaha and from there, stage two and half of stage three entail about 20 miles total of walking along Loch Lomond's shoreline, a more rugged path than you might expect but one dotted with secluded beaches and wild swimming spots as well as dense forest. This stretch of the trail tends to be overshadowed by the mountainous regions, but it is absolutely enchanting. Hiking it southwards, I got the impression that my northbound friends were enduring a bit more climbing than I was, but in general the narrow, rocky trail undulates between ascending and descending.
Upon leaving the Loch behind between Rowardennan and Crianlarich, you'll enjoy lush, loch-studded green valleys and delightful forests and rivers as you wind your way to Bridge Orchy. Taken northbound, the mountains will start to grow in stature although the path is largely wide and easy between Tyndrum and Bridge of Orchy and you'll get a taste of things to come. If you're walking southwards here, you'll be glad for the reprieve from the bigger mountains behind you.
After Bridge of Orchy, you'll be mostly on an old military road, which is broad but requires good soles on your hiking boots. Here you'll encounter some truly stunning landscapes across the sweeping Rannoch Moor, before arriving at the eastern end of Glen Coe, a famous valley of volcanic origins that has featured in Harry Potter and even James Bond movies.
From Kingshouse onwards, the views are truly stupendous as you ascend the Devil's Staircase to cross the highest point of the Way and one of my favorite stretches, an isolated and stupendous mountain pass between Beinn Bheag and Stob Mhic Mhartuin before plunging down to lovely Kinlochleven. Taken in the other direction, however, the climb out of Kinlochleven is quite strenuous, particularly with a heavy backpack.
The final stretch from Kinlochleven to Fort William takes in gorgeous Lairig Mor, an unexpected valley that can only be enjoyed by those traveling on foot before finishing in Glen Nevis, which leads you into Fort William, or for those feeling especially gutsy, onward to tackle Ben Nevis.
Besides the stretch between Drymen and Killearn, and another between Tyndrum and Bridge of Orchy, which were both pleasant enough, I found every stretch of the West Highland Way to be completely breathtaking. The route is very well marked and rarely difficult to find, except for in Tyndrum where you need to take an unmarked left before the train station if you're traveling southwards. However, if you're ever in doubt, simply stop for a moment and within seconds, someone will come along with trekking poles and a backpack who will be able to help you. The trail itself varies between wide old military roads, forest trails, some rocky sections and occasional single track which gets overgrown in the summer, but is always well worn.
Hiking the West Highland Way: sleeping and eating
Another reason, perhaps, that the Way is so popular is because you can accomplish it without camping if you like, which no doubt draws more people than would otherwise attempt it. I have tried both backpacking and lodging on the Way, and have found merits to both.
Wild camping is legal in Scotland and at most places along the Way, you'll find incredible spots where you can pitch a tent for free. My favorite wild camping was done near the top of the Devil's Staircase, with views of Buachaille Etive Mor. During the summer months, wild camping is restricted around Loch Lomond but there are developed campgrounds which you can use for a small fee, however these do get booked up in advance. The upside to wild camping is that you can stop whenever you want and save a lot of money, but of course you'll be carrying everything on your back, and you're entirely at the mercy of Scottish weather, which can be brutal. Read more about hiking in Scotland to help you plan for rain, rain and midges.
For a more luxurious experience, dotted along the path are many fine hotels, inns, hostels and bunkhouses where you can enjoy a hot shower and a comfortable bed, and there are even services that will pick up your backpack each morning and ferry it on to your destination where it will be waiting for you, so you only need to hike with a day pack. A lot of hikers use this service and another advantage of it is that if you don't make it to your destination, someone will notice. For the 40-mile stretch between Inverarnan and Milngavie, I stayed overnight at the Oak Tree Inn in Balmaha and I must say, I was in far better shape after a hot shower, hot meal that didn't come out of a packet and a proper bed than I was when I was backpacking.
For the downsides of using lodging, this option can get pricey if you're doing seven night's worth of hotel stays, and not all of the lodgings are on the Way itself, meaning you may need to divert at the end of the day to get to your hotel, then return the following morning, which adds miles to your daily total. It's also worth mentioning that both campsites and hotels get booked up in advance. This option requires some planning, and also reduces the flexibility of being able to stop early if you want to. In my opinion, the best approach would be to spend some nights wild camping, and some nights in lodging to recover.
Hiking the West Highland Way: accessibility and transportation
Although West Highland Way thru-hikers total around 35,000 per year, another 100,000 or so hike sections of the Way each year and this is helped in no small part by how much public transport there is available. No matter which direction you're traveling, there are regular buses and trains from Glasgow to both Milngave and Fort William. In Milngavie, the start of the route is hard to miss with a giant sign in the center of the pedestrianized shopping mall in town, while from Fort William you'll walk along Glen Nevis to find the start (or end) of the way. The train to Fort William travels the famous Glenfinnan Viaduct, home to the Hogwarts Express, so that's a popular option, but I generally take a coach from Glasgow which is cheaper, extremely comfortable and quite a bit faster.
Many towns along the way are also well-served by frequent buses and/or trains to and from Glasgow, including:
Drymen
Balmaha
Inverarnan
Crianlarich
Tyndrum
Bridge of Orchy
Kingshouse
Kinlochleven
What this means is, not only are many day hikes possible (I personally love to take the bus to Tyndrum, walk the 13.5 mile stretch to Inverarnan, have a pint at the Drover's Inn and catch the bus home) but you can pretty easily bail out if you need to. In fact, the only stretch where you need to be prepared to be committed is between Inverarnan and Balmaha, which is about 21 miles without easily accessible transportation options. You can break this section up by camping, or staying at the Inversnaid Hotel or the Rowardennan Hotel.
In case you haven't already guessed, this also means that there are lots of spots to stop for a bite to eat along the way. Though I hiked with some of my backpacking staples – oatmeal, mac n cheese, tuna – you could probably do the entire trail by eating in cafes and hotel restaurants where you'll also be able to pick up sandwiches and snacks for the day ahead. Near Rowardennan, there's even an honesty box where you can leave cash or use a QR code and then help yourself to cakes, sandwiches and fizzy drinks. It's pretty much paradise after a long day on your feet!
West Highland Way kit list
Whether you're planning on staying in lodging or backpacking, you'll need to be prepared for Scottish weather on the West Highland Way. Even if you think you know rain, you don't know Scottish rain, and it can and often does rain when it's brilliantly sunny here. I know that defies science, but it's true.
I'm sharing my kit list here to give you some ideas of what to pack and bring, but I've learned that what you wear and what you bring are really individual choices. For example, my feet are especially prone to blistering, and as a result, I prefer to hike in trail running shoes. However, add a heavy pack and long miles of relatively flat walking and I've learned that is a recipe for disaster.
Hiking boots felt too warm for the summer, when I was walking, so I finally settled on a pair of Merrell Moab 3 GTX hiking shoes, because they have sturdy soles for all that rocky trail and a roomy toe box. I opt for smearing my feet with vaseline, choosing the perfect thickness of merino wool hiking socks, preemptively wearing blister plasters on my heels, and I still came away with a little blistering and less toenails than I started with. You, on the other hand, might be perfectly happy in leather hiking boots and thick socks. The best strategy is to take a few long walks (as long as your longest day) to test out your footwear before you hit the Way.
I also like to use trekking poles – you might prefer to walk unencumbered – I tend towards dressing in quick-drying, merino wool layers that don't get smelly and carrying little in the way of extra clothing – you might prefer to be fresher each day and bring several changes of clothes. All that is to say that your kit list might look like different from mine, but this might be a useful starting point for in planning your journey:
Leki Micro Vario Carbon trekking poles
Smartwool Women's Hike Light Cushion Crew socks (two pairs)
Black Diamond Long Sleeve Rhythm T-Shirt (I wore this under my Tee if it was chilly)
Mountain Hardware fleece
Decathlon Quechua Waterproof Trousers
The North Face Stormbreak 1 One-Person Camping Tent
Alpkit Kraku camping stove
Alpkit MytiMug 600
Alpkit SnapWire Foon
Highlander Micro Headnet Midge/Mosquito Net
All the latest inspiration, tips and guides to help you plan your next Advnture!
Julia Clarke is a staff writer for Advnture.com and the author of the book Restorative Yoga for Beginners. She loves to explore mountains on foot, bike, skis and belay and then recover on the the yoga mat. Julia graduated with a degree in journalism in 2004 and spent eight years working as a radio presenter in Kansas City, Vermont, Boston and New York City before discovering the joys of the Rocky Mountains. She then detoured west to Colorado and enjoyed 11 years teaching yoga in Vail before returning to her hometown of Glasgow, Scotland in 2020 to focus on family and writing.