Firefighters smash the Bob Graham Round for a good cause
Led by Salomon athlete Lightfoot, firefighters take on infamous fell-running challenge for charity amid red-hot conditions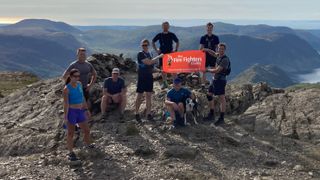 (Image credit: Workington Community Fire Station)
Twenty members of the Cumbria Fire and Rescue Service have taken on one of the most demanding foot-based challenges in the country, a relay run of the Bob Graham Round, to raise funds for The Firefighters Charity.
The team was fronted by Salomon athlete Ricky Lightfoot, himself a firefighter at the Workington Community Fire Station in Cumbria, as well as being one of Britain's top trail and fell-running athletes, who has competed internationally and holds course records for several iconic races at home and around the world, including events on Scafell Pike, in Mauritius and in South Africa.
Ricky is very familiar with the Bob Graham round, which athletes traditionally try and do within a 24-hour period. Living locally, he trains in the Lake District's hills and peaks (fells), and in January 2016 completed a mid-winter lap of the 65-mile (106km) route, which scales 42 peaks and ascends around 27,000ft (8,200m), in just over 21 hours.
(Last month fellow Team Salomon ultrarunner Beth Pascall set a new women's record on the round – 14 hours 34 minutes – and the overall FKT is held by yet another Salomon athlete, professional trail- and sky-runner Kílian Jornet, who two years ago completed the challenge in 12 hours 52 minutes.)
Most of Ricky's team mates for the relay challenge were far less experienced, however. Some had never run any of the famously unforgiving fells that make the Bob Graham Round one of Britain's most brutal challenges.
The group included staff from all rungs of the fire service ladder, including the Deputy Chief Fire Officer John Beard (who came up with the idea in the first place), and their ages ranged from people in their 20s to those in the northern half of their 50s. Each leg of the relay was a minimum of 11 miles in length. The team ran while wearing items of fire-fighting clothing, and passed their mascot Blaze Bear as the baton between relays.
"It's something which was only thought up six weeks ago, so we didn't have a massive amount of time for training or recce runs," said Ricky. "We managed to get a team together all made up of employees from the service, and a date was set."
At 10pm on 8 August, in hot and humid conditions that couldn't have been further removed from those on his previous run of the round, Ricky led his colleagues off on the adventure from the Moot Hall in Keswick, the long-established start and finish point for the round. Twenty-three hours and thirteen minutes later they arrived back to the steps of the hall, flushed with the success of their mission – and the exertion of it.
"The aim was to get under 24 hours for the round, which some of you might think is easy when running in relay, but we had a real mixed bag of people taking part, from seasoned runners to some who had never run on the fells, never mind at night time with zero visibility," Ricky commented afterwards on his Instagram account.
"Over the first couple of legs navigation was difficult due to the thick clag, but upon reaching Helvellyn the skies cleared and gave us some amazing views of dawn breaking. The lads on Leg 3 & 4 also made good time over to Honister, despite the hot weather, this gave us a little over 3.5hrs to complete the last leg."
Ricky did the first, second and fifth (last) leg, and they were joined on the final stint by Jack the dog – although the poor hound had to hop in the van for the last mile because his pads were sore (come on Salomon – you need to kit the canine runners out too).
"It was a great day out," Ricky told us when Advnture caught up with him after the run. "The lads are already planning a possible double Bob Graham Relay for next year!"
Ricky wants to extend a big thanks to the support crew, sponsors (Mountain Fuel Sports Nutrition, Salomon Running, Pete Bland Sports) and everyone who donated to the cause. The Fire Fighters Charity supports the mental, physical and social needs of all serving and retired members of the UK's fire family and their dependants – donations can be made via a still-active Virgin Money page.
All the latest inspiration, tips and guides to help you plan your next Advnture!
Author of Caving, Canyoning, Coasteering…, a recently released book about all kinds of outdoor adventures around Britain, Pat has spent 20 years pursuing stories involving boots, bikes, boats, beers and bruises. En route he's canoed Canada's Yukon River, climbed Mont Blanc and Kilimanjaro, skied and mountain biked through the Norwegian Alps, run an ultra across the roof of Mauritius, and set short-lived records for trail-running Australia's highest peaks and New Zealand's Great Walks. He's authored walking guides to Devon and Dorset, and once wrote a whole book about Toilets for Lonely Planet. Follow Pat's escapades on Strava here and instagram here.