Could all fishing weights made of lead be banned?
The use of lead in fishing could be coming to an end after moves being made in Europe.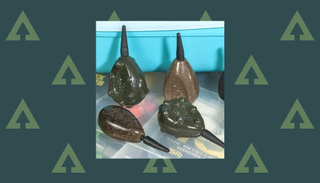 (Image credit: Angler's Mail)
Welcome to Advnture, the new home of AnglersMail.co.uk
The European Union is consulting over the use of lead in fishing weights, and is expected to bring in legislation in the next few years to ban it.
They asked the European Chemicals Agency to conduct a review, and that ends on December 16.
Britain banned No.6 split shot up to 1 oz fishing weights made of lead 31 years ago.
But heavier lead fishing weights and tiny dust shot of No.8 and under are legally used.
Denmark, Holland and Sweden also have some form of lead ban or restriction in force.
Simon Pomeroy, who runs Pallatrax, a company that makes eco-friendly Stonze fishing weights, welcomed the news.
But many users of lead, in all its forms as fishing weights, will be dismayed.
The expected European ban of all lead in fishing will not apply to Britain if it finally exits the European Union.
That will then beg the question: will the Environment Agency follow suit if Brussels bans lead?
Devon-based Simon commented: "I was delighted to hear about this development, and it looks as if the writing is now on the wall for the use of lead products in fishing.
"A recent report to the EU stated that two million birds a year die each year due to the ingestion of lead, and the effects of lead on human health are well documented.
"Lead is a toxic substance that has been banned for a long time in products such as paint, petrol and children's toys, yet its use in fishing has continued largely unabated.
"It was partially banned here, and we all coped with that transition, with other products being developed."
Lead fishing weights 'increasing'
Simon continued: "The amount of lead still entering our fishing waters has unfortunately been growing, mainly due to carp anglers using terminal tackle that deliberately drops the lead on a take, adding to all those leads that are lost accidentally.
"I know for a fact that one top carper recently dropped 60 lead weights in one session.
"Some manufacturers have covered their lead weights in plastic, but given the concerns about the level of plastic entering our rivers and seas, it only adds to pollution problems.
"Concern about the environment and wildlife is at an all-time high, with the emergence of the Extinction Rebellion movement, so the time is ripe for change.
"Although any European legislation is likely to come after we have finally left the EU, I would hope and trust that the Department for Environment, Food and Rural Affairs (DEFRA) would ensure that we follow suit," Simon concluded.
Non-toxic fishing weights
Jan Kappel, public affairs officer for the European Fishing Tackle Trade Association, said: "All lead alternatives are more expensive, and there are additional costs in the manufacturing process.
"There will be a cost implication to a lead ban, but EFTTA has recommended in the past that the industry starts to voluntarily phase out all lead weights heavier than 0.06 grams, to prepare in good time for future legislation."
The angling trade can give their views on the European Chemicals Agency website.
A DEFRA spokesperson said: "We can't comment on any EU ruling in the future."
All the latest inspiration, tips and guides to help you plan your next Advnture!
Running from 1964 until 2020, Angler's Mail was the UK's leading weekly magazine devoted to coarse fishing, telling readers everything they needed to know about which fish to catch, where to catch them, and what kit they needed to do it. Now, loads of the magazine's expert advice can be found on Advnture.com, as a helpful resource for angling newcomers and experts alike.