Friday 5: avid adventurer Emily Scott
We ask the ski instructor, mountain leader (and accountant) our set of quick-fire questions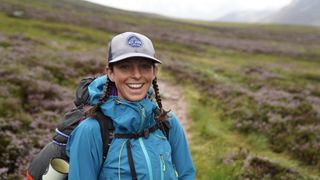 (Image credit: Aaron Rolph)
Emily Scott is a ski instructor, mountain leader and chartered accountant. Her love of the outdoors, and especially the mountains, sparked her departure from her London accountancy career and led to her chasing outdoor instructor qualifications instead of pursuing tax qualifications.
Emily loves to challenge herself physically with various endurance challenges and has completed nine long-distance triathlons and more than 20 marathons, alongside a number of other adventures, such as running the West Highland Way and cycling Land's End to John o' Groats.
Emily's biggest adventure to date was Project 282 – a continuous, self-propelled and largely solo and unsupported trip around Scotland's 282 munros (mountains over 3,000ft) in summer 2018. During this, she covered more than 2,200km on foot and 2,600km on her bike, along with 198,000m of ascent.
If you could only keep one item out of all your outdoor gear, which would you keep and why?
This is a tough one! I would probably pick a different thing each day. My practical head is saying something like my MSR Windburner stove, which is so easy to use and very robust (even if not the most compact option out there).
Right now, though, I would probably say my Genesis Mantle hardtail mountain bike might win. While it's not going to save my life in the way a stove might, it's such a fun bike and I am loving getting out on it as much as possible.
It was also rather more expensive than the stove, so if I had to replace everything else I can't keep, then it's probably sensible to keep the high ticket items.
What's your pet peeve in the outdoors/adventure space?
Littering. It blows my mind how people can be bothered to carry something into a beautiful, wild space and then callously leave their rubbish behind. If you can carry your beers in, you can carry your beer cans out.
Sometimes it is accidental and can happen and I understand that, but when you see the pictures of the "fly-camping" in areas such as the Lake District last summer, it makes my blood boil.
While, of course, there are other problems out there, I think if we could all respect our outdoor spaces and apply the Leave No Trace principles, then more people can also enjoy the power of the outdoors.
I always try to ensure that I not only take my own litter home with me, but if I see pieces of rubbish when I'm out and about I'll pick them up and pack them out, too.
Sometimes it feels a bit pointless as I can't always pick up all the litter I see, but if I can help even one additional person to not only not drop litter, but also to pick up extra bits they see, then maybe it's worth talking about it.
If you could be instantly transported to the start of any adventure, what would it be, where and why?

If I'm getting instantly transported there and the cost isn't an issue, then I would take a trip to Antarctica. Ideally to climb Vinson Massif and ski to the South Pol. (Can we assume I'm also appropriately conditioned and kitted out?) It would be incredible to be among the truly remote and vast landscapes of endless snow and ice and 24-hour daylight.
In reality though, I feel like Antarctica is probably somewhere I will only go in books. I don't deal very well with the cold and the costs of mounting such an expedition are very high and you need to be so singularly focused on that goal to even try to make it happen.
We're sitting round a campfire. Tell us a funny or entertaining story about one of your adventures.
In 2016, I did the classic Haute Route ski tour from Chamonix to Zermatt with a group of four friends. On the second morning we had left the Cabane du Trient to head over the Col des Ecandies and down to Champex.
When we got to the col we needed to remove our skis so we could boot-pack up the steep section to the top of the pass. Somehow my binding (where the ski attaches to the boot) had got jammed.
In the process of trying to release the binding, I was getting a bit frustrated and perhaps a bit too aggressive with it. It eventually released and I managed to let go of the ski, which launched itself down the glacier.
Two of the group went down to try and find it but they phoned to say they hadn't got it. At that point, I put my crampons on and followed the line of the ski down the glacier.
Eventually, I saw that the line of the ski seemed to lead to a rock that was protruding from the glacier. When I got to the rock, the ski was thankfully in the little well by the rock and, while damaged, it wasn't completely destroyed.
We ended up having to skin (skiing uphill using skins attached to the base of the skis) back up the mountain for about an hour to get back to the point where I had initially dropped my ski. Needless to say, I have never been allowed to forget that one!
Is there any gear that's on your shopping list at the moment?
A pair of clip-in mountain bike shoes. I got the pedals for Christmas and I haven't got round to sorting the shoes yet, but I'm so excited to do some longer distance off-road riding and some cleats will make a big difference to my efficiency.
I'm still quite a novice mountain biker though so I've been putting off riding clipped in because I'm a bit nervous at times and, psychologically at least, it feels easier to be able to dab a foot down.
All the latest inspiration, tips and guides to help you plan your next Advnture!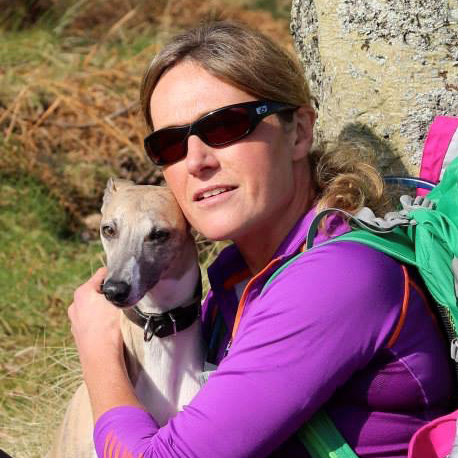 Fiona Russell is a widely published adventure journalist and blogger, better known as Fiona Outdoors. She is based in Scotland and is an all-round outdoors enthusiast with favorite activities including trail running, mountain walking, mountain biking, road cycling, triathlon and skiing (both downhill and backcountry). Aside from her own adventures, Fiona's biggest aim is to inspire others to enjoy getting outside and exploring, especially through her writing. She is also rarely seen without a running skort! Find out more at Fiona Outdoors.