Gigantica lives up to its reputation for impressive giant carp
Huge carp have been feeding in France and England, and Luke Cornelius tempted this 81 lb 12 oz giant.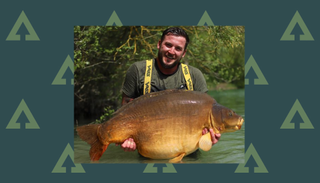 (Image credit: Angler's Mail)
Welcome to Advnture, the new home of AnglersMail.co.uk
The heavyweight came along with six others for East Sussex-based Luke when he tackled the Main Lake at French mecca, Gigantica.
Luke fed heavily to get the fish going using 6-10 Kg of Sticky Baits Krill boilies a day during his week-long trip.
The 29-year-old, from Eastbourne, said: "I started fishing at 30.5 rod lengths and managed to have a few fish up to 31 lb.
"The weather then turned for the worse which slowed fishing down to nothing for a few days.
"Fish were showing half the distance to my spot so I put the marker out and found the spot which was just solid and 10 kg of glugged Krill went straight on it.
"Within 14 hours I had three more fish in the net, biggest being Fudgy's at 81 lb 12 oz."
What is Gigantica all about?
Gigantica is 245 miles from Calais, in the Aube department of the north-east central part of France.
It has been carefully developed with significant personal input from Korda tackle boss Danny Fairbrass.
As he worked on the site, Danny changed its name from St. Christophe, after the local village Saint-Christophe Dodinicourt.
He explained at the time via the website: "Christophe is well known but this is a new beginning for the water and I wanted a name which stood out from all other waters in France.
"Our fishery management will make sure that in years to come it will challenge even rainbow lake for number of big fish per acre so I think 'Gigantica' says exactly what the lake will be, a land of giants!
"Ours is a long-term plan both regarding the stock of fish and the facilities on the water."
Aside from the Main Lake there is also the Road Lake, with week-long bookings for both waters taken via the website or 01268 820440.
The venue has featured in many videos with the Korda boys, including a productive show for the Monster Carp series on ITV4.
During that episode, recorded in August 2017, Ali Hamidi netted Gigantica giant 'The German Fish' at 79 lb for a new personal best.
All the latest inspiration, tips and guides to help you plan your next Advnture!
Running from 1964 until 2020, Angler's Mail was the UK's leading weekly magazine devoted to coarse fishing, telling readers everything they needed to know about which fish to catch, where to catch them, and what kit they needed to do it. Now, loads of the magazine's expert advice can be found on Advnture.com, as a helpful resource for angling newcomers and experts alike.