Grand Canyon ranked most dangerous US National Park
Grand Canyon has been ranked as the most dangerous US National Park over the last 10 years after suffering the most deaths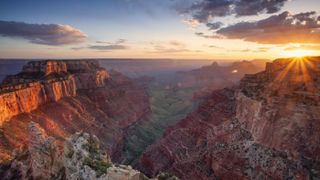 (Image credit: Getty Images)
The Grand Canyon is one of nature's most spectacular sights, with its mile-deep gorge offering spectacular views. However, this beauty does not come without its dangers.
According to a report published by Outforia, more deaths have occurred at the Grand Canyon than at any other National Park. There were 134 deaths over the course of the decade. Yosemite National Park ranked second with 126 fatalities.
The Great Smoky Mountains National Park in Tennessee was the third most dangerous National Park, with 92 deaths. It should be noted, though, that it had more visitors than the Grand Canyon and Yosemite combined.
Perhaps surprisingly, falling is not the most common cause of death in the Grand Canyon. Instead, 15 more people have died through medical or natural causes, often due to the extreme heat in the Arizona desert.
Taking US National Parks as a whole, however, falling is the biggest killer, with 245 deaths recorded in the last 10 years. Yosemite had the highest number of deaths by falling – 45 compared to the Grand Canyon's 27.
Medical and natural conditions were the second most common cause of death across the 54 National Parks, with a total of 192 fatalities.
There were only six wildlife related deaths over the course of the decade.
All the latest inspiration, tips and guides to help you plan your next Advnture!