After-adventure essentials: 9 things you need after every hike
Flip-flops, cool boxes, towels and other trailhead essentials to ensure every outdoor escapade has a happy ending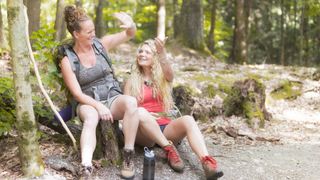 (Image credit: Getty)
While there's nothing more exciting than setting out on a hiking, biking or backpacking trip to lose yourself in nature, summit a peak, or traverse a range – completing the quest and returning to the trailhead is a time to relax and celebrate. As any mountaineer will tell you, you haven't successfully climbed the mountain until you've made it back to base. These are the 9 things you need after every adventure to make sure your return is as memorable as the journey.
On big adventures, I sometimes get so wrapped up in achieving my objective that I don't realize how much I've beaten myself up on the journey until I return to the trailhead hungry, thirsty, and exhausted. Even when the hike isn't grueling, I still can't wait for a cold drink and my flip-flops when the adventure is over.
To make finishing my hike a worthy end to the fun and adventure I've had, I choose the gear that awaits me at the trailhead just as carefully as I do the gear I pack for my trek. From comfy shoes to a tote for dirty gear to a cooler for your favorite snacks and drinks, this is the post-hike gear you'll want waiting at the car when you've completed your mission.
Chirp Wheel
Size: 6", 10", 12" Price: $45, $50, $55 (US) /£34, £42, £49 (UK) – or $99/£75 for all three sizes
This is the only foam roller that's an FDA-registered Class 1 Medical Device, and when I spend a few minutes rolling my back on the Chirp Wheel, it erases days of back and neck pain. The foam-covered plastic wheel has a Spinal Canal, a groove in the center of the foam, that stretches the long muscles that run along both sides of the spine both length and widthwise. Not only does that release tension, but use the Chirp Wheel regularly and the company says that rolling motion also strengthens those muscles. On my back, the myofascial release is often also accompanied by a relieving realignment of my vertebrae. Another unique feature of the Chirp Wheel: it fits perfectly between your shoulders, so I can get to knots behind my shoulder blades, a place other foam rollers can't reach.
Olukai Ohana
Price: from $70 (US) / £60 (UK) Sizes: men's 7–18; women's 5–12
When I finish a hike, I want to let my feet breathe, whether my next stop is the local scoop shop or the nearest swimming hole. The Ohana's water-resistant straps don't get soggy when I wear them wading. The lining is a quick-dry jersey, and the toe post is soft nylon, so even wet they never chafe. The compression-molded midsole is shock-absorbing, and the anatomical footbed supports my arch and helps my feet recover from long miles on the trail. I don't just wear these flips post-hike. They're my everyday summer kicks. The non-marking rubber outsole has grippy lugs that don't slip on wet surfaces, and they give me good traction when the path to the swimming hole or the daily dog walk gets adventurous.
Yeti Roadie 24
Price: $200 (US) / £200 (UK) Weight: 5.8 kg/12.8lb
Knowing frosty drinks are awaiting my return has helped me power to the finish line of a tough hike more than once. When I leave my favorite drinks and snacks in Yeti's Roadie 24, I know they'll still be chilled even after a multi-day adventure. The Roadie 24 is an improved Yeti classic, 10% lighter, with 20% more space inside than the previous version. It also stays cold 30% longer, which is handy when I leave it loaded with up to 18 cans plus ice for a long weekend. The Roadie squeezes in perfectly behind the driver or passenger front seat. Without drinks, it holds 24 pounds of ice. It's also sized so that I can have a bottle of bubbly waiting if a true post-hike celebration is in order. One-handed flip latches saved me from putting down my LaCroix to fish one out for a friend. Plus, it's easy to carry to a swimming hole, campsite, and into the house to reload thanks to a wide webbing handle. It's also the perfect seat until someone needs a beverage from inside.
Flylow Remnant Tote
Price: $50 Size: 61 liters/3722 cu in
When I unload gear in my car post-hike, it can look like a bomb went off. I strip my boots and socks, and sometimes my muddy pants and stinky shirt come off too. I unclip dog leashes, I unload empty snack wrappers and trash I picked up on the trail. If I don't have a place to dump it all, my gear gets scattered around the car and makes a mess. Flylow's XL tote bag saves the day. Made from scraps of fabric leftover from Flylow ski pants, the heavy-duty zip-top gear hauler is tough and scuff-resistant. I don't worry about getting it muddy, sweaty, or sticky. It's washable, so when I throw the rest of my dirty clothes in the machine, the Remnant Tote goes in too. And between hiking trips, when I'm not using it to keep track of trekking gear, it's great for groceries, a weekend at the beach, or shuttling laundry to and from the machine.
PackTowel Luxe
Price: from $12 (US) / £12 (UK)
If I'm lucky, there's a swimming hole somewhere near the trailhead, and as soon as I am done hiking or biking, I head there as quickly as possible to cool off, rinse off and relax. I keep PackTowel's Luxe towel in the car so I'm always ready for a dip. Unlike some quick-dry camping towels that are thin and stiff, this one has terrycloth loops, which gives the towel a plush feel though it's made from microfiber, not cotton. The Luxe can absorb five times its weight in water, but it wrings out, and then it's quick to dry. I don't need to wash it as much as I would a cotton beach towel. Silver-based Polygeine keeps it from getting stinky. And when it's time to pack it up for the next adventure it folds into an included storage pouch that keeps it clean. Machine washable in six colors and four sizes. I like the Beach size. It's big enough to cover my car seat and keeps the dirt off on days I don't' change before driving.
Eagle's Nest Outfitters (ENO) Giving Back Hammock
Price: $70 (US) / £55 (UK) Weight: 538g/19 oz Capacity: 181kg/400lb
Post-hike, it's time to chill. And there's no better place to relax than kicked back in a hammock. ENO's Giving Back Hammock is made from high-tenacity nylon taffeta that's strong, soft, quick-drying, and durable. Each end has a wire gate carabiner, so there's no fiddling with knots when I want to hang my hammock. I just clip it to straps I've slung around a tree or some other stable object, which is not only convenient but also safer. Heavy-duty triple-stitched seams never tore out in a summer of regular lounging. The hammock stuffs into the attached lightweight compression when it's time to move on to the next activity. The single hammock packs to about the size of a grapefruit. Just as awesome: buy this hammock and you support a trails organization. ENO donates a portion of sales to Appalachian Trail Conservancy, Continental Divide Trail Coalition, Leave No Trace, National Park Foundation, and the Pacific Crest Trail Association, non-profits that preserve, protect and manage trails, while also teaching people how to enjoy the outdoors responsibly. Add ENO's Atlas Suspension system to help you quickly hang your hammock almost anywhere.
Helinox Speed Stool
Price: $80 Weight: 414g /14.6oz
When I finish a hike, I want my boots off ASAP. I want to sit down and suck down a cold drink. I want to collapse from exhaustion once I drop my pack. The new Helinox Compact folding stool gives me a place to perch while I unlace, guzzle, or just regroup. The 16" high bench-style seat uses an eco-anodized aluminum alloy frame that supports up to 220lbs/100kg, and which is a heck of a lot more comfortable than a three-legged triangle seat stool. The four-legged stool has a polyester seat with Aramid for extra strength. It's UV-resistant, so I don't have to worry about it breaking down over time from the sun. Self-assembling poles and the pre-attached seat means there's no assembly required. I just pull the stool out of its stuff sack with a shake, the legs click automatically into place, and it's ready to go. The Speed Stool is so compact and comfortable that I also bring it along for comfort on the trail.
UST Pack a Long Camp Table
Price: $62 Size (HxWxL): 56 x 40 x 40cm / 22 x 16 x 16in Weight: 1.2kg/2.6lb
One of the most essential post-hike activities is snacking, and for the most effective snacking, I like a table where I can spread things out. Whether my spread includes chips and guac, cheese and crackers, home-baked cookies, sandwich fixings, or all of the above, UST's Pack a Long table is quick to set up and stable. The table has two parts, the aluminum base and the tabletop. Each lives in its own compartment in the table's shoulder sling carry sack. When unfurled, the base clips into the tabletop providing a sturdy surface. UST says that the metal table supports up to 30 lbs, which is a sizeable feast. The table sits low, which made it the ideal height when I was sitting on the Helinox Stool, or the Yeti Roadie to reach grub. When it got sticky or greasy, it cleaned up with a quick wipe. And, when the feast was over, it packed up in less than a minute.
Patagonia Provisions
Price: $7-$112 Flavors: 10 options
A good dose of protein is the best way to refuel post-hike. Instead of slurping down a grainy protein drink before I dive in the potato chips, I prefer to open a tin or bag of Patagonia Provisions' sustainably harvested mussels, mackerel, or salmon. They're all rich in Omega 3 fatty acids, high in protein, packed with critical vitamins, and delicious. The Wild Pink Salmon is selectively harvested from sustainable runs off Lummi Island, Washington using reef-nets. It's lightly smoked and seasoned with cracked pepper and a squeeze of lemon. The Atlantic Mackerel is basted in a slow-cooked blend of onion, red bell pepper, garlic and paprika, and packed in extra-virgin olive oil. The organic sofrito mussels practically transport me to coastal Spain when I eat them. They're spices with aromatic vegetables and packed in organic olive oil and mussel broth. There are several flavors of each kind of fish to choose from, as well as sampler packs, and fish and crackers packs that will have you dining with delight in no time.
All the latest inspiration, tips and guides to help you plan your next Advnture!
Vermont-based writer, photographer and adventurer, Berne reports on hiking, biking, skiing, overlanding, travel, climbing and kayaking for category-leading publications in the U.S., Europe and beyond. In the field, she's been asked to deliver a herd of llamas to a Bolivian mountaintop corral, had first fat-biking descents in Alaska, helped establish East Greenland's first sport climbing and biked the length of Jordan. She's worked to help brands clean up their materials and manufacturing, and has had guns pulled on her in at least three continents.