Visit a US National Park for free in 2021
National Park Service will waive fees on six days this year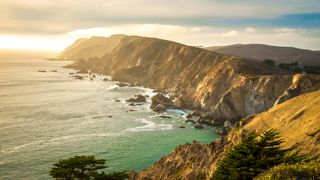 (Image credit: Getty)
The US National Park System has grown from a single, public preserve known as Yellowstone National Park in 1872 to more than 419 natural, historical, recreational and cultural areas throughout the country, its territories and remote islands.
Perhaps surprisingly, only about 100 of those 419 National Park Service properties charge admission, while the remaining 300-plus sites are free to enter on a year-round basis. Still, the admission fees, which range from $5 to $35, can be a barrier to entry to some of the grandest park properties.
As a way to increase access, promote recreational opportunities, celebrate history and the preservation of these national treasures, the National Park Service has created six entrance fee-free days in 2021 (opens in new tab) in which those point-of-entry fees will be waived. That will provide an opportunity to visit some of the most spectacular national park properties – Yellowstone National Park, Rocky Mountain National Park and Hawai'i Volcanoes National Park – without having to pay to get in.
The six free days are all tied to important dates on the calendar: January 18 (birthday of Martin Luther King Jr), April 17 (start of National Park Week), August 4 (celebration of Great American Outdoors Act), August 25 (anniversary of the creation of the National Park Service), September 25 (National Public Lands Day) and November 11 (Veteran's Day).
"Throughout the country, every national park provides a variety of opportunities to get out in nature, connect with our common heritage and experience the vast array of benefits that come from spending time outdoors," said Margaret Everson, Counselor to the Secretary, exercising the delegated authority of the National Park Service Director. "Hopefully the fee-free days will encourage everyone to spend some time in their national parks."
In 2020, with international travel mostly on pause because of Covid-19, Americans visited national parks in record numbers. According to National Park Service data, Yellowstone National Park saw its busiest September on record with more than 800,000 visits – a 21% increase in visits compared to 2019. Same with Zion National Park, which attracted a record 520,000 visitors.
Great Smoky Mountains National Park – already the country's most-visited national park – logged more than 1.5 million visits in August, a nine percent jump from the same month last year. Point Reyes National Seashore in Northern California also had a banner summer that continued into the fall, with 39% more visits in November than the same month in 2019.
While overall visitor numbers are still down slightly across most parks for 2020 because of a huge downturn in international visitors, the trend of discovering America's natural wonders seems primed to continue well into 2021.
In addition, the National Park Service has announced it has joined with the National Park Foundation (opens in new tab), the official charity of America's national parks, to celebrate America's treasured parks during National Park Week from April 17-25. National Park Week will include both onsite and virtual experiences, social media storytelling, the opportunity to celebrate Earth Day (opens in new tab) (April 22) and a variety of special events.
Earlier this year, all US military veterans, Gold Star families (opens in new tab) and fifth graders (opens in new tab) were granted free access to all national parks, wildlife refuges, and other federal lands managed by the Interior Department. Veterans and Gold Star families will have free access forever, while fifth-grade students were granted the reprieve through this academic year as some of last year's fourth graders may have been unable to make full use of the Every Kid Outdoors (opens in new tab) Annual Fourth Grade Pass due to the COVID-19 pandemic.
Active duty military and fourth-grade students will continue to have free access, with discounted passes also available for senior citizens. For other visitors who frequently visit public lands, the annual $80 America the Beautiful National Parks and Federal Recreational Lands Pass (opens in new tab) is an option that allows unlimited entrance to more than 2,000 federal recreation areas, including all national parks.
National parks are about more than a place to vacation, says Peter Murphy, a senior fellow with Committee For A Constructive Tomorrow. They preserve the country's national heritage and are places for teaching and learning about history, geography and nature. The National Park Service, he points out, included the purpose of preserving the natural environment and protecting biodiversity from the beginning.
Last year, 327 million people visited National Parks and spent $21 billion in local communities. This supported 340,500 jobs across the country and had a $41.7 billion impact on the US economy.
"National parks are about more than a place to vacation. They preserve our national heritage and are places for teaching and learning about history, geography and nature. The park system from its very beginning included the purpose of preserving the natural environment and protecting biodiversity," Peter Murphy writes in an essay about the positive aspects of the National Park System (opens in new tab). "The National Park System is not only a national treasure and American success story for nearly 150 years, its success comes from government and private sector endeavors to preserve and sustain the system over time."
If you're planning to visit one or more US National Parks this year, you might consider investing in an annual pass. With the America the Beautiful – The National Parks and Federal Recreational Lands annual pass, (opens in new tab)you can access hundreds of federal recreation sites for $80 a year. Certain groups even qualify for free annual passes (opens in new tab), including current US military members and their dependents, US fourth graders, and US citizens or permanent residents with permanent disabilities. Plus, US citizens or permanent residents ages 62 and up can get an $80 lifetime senior pass or $20 annual pass.
All the latest inspiration, tips and guides to help you plan your next Advnture!
Brian is an award-winning journalist, photographer and podcaster who has written for Runner's World, The Times, Outside, Men's Journal, Trail Runner, Triathlete and Red Bulletin. He's also the author of several books, including Kicksology: The Hype, Science, Culture and Cool of Running Shoes. He lives in Boulder, Colorado, and loves to run, bike, hike, camp, ski and climb mountains. He has wear-tested more than 1,500 pairs of running shoes, completed four Ironman triathlons, as well as numerous marathons and ultra-distance running races.