Grand Canyon sees peak traffic as Covid causes Thanksgiving visitor surge
Winter comes early to the Grand Canyon National Park as visitors swerve turkey for camping this Thanksgiving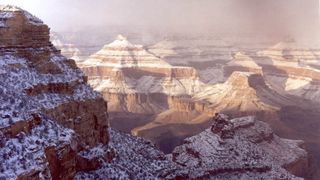 (Image credit: Brian Metzler)
Winter doesn't officially start until December 21, but Grand Canyon National Park is heading into the season ahead of time. It's a great time to visit the park, but lately, the high volume of traffic at the park looks like the peak seasons of late spring and early autumn.
Winter operations officially begin on December 1, which means visitors will encounter reduced services, fewer shuttle buses, campground access, road closures and lodging options. In the meantime, though, visitors have continued to flock to the park as if it was the peak season.
After initial Covid-19 restrictions were lifted in May, US parks, campgrounds, trails and sightseeing venues experienced an enormous surge in traffic and it has only marginally slowed since the end of summer in September. With the Covid-19 pandemic still running rampant through the US, it appears, based on high volumes of traffic, that many people have canceled traditional Thanksgiving weekend travel plans to visit the Grand Canyon and other national parks instead. Grand Canyon National Park officials posted a photo on Twitter on Nov. 24 of long lines of vehicles waiting hours to get into the South Rim entrance of the park. The South Rim is the most viable entrance after November 1 until expanded services and operations begin in the springtime.
"It is shaping up to be a busy holiday week ahead!" the Twitter caption said. "If visiting the South Rim this week, expect crowded conditions including: long entrance station lines, long shuttle bus lines, limited parking near the Grand Canyon Visitor Center, and large crowds at popular viewpoints."
The North Rim entrance remains partially open with limited services and lodging until December 1 for dawn-to-dusk day use, but roads, lodges, campgrounds and restaurants will completely close until May 15. (The only camping available on the North Rim during the winter is by hiking trails from the South Rim or from Jacob Lake.) The East entrance has already been closed for the season.
Winter offers a range of opportunities for hiking, snowshoeing, cross country skiing and camping in the park, but trail conditions and weather are considerably more treacherous in the winter than the spring, summer or fall. From December through March, temperatures typically range from a low of 24 to 31°F in the evenings and early mornings to 46 to 50°F in the afternoons. Snow, ice and cold winds are common in the winter, so the park recommends that visitors are thoroughly prepared before hiking on the park's trails.
Park officials expect traffic to drop off as it transitions to its winter operations, but the Thanksgiving weekend has been one of its busiest ever. Traffic has been busy, while lodges within the park and the adjacent town of Tusayan have reported higher than usual occupancy rates. The park posted new updates about roads, entrances, fees and closures for the holiday weekend and also for the upcoming winter operations.
Like many other U.S. national parks, the Grand Canyon has seen a dramatic increase in visitors over the last few years. Park officials said visitors to the South Rim can experience crowded conditions during busy periods throughout the year, including spring break, summer, and holiday times during fall and even winter. That might include long entrance lines, long shuttle bus lines, limited parking near the Grand Canyon Visitor Center and large crowds at popular viewpoints.
The park offers a wide range of tips and resources for winter visitors to optimize their experience. Visitors traveling to the park this winter are asked to be prepared for modified changes in operations, including reduced shuttle bus operations, first-come, first-served camping at Mather Campground and access to the North Rim available only by hiking and cross country skiing from the inner canyon trail.
All the latest inspiration, tips and guides to help you plan your next Advnture!
Brian is an award-winning journalist, photographer and podcaster who has written for Runner's World, The Times, Outside, Men's Journal, Trail Runner, Triathlete and Red Bulletin. He's also the author of several books, including Kicksology: The Hype, Science, Culture and Cool of Running Shoes. He lives in Boulder, Colorado, and loves to run, bike, hike, camp, ski and climb mountains. He has wear-tested more than 1,500 pairs of running shoes, completed four Ironman triathlons, as well as numerous marathons and ultra-distance running races.