Hiking after dark: experimental night-time program hangs in the balance
California city considers whether to continue its night hiking program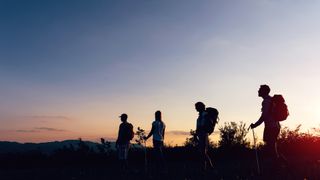 (Image credit: Getty)
Will a Southern California coastal town continue its popular experimental nighttime hiking program on the trails of an iconic mountain park?
San Luis Obispo hikers, trail runners and mountain bikers will find out soon. The fate of the city's after-dark trail use permit program at Cerro San Luis Natural Reserve will be discussed beginning March 16 by the San Luis Obispo City Council, but a final decision won't likely be made until later in the springtime.
The popular three-year program wrapped up recently after 8,600 permits were issued for the 5-mile (8km) trail system on the 1,292-foot (394-meter) mountain that's part of the chain of Southern California peaks called the Nine Sisters.
From early November to mid-March, hikers, trail runners and mountain bikers were able to utilize the roughly trails on what's known as Madonna Mountain in the dark.
If the program is renewed, it'll cost an estimated $175,000 to pay for things like an environmental review and additional ranger service.
"If you work late or you're not able to hike during the day it was a nice option," said Hiker Amanda Lenik told KSBY News. "I think that as long as you're respectful and you stay on the trail that there's plenty of open space around us and I think that animals might have other options of other places than our trails."
During winter months for the past three years, locals could claim up to 65 permits each evening to access Cerro San Luis until 8:30 pm. For trail enthusiasts and 9-to-5 workers, the extended hours provided more opportunities to enjoy the open space. For conservationists, it risked further disruption of wildlife habitats.
Initially planned as a two-year pilot, the City Council voted in November 2020 to extend the program for one more season, citing the value of outdoor exercise during the COVID-19 pandemic and the fact that city staff hadn't finished a report recapping its impacts.
That report showed that hikers made up the majority of evening trail users – of the 8,609 total permits pulled, 90 percent went to hikers and trail runners and 10 percent went to mountain bikers. It also revealed that the overall number of trail users increased every year. Over the three winters, total traffic on the mountain increased by 33 percent, according to the report.
The report also showed that nighttime use of the mountain skyrocketed during the month of December, when the Madonna Inn erects a Christmas tree of lights at the peak. While in the other months, the number of hiking permits averaged between 20 and 30 per night, they often maxed out in December.
Instances of hikers using the open space without a permit also soared—those volumes more than doubled from 2019-20 to 2020-21, reaching 1,848 this past winter.
While park rangers issued just one citation throughout the pilot program, their contacts with hikers increased more than 300 percent. One medical emergency transpired on the mountain at night — a sprained ankle.
A total of 3,160 permits were issued during the 2018-19 season, 2,747 permits were issued during the 2019-20 season, and 2,702 permits were issued during the 2020-21 season. In total, 7,783 permits were issued, of which 826 were bikers and 6,957 were hikers based on self-designation at the time of permit reservation.
Four wildlife game cameras were installed, and field surveys were conducted by Terra Verde Environmental to monitor and track nocturnal wildlife species composition and any observable and notable wildlife activity and behavior.
At least one council member is in ardent opposition. Jan Marx, who was the San Luis Obisbo mayor when the program started, told New Times that the city report "confirms" her stance against night hiking. Marx said the program, which "only benefits a small number of people," is costly and degrades the environment.
A survey of trail users found that one-third encountered some form of wildlife on their hike, while one hiker reported seeing a mountain lion.
"In my opinion, the 'pilot program' should never have been allowed in the first place, let alone extended another year, without full environmental review," Marx said. "The program is harmful environmentally and too expensive. It should be terminated."
Cerro San Luis was chosen because it's not in a neighborhood, there is good access in case of an emergency, and it's an ecological island, not connected to bigger areas of wildlife.
"To me, it's wrongheaded," Marx said. "It was wrongheaded in the first place and it would be a misuse of city funds to continue the program and make it permanent."
All the latest inspiration, tips and guides to help you plan your next Advnture!
Brian is an award-winning journalist, photographer and podcaster who has written for Runner's World, The Times, Outside, Men's Journal, Trail Runner, Triathlete and Red Bulletin. He's also the author of several books, including Kicksology: The Hype, Science, Culture and Cool of Running Shoes. He lives in Boulder, Colorado, and loves to run, bike, hike, camp, ski and climb mountains. He has wear-tested more than 1,500 pairs of running shoes, completed four Ironman triathlons, as well as numerous marathons and ultra-distance running races.