If most of Europe is having a heatwave, why is the UK so wet?
We call on an expert to explain what happened to the sunshine of June – and when warmer weather might return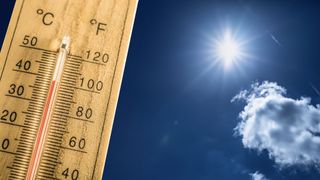 (Image credit: Getty)
While southern Europe and areas of America are facing a heatwave, the UK has been experiencing a prolonged period of wet and, frequently, chilly, 'summer' weather. The inclement conditions are in contrast to June, when temperatures soared and England, Wales, Scotland and Northern Ireland all recorded the warmest June, by a significant margin, since records started in 1884.
If you are a runner, hiker, cyclist, wild swimmer, kayaker or anyone who enjoys being outdoors, you might well be wondering what happened to the warmth and sunshine of June – and whether it will return this summer.
We investigate why is there such a contrast between the UK and other areas of the world and how can we be shivering in July when we were so warm in June.
'You can't have too much of a good thing'
Jim Dale, one of the UK's leading meteorological experts, explains why many parts of the UK are facing so much rain and cold.
The founder of British Weather Services says: "It's a case of 'you can't have too much of a good thing' here in the UK and after an above-average sunny and dry June, we now experiencing wet weather.
"It's the same for other northern European countries such as Belgium, Holland, northern Germany and northern France just now.
"We live in a temperate climate and that means we experience moderate rainfall spread across the year and changeable conditions. In general, this means mild to warm summers and cool to cold winters. It's rare for the UK to have long periods of stable weather even in the summer.
"To summarise, we are in a period of cool and changeable weather and while we wouldn't let normally expect this to last five or six weeks, it is actually likely to go on longer."
Hot and cold: UK versus southern Europe
There is a reason why the divide between northern and southern Europe is currently so stark. Jim explains: "The UK is not feeding into the current 'heat dome' in the Mediterranean and southern Europe, in countries such as Spain and Greece. This is self-perpetuating and the physics of it all means that while that weather stays put in southern Europe, our weather also stays put.
"We are experiencing what is dragging in the jet stream, which is controlling the upper air winds in the atmosphere. So, we have low pressure and frontal pressures and troughs that come off the Atlantic and towards the UK.
"This has resulted in two distinct patterns of weather holding firm and, for the UK, this means it is unlikely to change immediately."
Northern Scotland: an anomaly
As is so often the case, when England is wetter, northern and north-west Scotland tends to be drier. In recent weeks, northern areas of Scotland have had drier and sunnier weather compared to the rest of the UK.
Jim, who is author of the book, Weather or Not?, says: "The jet stream is centred over England, Wales and Ireland rather than closer to Scotland at the moment, so there is ebb and flow of weather. The further north you go, the more sunshine and drier weather there is, while the frontal pressures are careering into England and Wales just now."
A buffer zone: the worst of the weather is in the middle
Jim reveals there is currently a middle zone of weather in Europe, which lies across the Alps and Pyrenees and into the Balkans. He says: "This is the thundery zone and there have been big thunderstorms and heavy hailstorms. These countries are in the cross-over zone between the two different weather types and it's very hazardous.
"This band of weather, mainly in France, is acting like a barrier between the very hot weather of southern Europe and the cooler weather of the UK and northern Europe. There is always a transit zone with weather and this is what has been in place for a while now.
"It looks like is could last for at least another week to 10 days and we just need to wait to see if there will be any kinks or changes in air masses to move the weather about."
Even more extreme: the weather in America
Temperatures in south-western areas of North America, such as Texas, Nevada and Arizona, have been very hot, too. Jim says: "The heat is stifling in the south-west of the US but it hasn't quite broken any world records yet. However, the coming week is likely to see hot conditions moving north-westerly, so much more of the US is going to be experiencing warmer weather.
"You can trace some of the heat back to the hot conditions in Canada and also Siberia earlier this year when forests and peatlands suffered wildfires. Like what is happening Europe just now, the heat came from the Middle East. There was no barrier to this heat arriving."
'It has climate change written all over it'
While some people in the UK might be imagining that a cooler July dispels the concept of climate change, Jim disputes this.
He says: "It is a strange old world at the moment and people need to join the dots because the dots are showing us that the weather just now has got climate change written all over it.
"We are experiencing very hot weather and record highs in certain parts of the oceans, particularly the eastern Atlantic and the Mediterranean, and they are involved in making our weather.
"You have to look across the world… you can see what's happening across the world and while the UK has wet and colder weather just now it's the result of what is happening elsewhere. We can't deny that this is climate change.
"It you join all the dots, the weather has got climate change written all over it."
All the latest inspiration, tips and guides to help you plan your next Advnture!
Fiona Russell is a widely published adventure journalist and blogger, who is better known as Fiona Outdoors. She is based in Scotland and is an all-round outdoors enthusiast with favourite activities including trail running, mountain walking, mountain biking, road cycling, triathlon and skiing, both downhill and back country. Her target for 2021 is to finish the final nine summits in her first round of all 282 Munros, the Scottish mountains of more than 3,000ft high. Aside from being outdoors, Fiona's biggest aim is to inspire others to enjoy the great outdoors, especially through her writing. She is also rarely seen without a running skort! Find out more at Fiona Outdoors.