ITV Monster Carp TV series hits the spot!
As Monster Carp goes out on a high, here's more info on the series and an update on repeats.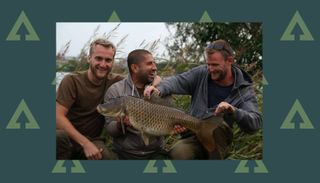 (Image credit: Angler's Mail)
Welcome to Advnture, the new home of AnglersMail.co.uk
Taking in local culture, adventure and travel, this amazing global hunt for carp has gone down a storm on social media, with the series trending on Twitter during the broadcasts.
Presenter and series producer Ali Hamidi said: "I think the response to this series from the fishing industry has been beyond our wildest dreams.
"We're so proud and happy that you folks are loving it like you are.
"We learnt a lot from making series one and have already started filming series two, we hope that we evolve and develop the series so it goes from strength to strength.
"Your support and love for the show is proving to ITV just how powerful coarse fishing is and how it deserves to be on at PRIME TIME on mainstream tele!"
Keen carper and football star Bobby Zamora loved the first two episodes: "It's great to see a carp show on prime time TV.
"It's great all-round entertainment and I love the different venues – they're very different to what you might expect.
"It's always a giggle watching the boys have a laugh, just like we all do on the bank!"
England and Arsenal goalkeeping legend David Seaman described the show as: "Absolutely ace! I couldn't believe the size of that lake. A true inspiration and a real insight into a incredible location."
Here's a quick look-back at each show in the series….
1 Monster Carp – Japan
Heading to The Land of the Rising Sun for the ultimate angling adventure, Ali Hamidi, Tom Dove and Darrell Peck kick off the series. They're on a quest to discover Japan's legendary carp.
The country is known for its colourful koi, but can the team tempt one of the Land's unknown monster king carp in the shadows of Mount Fuji?
With laughs aplenty, this is one unforgettable story to open this debut series of Monster Carp.
First shown on Tuesday, July 5, 8pm – ITV4
2 Monster Carp – Hungary
In an action-packed adventure in Central Europe, Ali is joined by Neil Spooner and Tom Dove at Balaton, one of Europe's largest lakes.
The Monster Carp team face testing conditions from boat and bank on the windswept, 50-mile-long water, taking time to sample some of the famous Hungarian cuisine and culture between the action.
First shown on Tuesday, July 12, 8pm – ITV4
3 Monster Carp – Italy
In a rollercoaster journey across breathtaking Italian lakes and rivers, Ali is joined by Tom Dove and Danny Fairbrass as they say "ciao" to monster carp.
The boys' trip takes them from the beauty of Venice right into the heart of darkness as they tackle demanding and, at times, dangerous conditions in search of their quarry on the incredible River Po – home to 60 lb carp and World record-sized catfish.
First shown on Tuesday, July 19, 8pm – ITV4
4 Monster Carp – Austria
Fishing incredible lakes amongst the Austrian Alps, Ali teams up with Korda chief Danny Fairbrass and Darrell Peck for this series concluding episode.
They go in search of a well-known 50 lb carp and a mystery wild specimen. Will they end the series with the Arnold Schwarzenegger of the fish world?
First shown on Tuesday, July 26, 8pm – ITV4
Repeats: Saturday, July 30 5pm and Sunday, July 31, 8.25am – ITV4.
All the latest inspiration, tips and guides to help you plan your next Advnture!