Jeremy Wade explains ITV River Monsters finale
Jeremy Wade reveals all about the ninth and final series of ITV's River Monsters.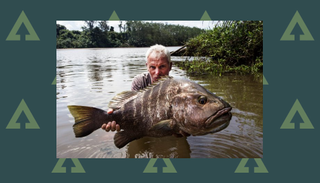 (Image credit: Angler's Mail)
Welcome to Advnture, the new home of AnglersMail.co.uk
The internationally popular programme again takes Jeremy Wade to various exotic locations around the globe including, for the first time, the bottom of the sea bed in his search for the answers to stories of fish suspected of killing or injuring people.
Jeremy Wade's last trips take him from the frozen waters of Greenland to the remote tropical islands of Indonesia.
He's trying to solve mysteries ranging from which predators were responsible for eating the survivors of a torpedoed WW2 ship to whether a double homicide in a remote jungle lake can really be pinned on a giant fish on the wrong side of the world.
The 61-year-old who lives in Somerset told the Mail: "It is sad to think this will be the last ever series.
"Its huge success came as a great surprise as it started out as one episode which grew into one series then kept going for nine years that's the longest I have ever been in one job.
"River Monsters is very demanding filming and we think the idea has now run its course. There are plenty of fishing stories out there but it has become harder to find those which have the right combined element of danger and mystery.
Jeremy Wade continued: "It has been great fun along the way with some hairy moments – the one time I felt really scared myself was going across a large lake in Ethiopia in a boat made of pieces of welded together metal which had little buoyancy and a big storm blew up. I thought the boat might topple in the huge swell and the lake was teaming with crocodiles.
"In the new series the most unusual episode involved going down 2,000 ft to the bottom of the sea in Honduras in a home-made submarine in search of a deep sea monster. The guy who made it is totally unqualified but has been making his own subs for decades since he was 17, and I trusted him completely.
"It took 45 minutes to descend and we went down three times for up to nine hours. It was very cramped with the cameraman sat on my lap – and you spend a long time with nothing much happening down there.
"The most unusual experience I remember was actually accidental when we fortunately managed to rescues a man who was stranded on a scorching hot uninhabited island without water off the isolated north coast of Australia, thereby saving his life.
"My biggest fish was a shark of over 1,000 lb but I have not suffered any personal injuries from the fish, mainly because I stay completely focused when handling them.
"I am delighted that the show has appealed to many non-anglers and shown them some of the appeal of fishing – it has also been good for teaching them that we care for the fish and they are all returned healthily to the water.
"I love the fact that its become popular round the world and we can go to somewhere like Mongolia and the local tribesmen will say that they love the programme. With all the problems in the world fishing provides a common bond and language.
"There will be life for me after River Monsters as I'm working on a few other ideas for programmes but can't say yet what they will be about.
"One thing I do want to do which I really haven't had much time for in recent years is actually to go fishing in this country.
"A friend of mine has suggested going after the barbel on the Wye, and living in Somerset the idea of tackling the pike on the fly at Chew Valley is high on my bucket list," Jeremy Wade oncluded.
River Monsters episode guide
River Monsters will be broadcast weekly on ITV1 for 30 minutes from 8pm starting on January 5, 2018. The episodes are as follows:
Volcanic Island Terror
On a volcanic island in the Pacific Ring of Fire, an ancient fishing community is being terrorised by something in the water that's left behind a trail of bloodied victims.
Coral Reef Killer
On the tropical island of Sulawesi, Indonesia, a snorkeler is impaled and killed by an unseen underwater assailant in front of a packed tourist beach, and Jeremy Wade finds a spate of similar attacks.
Malaysian Lake Monster
On a remote lake in Malaysia, two men mysteriously vanish – just hours apart.. Could the killer be an interloper from South America, as reports suggest, or is there a home-grown predator that fits the bill.
Return of the Killer Catfish
On his very first 'River Monsters' investigation, Jeremy Wade was propelled into an Indian river by a wallago catfish as big as himself, now he hears a report from neighbouring Nepal of a mysterious attack that sounds strangely familiar: a lone fisherman on a mountain river dragged off his feet and into the water by an unseen creature, never to be seen again.
Ice Cold Killer
After a mystery sea monster washes up on a UK beach, Jeremy Wade sets off on a journey to unmask this beast and find out if it poses any threat to humans.
Killers from the Abyss
Jeremy Wade embarks on the biggest and most complex investigation of his career; to unravel the mystery of what happened to over a thousand passengers of the RMS Laconia, torpedoed in the mid-Atlantic in 1942, with recently uncovered reports telling of stranded swimmers attacked by shoals of unidentified fanged fish.
All the latest inspiration, tips and guides to help you plan your next Advnture!
Running from 1964 until 2020, Angler's Mail was the UK's leading weekly magazine devoted to coarse fishing, telling readers everything they needed to know about which fish to catch, where to catch them, and what kit they needed to do it. Now, loads of the magazine's expert advice can be found on Advnture.com, as a helpful resource for angling newcomers and experts alike.