Watch: giant 6 ft long catfish eludes London angler
The encounter was more than your usual 'one that got away' tale.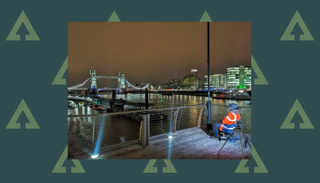 (Image credit: Angler's Mail)
Welcome to Advnture, the new home of AnglersMail.co.uk
London fishing tales don't get much more incredible than what happened to the intrepid urban angler who is attempting to catch a fish from all parts of the city.
Shaun Luke's epic London fishing mission gave him the shock of his life when he hooked a massive Wels catfish. The encounter was backed by video evidence, and it was no ordinary 'one that got away' yarn.
He connected with the giant when fishing the wide River Thames close to the historic Tower Bridge.
With the coarse Close Season in force on rivers, Shaun was targeting sea fish as the city's tidal River Thames reaches. The powerful stretches have an incredibly diverse range of species, according to the time of year.
Sadly, Shaun's monster, estimated at 6 ft long, got away into the murky, fast flowing waters when a youngster helping to land it grabbed the line near the hook… and it snapped.
Shaun, whose London fishing challenge is to catch a fish in all London boroughs in one year, was on his tenth recent visit to the Thames in the City of London (one of the 33 boroughs). Amazingly, the huge catfish gave him his first-ever City bite!
Some specialists have tipped the middle and lower reaches of the Thames to have potential to be a viable big catfish river of the future, but few anglers currently fish the daunting urban 'tideway'.
"Absolutely gutted" at huge fish loss
Shaun, 51, from Plumstead, South East London, said: "I was absolutely gutted when the line snapped with the fish right into the bank.
"I had been fishing at night for several hours without a bite when I decided to do some lift and dropping by hand, and within 30 seconds the fish struck.
"It shot off into the middle of the river and I only stopped it a few yards short of HMS Belfast (a giant retired Navy warship), before slowly bringing it back to the bank. When I saw the massive head, I couldn't believe it.
"I had hooked the cat from a high bank and, although I had a dropnet, the monster was far too big to fit in it, so I walked upstream to where there were some steps which you aren't supposed to go down.
"I could barely move as I was surrounded by about 50 spectators who joined me on the slippery staircase."
Shaun continued: "I had played the giant for nearly an hour and my back and arms were aching, so when these two youngsters said they were carpers and offered to help, I said 'ok'.
"I told them to get the fish by the mouth and lift it, but sadly one grabbed the line first and it snapped.
"I was numb with shock and then the boys started giving me grief saying I shouldn't be fishing there in the Close Season anyway, but I have checked and it is acceptable to sea fish in that tidal part of the river.
"I was using a two-hook paternoster rig with prawn on one hook and mussel with chicken skin on the other, which the moggie took."
London fishing challenge rolls on
"I'm not giving up and I'm going back for another crack and next time I'm going back with a rubby-dubby bag," concluded Shaun, who works as a gardener/caretaker.
Shaun recently completed the 26th borough of his London fishing challenge when he landed a tiny roach from the Grand Union Canal, within Hammersmith and Fulham.
And Shaun hopes to complete the last seven boroughs by June 21. After that he is planning a short break before his ambitious next target… catching a fish in each of the 48 English counties.
Video: watch some of Shaun's big cat encounter…
This video was one of three clips posted by Shaun on his 'Angling With Shaun' page on Facebook.
All the latest inspiration, tips and guides to help you plan your next Advnture!
Running from 1964 until 2020, Angler's Mail was the UK's leading weekly magazine devoted to coarse fishing, telling readers everything they needed to know about which fish to catch, where to catch them, and what kit they needed to do it. Now, loads of the magazine's expert advice can be found on Advnture.com, as a helpful resource for angling newcomers and experts alike.