Fishery owner warns of 'rude and nasty' carp rustlers
A veteran day ticket lake owner assaulted by fish rustlers has warned other venues and anglers.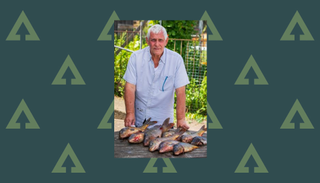 (Image credit: Angler's Mail)
Welcome to Advnture, the new home of AnglersMail.co.uk
Maybrands Fishery boss Nick Devlin, 72, and son Gary, confronted the seven Romanian men when they were tipped off by another angler, and discovered six dead carp in a plastic bag.
Police responded quickly to the incident at Maybrands, in Stapleford Abbotts, Essex, but not before 42-year-old Gary suffered a black eye and a cut chin.
The case was covered by some of the national media, but Nick revealed the full story. And he revealed why it's important for everyone to be vigilant, especially in his area.
Nick explained: "We were contacted by a female angler who was fishing near the group with a friend, saying she had seen a carp being bashed on the head on the metal grill of a fishing platform.
"Me and Gary quickly went to investigate and found the group with a bag containing six carp covered in blood with their heads bashed in, so called the Police.
"We have electronic gates at the fishery so we kept them locked so the culprits couldn't leave. When they realised this they turned nasty and set upon us, attacking Gary particularly badly.
"The Police arrived and searched their belongings and found six more dead carp in another bag.
"At least two of the anglers were in fact regulars here and all had bought day tickets but they clearly state that all fish must be returned alive to the lake after capture.
"When confronted they treated it all as a bit of a joke and were very rude and disrespectful to both us and the Police.
"The Police were unsure whether they could arrest the men for theft as the fish hadn't left the site but they might be guilty of criminal damage.
"They suggested the theft matter could be resolved by agreeing compensation and there was an offer of one of their old cars but it was only worth about £500 which is nowhere near the value of the fish.
"The Police were originally going to arrest the seven but let them go after taking names and addresses because there was not enough room at the station to hold them.
"The local Environment Agency bailiff has also become involved and discovered that none of the group had rod licences so they are also likely to be prosecuted for that.
"Since the incident we have discovered the assault was caught on our security cameras and shows Gary being attacked by all seven."
Maybrands man links case to others
Nick revealed: "We are also led to believe the group have been doing this elsewhere, including the Lea Valley and Wanstead Flats and we want to warn all other fisheries in the area to be on the look-out for them.
"I started the fishery 35 years ago when I bought some derelict land and had four lakes dug out which I stocked with 10,000 fish.
"The only time anything like this happened before was five years ago when I caught a Romanian trying to remove a couple of live fish, but we agreed compensation.
"In future I'm going to be extra vigilant with Eastern European anglers and make sure they have no bags on them in which they could hide fish," concluded the Maybrands Fishery man.
A statement from Essex Police said: "We were contacted following reports of the theft and destruction of a number of fish from a property in Bournebridge Lane, Stapleford Abbotts.
"Officers attended and found a number of dead fish. They also received two further reports of assault in relation to the incident.
"A number of suspects were present when officers arrived. Officers sought to resolve the matter through a community resolution after the victim made clear he would be satisfied if he was reimbursed for the cost of the dead and damaged fish.
"Unfortunately all parties could not reach a formal agreement so the matter could not be concluded in this way.
"We are in the process of speaking to the suspects, who need to be interviewed to account for their involvement in the incident.
"As the matter could not be resolved at the scene between all parties, our investigation into the matters of theft and assault are continuing."
Romanian anglers caught in Staffordshire
Meanwhile, in a case similar to what happened at Maybrands, two Romanian anglers were also caught trying to steal fish from Carney Pools in Stafford, Staffordshire.
They were spotted throwing carp up to 10 lb into the undergrowth to die in black bags but fortunately this was noticed in time for the fish to be found and returned alive to the water.
The Police were informed and proceedings are being considered.
All the latest inspiration, tips and guides to help you plan your next Advnture!
Running from 1964 until 2020, Angler's Mail was the UK's leading weekly magazine devoted to coarse fishing, telling readers everything they needed to know about which fish to catch, where to catch them, and what kit they needed to do it. Now, loads of the magazine's expert advice can be found on Advnture.com, as a helpful resource for angling newcomers and experts alike.