Mesters Lake beast capture helps solve tench mystery
The mystery of missing tench tails was solved when the culprit was caught alongside the lake.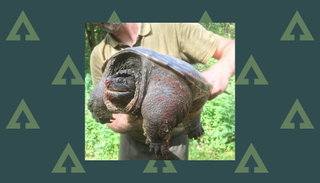 (Image credit: Angler's Mail)
Welcome to Advnture, the new home of AnglersMail.co.uk
Villain of the piece at Mesters Lake was a huge common snapping turtle from North America.
It was found by the four-year-old son of a carp syndicate member as it wandered along taking the air.
Myrtle the turtle, as she has been named, weighed in at a stonking 11 lb 2 oz.
The mega turtle has now been re-homed out of harm's way from Mesters Lake, near Scunthorpe, Lincolnshire.
Mesters Lake chief Mark Gregory explained: "We have no otters here so we were baffled by why tench in the 3-4 lb bracket were being landed with part of their tail missing.
"Then little Connor Brocklesby, son of member Richard, saw the turtle walking along a path and fetched his dad.
"One of our members used to run a reptile shop and he identified it – they are fearsome, aggressive and cantankerous creatures which can take a nip out of anything passing by.
"Nobody had ever reported seeing it before although since the report went on social media one member says he spotted one three years ago.
"It must have been put in as an unwanted pet and it grew bigger – it happens occasionally with other species like the koi carp we had a while back.
"Hopefully Myrtle will be happy in her new home and the tench will now be safe from losing any body parts," Mark concluded.
Views on Mesters Lake giant
Associate professor and roach ace Dr Mark Everard, said: "It certainly looks like a common snapping turtle to me.
"I know this as I caught a 17 lb sample once in upstate New York when fishing with a worm.
"They can easily take a finger off, also readily adapt to our climate."
Snapping turtles are native North America and can grow 80 lb.
They are slow to mature and long lived with a lifespan of up to 100 years.
They are not often seen as they can bury themselves in silt and are more commonly spotted when they sometimes leave the water.
No breeding populations have been found in Britain.
But there is concern that they have bred in Italy where a 44 lb specimen was found in a canal near Rome.
All the latest inspiration, tips and guides to help you plan your next Advnture!
Running from 1964 until 2020, Angler's Mail was the UK's leading weekly magazine devoted to coarse fishing, telling readers everything they needed to know about which fish to catch, where to catch them, and what kit they needed to do it. Now, loads of the magazine's expert advice can be found on Advnture.com, as a helpful resource for angling newcomers and experts alike.