Montana bear death: wilderness guide mauled by grizzly bear
The incident was the fifth fatal bear attack in the U.S. in the past nine months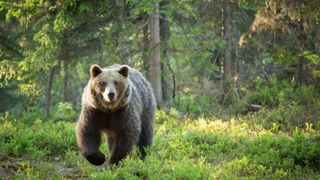 (Image credit: Getty)
A Montana wilderness guide with a love for the outdoors died after he was mauled by a grizzly bear that was likely defending a moose carcass near Yellowstone National Park.
Charles "Carl" Mock, 40, was attacked on April 17 while fishing north of West Yellowstone, Montana, near a campground, according to numerous news reports.
The Gallatin County Sheriff's Office said Mock died at an Idaho hospital on April 17.
Mock "sustained significant scalp and facial injuries" during the attack, the sheriff's office said in a statement.
Resting with his back against a tree, a bloodied and dazed Carl Mock called 911 after being severely mauled by the 410-pound male grizzly bear.
"I figure he was running on adrenaline," Chuck Mock, his father, told the Billings Gazette after details of the scene were relayed to him by his son's rescuers.
In Carl's right hand he held a canister of bear spray he'd used to fend off the attack, his dominant left hand having been "chomped up" as he tried to protect his neck and head from the fierce assault. One of the bear's teeth had punctured Carl's skull, leaving him concussed, and his brain was swelling from the injuries.
According to Montana Fish Wildlife & Parks, Mock was alone when the attack occurred. It is unclear if he deployed the bear spray, the agency said.
Rescuers spent about 50 minutes searching for Mock before they located him. Mock was transported via a rescue toboggan and snowmobile then taken to the hospital in Idaho Falls, the sheriff's office said.
The day after the attack, wildlife experts with the Montana Fish Wildlife & Parks agency surveyed the area and encountered a bear that charged the group.
While deadly bear attacks in the U.S. are relatively rare, Mock was the fifth person to succumb to a fatal bear attack since last July.
If you encounter a grizzly bear and it involves a mother grizzly bear with cubs, and the bear makes physical contact, experts suggest to first try playing dead. Roll over onto your stomach and cover your neck and the back of your head with your hands. Keep your legs and elbows wide so the bear can't flip you over.
When the attack stops, remain still and wait for the bear to leave. Do not get up until you are absolutely certain the bear is no longer in the area – even if you have to wait 30 minutes or longer. However, if the attack is prolonged or the bear starts biting you, you need to fight back.
Runner in Grand Teton stalked by bear on same day as Montana fatality
On the same day Mock was killed, a runner was slowly followed by a hungry black bear fresh out of hibernation in Grand Teton National Park in Wyoming. Black bears are not nearly as aggressive with humans as grizzly bears but can be deadly if they do decide to attack.
While out for a daytime run, Evan Matthews encountered a cinnamon-colored black bear in Grand Teton National Park, according to a news report in USA Today. While he notes that he had bear spray with him, the bear was never close enough to deploy the deterrent.
Smartly, Matthews didn't immediately run away and ignite the bear's chase instinct. Instead, he then started slowly backing away and kept calmly talking to the bear, which subsequently pursued him for about a half mile.
As explained in the video, Matthews is heading back to his car at the time, attempting to keep the bear from getting closer by slowly backing away for about a mile and a half.
Matthews said he often sees bears on his runs, but none had dared to come so close.
"This one was interested in me, so I had to change its mind," he wrote.
Black bears are hungry as they come out of hibernation, but humans are not part of their standard diet – something that Matthews pointed out while talking to the bear. If you encounter a black bear in the wild, it will most likely attack only if it is threatened. Experts suggest calmly leaving the area, backing away slowly while facing the bear, and without making direct eye contact.
"I did not play dead," Matthews said in the notes to his YouTube video. "That may save your life if a mother bear with cubs is attacking, as she may perceive the threat to be over. But with a solo bear who is interested in you like this, it is not trying to eliminate a threat — it is trying to find an easy target. Don't be one.
"I kept talking to it to show that I was a human and not to be mistaken for another animal. Not all bear encounters are the same. In most cases, I've been able to just go around the animal. But this one was interested in me, so I had to change its mind!"
All the latest inspiration, tips and guides to help you plan your next Advnture!
Brian is an award-winning journalist, photographer and podcaster who has written for Runner's World, The Times, Outside, Men's Journal, Trail Runner, Triathlete and Red Bulletin. He's also the author of several books, including Kicksology: The Hype, Science, Culture and Cool of Running Shoes. He lives in Boulder, Colorado, and loves to run, bike, hike, camp, ski and climb mountains. He has wear-tested more than 1,500 pairs of running shoes, completed four Ironman triathlons, as well as numerous marathons and ultra-distance running races.