'No Moor BBQs,' says British Mountaineering Council
Organisation campaigning to ban barbecues on open moorlands, after spate of destructive wildfires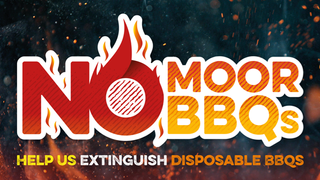 (Image credit: No Moor BBQs)
Following a number of accidentally lit fires causing large amounts of damage to sensitive wilderness-rich areas across the UK, the British Mountaineering Council (BMC) has begun a campaign to ban the use of disposable barbecues in large swathes of green spaces across the country.
The BMC, which has 82,000 members, supports climbing, walking and mountaineering across Britain, and campaigns for the conservation of wild landscapes and the maintenance of trails that allow free access to crags, hills, coastlines, woodlands and peaks.
The 'No Moor BBQs' campaign is calling on the UK government to make the use of these hazardous barbecues on open moorland a criminal offence, with severe penalties attached. The barbecues, which retain their heat for hours, are often left lying around, still smouldering, in areas where dry grass and tinder-like leaves can ignite extremely easily. And even when people attempt to dispose of them in bins, often the coals have not been properly extinguished, causing bin fires.
The relaxation of lockdown rules, combined with warm summer weather conditions and widespread cancellation of overseas holiday as a result of uncertainly around the COVID19 pandemic has led to a huge upsurge in the numbers of people exploring the British countryside.
This has put pressure on some honeypot locations, where large numbers of people have congregated at a time when land management organisations such as the National Trust and National Parks have been operating with reduced numbers of volunteers and ranger staff, due to furloughing throughout the pandemic.
A genuine lack of knowledge about the outdoor code among those new to alfresco adventures has also contributed to the challenges faced by those tasked with protecting wild places, as well as some out-and-out bad behaviour.
"Visitors enjoying the moors may not realise that they have started a fire or may choose to ignore warning signs," says the BMC on its website. "There were 137 wildfires larger than 25 hectares recorded in the United Kingdom in 2019, compared to only 16 in 2013.
"Over the weekend of 30 May 2020, more than 20 significant moorland and grassland fires were reported with devastating affects to some of our most iconic landscapes in areas such as the Peak District, the Yorkshire Dales and the New Forest. Since 2007, it is estimated that over 77 square kilometres of moorland in the Peak District alone, has been destroyed as a result of wildfires, many of which were caused through disposable BBQs."
The BMC has launched a YouTube campaign and is encouraging supporters to contact their local member of parliament with a scripted letter urging them to back the ban.
The impetus for the campaign is not to stop people from enjoying the outdoors – quite the opposite – it's to encourage them to get out and explore green spaces responsibly, leaving such areas of wild beauty intact for others who follow. Currently, it's hard enough to understand what you are allowed to do, or must refrain from, when meeting people in open spaces – and such confusion can be dangerous.
"People travelling from urban to rural areas or holidaying far from home are unlikely to be aware of local restrictions," say the BMC. "A blanket, easy to understand and countrywide restriction will be more effective in deterring visitors from using them [disposable barbecues] in public spaces."
NoMoorBBQs is a BMC campaign, and is part of The Climate Project.
All the latest inspiration, tips and guides to help you plan your next Advnture!
Author of Caving, Canyoning, Coasteering…, a recently released book about all kinds of outdoor adventures around Britain, Pat has spent 20 years pursuing stories involving boots, bikes, boats, beers and bruises. En route he's canoed Canada's Yukon River, climbed Mont Blanc and Kilimanjaro, skied and mountain biked through the Norwegian Alps, run an ultra across the roof of Mauritius, and set short-lived records for trail-running Australia's highest peaks and New Zealand's Great Walks. He's authored walking guides to Devon and Dorset, and once wrote a whole book about Toilets for Lonely Planet. Follow Pat's escapades on Strava here and instagram here.