Best camping meals: have a feast in the great outdoors
Many people's earliest memories of their best camping meals revolve around toasting marshmallows over a fire, but there are so many more ways to cook up a storm on a campfire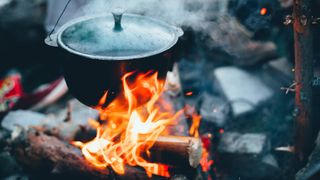 (Image credit: Getty)
The best camping meals can be achieved via one of life's simple pleasures: cooking over a fire. Whether it's toasting marshmallows or rustling up a hearty stew, campfire cooking is not only fun, it draws people together. With the right equipment you can cook just about anything on an open fire, but for those who like to keep it simple, here are three basic methods for preparing delicious camping meals.
Best camping meals: cooking on a stick
Pretty much anything you can get to stay on a stick can be cooked on one. Use a freshly cut stick for cooking over a campfire and remove the bark from the portion in contact with the food. Not only will you know what wood you are using, but the greenness will reduce the risk of it catching fire. Hazel and ash are excellent choices for cooking on, whereas yew, elder, holly, elm and rhododendron are all toxic – so avoid those!
Having a decent point to your stick and choosing one that's not too chunky is best when cooking both meat and fish. If you are worried about being able to cook it properly, opt for cubes of red meat such as steak, which is fine served a little rare. Fish are best cooked whole. Push the stick into its mouth and aim to get the whole fish skewered along the length. Once you get into it, it's much more satisfying than cooking on a camping stove.
Apples roasted on a stick are delicious. Push the end of a freshly cut stick firmly into an apple making sure the stick is robust enough to take the apple's weight. Roast over the embers of the fire turning regularly until the skin becomes loose. Allow to cool for a minute, peel off the skin before dipping into a mix of cinnamon and sugar.
Making bread on a stick couldn't be simpler. Measure out the dry ingredients into bags before you leave the house, then mix in the water when you are in camp and ready to cook. Roll the dough into a sausage shape about as thick as an adult thumb. Twist around the end of a freshly cut stick with the bark removed, leaving space between the coils for the bread to expand as it cooks. Cook over the embers of a fire, frequently turning until golden brown, and until it has a hollow sound when you tap it. Once baked, the bread should be easy to remove from the stick by twisting and pulling it off.
To make one portion of bread.

• 1/2 cup self-raising flour
• 1 tbsp dried milk
• 1 tsp sugar
• 1/4 cup water (approx.)
Optional extras include salt, herbs, cinnamon and dried fruit and nuts.
Marshmallows are the ultimate evening campfire treat. Try sandwiching toasted mallows between two chocolate digestives with the chocolate facing inwards to make S'more. If your preference is for savory suppers, toast mozzarella balls instead, before sandwiching them between two crackers.
Cooking in foil
Tin-foil packets are another great way to cook on a fire without the need for pots and pans. Prepare ahead of leaving for camp, and you have the ultimate ready meal to stick on the campfire when you arrive.
Prepare jacket potatoes by piercing with a fork, rub with olive oil and season, before wrapping in a double layer of foil. Bury the potatoes in hot embers at the edge of the fire and cook for around 45 minutes until soft.
While the spuds are cooking, butter or oil a double layer of heavy-duty aluminum foil, add your filling of choice and fold into a parcel, ensuring you seal the edges carefully. Sit the prepared packets on embers to cook, then cut open and eat straight from the foil. There are endless combinations of foil packet recipes to try: chicken, onions, peppers and mushrooms with fajita seasoning taste fantastic served with wraps, while sliced sausage, root vegetables and garlic are a favorite with kids.
One pot cooking
If you have space to carry a pan when camping, you open up even more options for camping meals. Stews, pasta and rice dishes all taste amazing cooked on an open fire.
Use your camping mug to pre-measure rice or pasta into a container, add stock powder and spices, and it's ready to throw straight into the pot when you set up camp. Add 2 cups of water for every one of rice or pasta, plus any fresh ingredients and simmer until the liquid has absorbed.
For the ultimate in campfire meals, you can't beat a campfire stew. Brown meat and onion in a pot, before adding carrots, potatoes and parsnips cut into chunks (there's no need to peel). Add a stock cube and water to cover and gently simmer over, or at the edge of a fire. Stew benefits from long, slow cooking so it will need a good couple of hours, but the result is well worth the effort.
Remember that food prepared on a campfire will be hot, so give everything a minute to cool before tucking in. Food should be cooked over the hot embers rather than flames, so your fire will need to burn for 45–60 minutes before it is ready for cooking.
Finally, never leave your campfire unattended and make sure it's out and the coals are cold before going home.
All the latest inspiration, tips and guides to help you plan your next Advnture!