English pike record fish caught … at mega 41 lb 12 oz!
Chris Drake ended a seven-year quest to catch a 40 lb pike with this 41lb 12 oz stunner.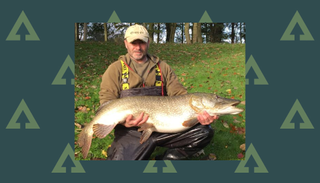 (Image credit: Angler's Mail)
Welcome to Advnture, the new home of AnglersMail.co.uk
Spessy ace Chris has been a syndicate member on the Trout Lake ever since the immense pike was first caught in 2010, and it went on to become the English pike record. Chris has witnessed and netted it on many occasions before.
The 43-year-old engineer, from nearby Scarborough, explained: "I've seen it spit out my bait before, had it in my swim loads but never been able to tempt it until now.
"It has been lean going and despite some hard work I had an 18-pounder first season, a 27 lb 4 oz PB the year after and nothing of any note until now.
"I was even fishing the lake when Terry Knight came up from another fishing magazine and we were kicked off the lake and I saw him catch it.
"But all the effort was worth it and it is nice that she's still in good health after all these years."
Chris explained: "I tempted her on a dead ide about eight inches long, freelined with two size 6 trebles and 28 lb Drennan wire trace and 50 lb braided main line fished on the marginal shelf.
"It is a freeline rig I use for carp fishing, and have a couple of powergum stop knots on the line with a bit of tungsten putty just to lay the line flat down,' he added.
Chris's target is now to up his perch PB of 2 lb 14 oz and he's caught Yorkshire PBs of carp to 36 lb, 8 lb tench, 48 lb catfish, 10 lb 6 oz barbel, 6 lb 5 oz chub and 15 lb cod.
The Wykeham pike has peaked at 46 lb 11 oz in 2014 to Wyndon Coole and is the official English pike record.
The British pike record remains at 46 lb 13 oz – and sits on the official list run by the British Record Fish Committee.
All the latest inspiration, tips and guides to help you plan your next Advnture!