Popular Colorado hiking circuit of 14ers temporarily closed
Private landowners want safety and liability issues addressed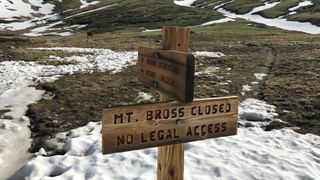 (Image credit: Brian Metzler)
Hiking four of Colorado's 14,000-foot (4,267-meter) peaks in a single morning is not only a daunting task, but it's only really possible with one set of peaks.
The quartet of "14ers" (opens in new tab) that comprises Mount Lincoln, Mount Democrat, Mount Bross and Mount Cameron can be accessed from a single trailhead near the small town of Alma in the central part of the state and completed in a loop in a few hours. The 7.1-mile (11.4 km) circuit has a combined vertical gain of 3,390 feet (1,033 meters), which can make for a fun and satisfying morning of hiking or trail running for someone with a reasonable fitness level.
Known colloquially as the "DeCaLiBron" loop (opens in new tab), it's a challenge that more than 25,000 hikers and runners take on every summer. (Joe Gray, a two-time World Mountain Running champion, set the new Fastest Known Time on the route last fall by running the loop in a mere 1 hour, 25 minutes and 2 seconds. Also see: Fastest Known Times: what's the big deal?)
However, the four conveniently located peaks were closed to the public May 1 by landowners of sections of private property that incorporates a portion of the loop. John Reiber and Patrick Schilken, who own separate sections of private land that overlap the hiking loop, want to make sure safety and liability concerns are addressed.
"I hope that closing the private property prior to the hiking season will bring attention to the safety, liability and resource damage issues we are facing," Reiber said in a lengthy email to The Denver Post (opens in new tab), adding that he anticipates reopening the peaks when the Kite Lake area opens for the season. This area, where the trailhead to the peaks is located, is operated by the town of Alma and typically opens in late May or early June when snow begins to melt and the gravel road becomes accessible to vehicle traffic.
Schilken is a fourth generation Coloradan with roots that extend throughout the state, he said in a June 2020 discussion panel (opens in new tab) organized by the Colorado Mountain Club. He owns mining claims throughout Park County, including the Decalibron Peaks, and now is faced with issues relating to outdoor recreationists on the land he owns.
The South Park Ranger District of the U.S. Forest Service estimates (opens in new tab) 25,000 to 28,000 visitors per season hike the peaks from the Kite Lake trailhead, a figure that has increased by about 35 percent in the past 10 years. Impacts caused by heavy use include trash, human waste, destruction of signage and environmental degradation. Because there are sections of land that is privately owned, there are no resources to manage the impacts.
Solutions are being explored to re-open the trail system in a sustainable way in the future. Landowners want hikers and runners to stay on the trail and respect private property, minimize impact to the environment by parking and camping only in designated areas, pack out all types of waste, and follow the Leave No Trace principles (see: How to leave no trace).
Landowners are exploring various options: working with volunteers to maintain the high-use areas, a paid hiking system, changing the Colorado Statute to require the public to gain permission from landowners to use private property, and other procedures.
"I do want the public to enjoy the area," Reiber told the Denver Post. "However I, like most if not all property owners, do not want to assume the liability for the people who choose to ignore rules or guidelines that have been developed and implemented to ensure their safety."
Mt. Lincoln (14,286 feet/4,354 meters) is the highest of the four peaks, followed by Mt. Cameron (14,238 feet/4,339 meters), Mt. Bross (14,177 feet/4,321 meters) and Mt. Democract (14,148 feet/ 4,312 meters). Technically, although Mt. Cameron rises above 14,000 feet, it is not considered a true "14er" because it is only 138 feet above the saddle that joins it with Mt. Lincoln.
To be ranked as its own summit according to Colorado hiking guidelines, a peak must rise at least 300 feet above the saddle that connects it to the nearest 14er peak (if another exists nearby). There are 53 peaks higher than 14,000 feet in Colorado, but Cameron is one of five summits that fall into that category. However, hikers generally include it as part of the DeCaLiBron loop, regardless of the semantics of the disqualifying technicality.
Also, Mt. Bross, the fourth 14er in this loop, has been legally off-limits to the public due to fractional ownership of mining claims there. Signs and an established trail below Mt. Bross direct hikers to avoid private land, however most hikers ignore the signs while hiking the loop. Landowners have increasingly seen and photographed trespassers in the area, prompting some of the recent calls to close the trail.
Reiber has worked for years with the Colorado Fourteeners Initiative (opens in new tab), the Colorado Mountain Club (opens in new tab) and the U.S. Forest Service to address issues on his land. The closure alarmed some in the fourteener community, but as a practical matter, few people climb those peaks before the snowpack melts. That led to speculation that Reiber was simply aiming to get the public's attention about ongoing problems, especially because he has consistently stated a desire to keep the peaks open to the public.
"It's entirely within his legal right to say either 'You're allowed to come to my property under these conditions,' or 'You're not allowed,' " said Lloyd Athearn, executive director of the Colorado Fourteeners Initiative in the Denver Post article. "Obviously if it were a long-term closure, there would be a lot of unhappy people. Everything we have heard is that it's going to be closed for the month of May. The vast bulk of people don't start climbing until most of the snow is off, which is in June."
The peaks were closed in 2005 for the same reasons that prompted this closure, but they reopened in 2009 with rules intended to keep people on the trails.
Throughout the loop, leaving the trail involves safety issues because of old mining structures, Reiber said, and it harms high alpine tundra. Vandalism is a problem, too.
"Property corner monuments or location certificates have been taken, moved or thrown down the mountain," Reiber said. "Buildings, doors, gates and signs have been destroyed. Mining equipment has been stolen or vandalized. Pipe and other materials used for mining have been stolen or thrown down the hill. Many signs have been used as targets, even though discharging of firearms is not allowed."
Reiber says the Colorado Recreational Use Statute (opens in new tab) needs to be amended to provide more protection for landowners who allow public recreation on their land.
"I have been advised to purchase more insurance," Reiber said. "However, the underwriters require the land be closed and no trespassing signs be posted before they are willing to provide insurance coverage. As an alternative, having all hikers sign a liability waiver would also be acceptable to the underwriters. Purchasing insurance that will not provide protection if someone trespasses or has not signed a liability waiver certainly complicates this problem."
Reiber said that there is a coalition of groups working to resolve his concerns.
"I believe that resolutions can be identified and implemented that will enable the peaks to be opened for all who wish to hike them and enjoy the adventure associated with them," Reiber said. "Now is the time for interested parties to get involved in understanding the challenges and identifying the resolutions that will enable all to enjoy the DeCaLiBron peaks in a safe and respectful manner."
All the latest inspiration, tips and guides to help you plan your next Advnture!
Brian is an award-winning journalist, photographer and podcaster who has written for Runner's World, The Times, Outside, Men's Journal, Trail Runner, Triathlete and Red Bulletin. He's also the author of several books, including Kicksology: The Hype, Science, Culture and Cool of Running Shoes. He lives in Boulder, Colorado, and loves to run, bike, hike, camp, ski and climb mountains. He has wear-tested more than 1,500 pairs of running shoes, completed four Ironman triathlons, as well as numerous marathons and ultra-distance running races.