America's best thru-hikes: 6 backpacking adventures across the States
The ultimate trekking experience, a thru-hike is an A-to-B backpacking odyssey. Our pick of America's best thru-hikes is likely to leave you with life-long memories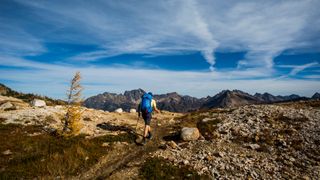 (Image credit: Getty)
Thru-hiking is an end-to-end backpacking trip on a long-distance trail. When you're talking about a thru-hike, 'long distance' can mean 300 miles or 3000 miles.
In the US, the three classic thru-hikes are the Appalachian Trail (AT), the Pacific Crest Trail (PCT), and the Continental Divide Trail (CDT). But there are plenty of other shorter thru-hikes, including Vermont's Long Trail, which was the country's first thru-hike, and newer epic challenges, including the Florida Trail and the Arizona Trail. Some thru-hikes include other distance trails. The PCT, for example, runs in tandem with most of the John Muir Trail.
America's best thru-hikes provide backpackers with the opportunity to walk for a long time in the woods, the desert, the mountains, the prairies, and everything in between. They also offer ample opportunity to test yourself physically. And even the shorter thru-hikes will dish out plenty of mental and emotional challenges along the way.
If you're attempting one of America's best thru-hikes, you need to choose a direction. On most trails that's NOBO (Northbound), or SOBO (Southbound), with the occasional YOYO, which means completing the thru-hike in both directions.
A thru-hike can take two weeks or five months. You can, of course, try fastpacking the routes, or even fully run them. Ultra-endurance athletes will sometimes go for a Fastest Known Time (FKT) on a thru-hike. But most of us, who can't take months off work, have to settle for choosing a shorter thru-hike, or section-hiking a trail, which means completing the whole route over months or years, one section at a time.
Nearly every thru-hike has a non-profit that maintains the trail and acts as a clearinghouse for information on the trail and how to hike it. Many assist hikers with packing lists, information on weather and water, gear drop planning, and more.
So start dreaming, and then begin planning. Below are a few of America's best thru-hikes ready to be explored (once we're out of the wilds with the Covid pandemic, which has led to some trails – including the AT – requesting people stay away this season).
Pacific Crest Trail
Location: California, Oregon, and Washington
Length: 2663 miles/4286km
Self-supported FKT: Heather Anish Anderson (60 days 17 hours 12 min; August 7, 2013)
Average Time: five months
Highpoint: 13,153ft/4009m Forester Pass
Best time to hike: NOBO thru-hikers start the PCT mid-April through early May. SOBO hikers start in late June through early July
For more info: pcta.org
Fewer than 200 people a year complete the entire Pacific Crest Trail, which crosses the western United States from the Mexican Border to the Canadian border. One of 11 National Scenic Trails, the PCT traverses starkly beautiful, barren, and colorful desert, the snow-capped Sierra Nevada mountains, mysterious old-growth forests, and it opens up to breathtaking views of Washington's Cascades. Hike the Pacific Crest Trail, and you'll also check the 211-mile John Muir Trail (JMT) off your to-do list. The JMT shares a path with the PCT from Yosemite Valley to Mt Whitney, California, and passes through Yosemite, John Muir, and Ansel Adams Wildernesses, and Kings Canyon, and Sequoia National Parks. Other PCT highlights include Hiker Heaven in Agua Dulce, CA, a trail angel–maintained rest spot that welcomes hikers who have survived the first 500 NOBO miles of hot, dry, steep SoCal. Two hundred miles later in Agua Dulce, CA, the desert gives way to an alpine landscape with reliable water. Tag the summit of Mt Whitney, the tallest peak in the contiguous United States. It's a side trip up a 14,505-foot peak that's hard and worth it. Goat Rocks Wilderness in the Gifford-Pinchot National Forest in southwestern Washington claims the best views on the PCT with a 360° panorama of Mount Rainier, Mount Adams, and the Pacific Northwest.
Continental Divide Trail (CDT)
Location: New Mexico, Colorado, Wyoming, Idaho, and Montana
Length: 3100 miles/5000 km
Self-supported FKT: n/a
Average Time: six months
Highpoint: Grays Peak, Colorado, 14,278ft/4352m
Best time to hike: April–October
For more info: continentaldividetrail.org and cdtsociety.org
A United States National Scenic Trail that meanders from Chihuahua, Mexico to Alberta, Canada, the Continental Divide Trail follows the Rocky Mountain Range, which separates the Atlantic Ocean and Pacific Ocean drainages. One of the largest conservation efforts in the history of the United States, the trail is sometimes called a living museum of the American West. It's also a place to connect with nature, however much of it you decide to tackle. The highest, most challenging, and most remote of the National Scenic Trails, the CDT has preserved nearly two thousand natural, cultural, and historical treasures. There are more highlights than we can list here, from Montana's Bob Marshall Wilderness, the largest wildernesses in the continental U.S., to Colorado's Weminuche Wilderness where the CDT meanders through high glacial valleys with sweeping views of the Needle Mountains, to central New Mexico where the desert and mountains abruptly meet. The CDT is a work in progress, and is currently approximately 70% complete. Thru-hikers can road walk or bushwhack through the remaining 30% that's still under construction. Because it's not complete, one of the trail's greatest challenges is route finding. That's likely one reason that only around 150 people per year attempt the trail, and only a few complete it. Be sure to pack your passport. If you're NOBO, you don't have to stop when you hit Alberta. The trail continues in Canada as the Great Divide Trail, winding through Alberta and British Columbia.
Appalachian Trail
Location: 14 states from Georgia to Maine
Length: 2185 miles/3516km
Self-supported FKT: Joe "Stringbean" Mc Conaghey, 45 days 12 hours 15 minutes on August 31, 2017
Average Time: 5–7 months
Highpoint: Clingman's Dome, TN, 6643ft/2025m
Best time to hike: northbound start late-March to mid-April; southbound start May to mid-June
For more info: appalachiantrail.org
The Appalachian Trail was inspired by Vermont's Long Trail, but it covers a lot more terrain. It's the longest hiking-only trail in the world, and has more than 2 million users per year (not all are thru-hikers, of course).
Forester Benton MacKaye came up with the idea for the Appalachian Trail in 1921. His original concept was a grand trail that would connect farms and wilderness work/study camps for city-dwellers along the Appalachian Mountains from New Hampshire's Mt Washington to North Carolina's Mt Mitchell. He wasn't a man for switchbacks. The original trail blasted straight up and down mountains, except where the CCC built the trail. As a result, much of the AT has been relocated to follow a more gentle grade that's also less prone to erosion. The mountains of the east are older and more worn than the mountains of the west. Clingmans Dome, Tennessee in the Great Smoky Mountains National Park is the highest point and the third-highest peak east of the Mississippi.
The AT is a very user-friendly thru-hike. It crosses roads, passes towns, and there are loads of hiker services along the way. It also sees thousands of thru-hiking attempts each year, with about 20% of those who set out to hike the full trail finishing. So thru-hikers often have company. It's also easy to find your way. More than 250 lean-tos along the way provide shelter and give thru-hikers a place to gather. Maine's Hundred-Mile Wilderness is surely one of the trail's most notable sections. And topping out on Mt Katahdin in Baxter State Park is an amazing experience even if you didn't hike over 2000 miles to get there.
Long Trail
Location: Vermont
Length: 273 miles/439km
Self-supported FKT: Joe 'Stringbean' McConaughy, June 2020, 4d 23h 54m
Average time: 19 days
Highpoint: Mt Mansfield 4393ft/1339m
Best time to hike: Late spring thru Late Fall
For more info: greenmountainclub.org
The oldest long-distance trail in the United States follows the spine of the Green Mountains from Massachusetts to Canada. Despite its shorter-than-most-thru-hikes length, it's considered one of the hardest. The route, which was completed in 1930 by the Green Mountain Club, tags all of Vermont's highest peaks. The Long Trail is no stroll in the park. In some sections, the trail is like a Stairmaster, climbing straight up the side of a mountain. In others, hikers climb ladders to get up a steep section. Several alpine summits on the Long Trail give hikers stunning views of the entire Green Mountain Range, which is hard to come by as most of the trail is under forest canopy. The route crosses roads but steers clear of towns. And in most years in Vermont, water is abundant. Swimming holes are frequent, and a dip in one feels so good in the high-humidity Vermont summers. In southern Vermont, the Long Trail and the Appalachian Trail share the same route. If you're planning to get in shape while you're on the trail, go NOBO—the southern half of the Long Trail is significantly easier than the northern half, Though when all is said and done, you'll have climbed 65,000+ feet/20,000 m on this trail, which is more than twice the height of Mt Everest.
Arizona Trail (AZT)
Location: Arizona
Length: 800 miles/1287km
Self-supported FKT: Heather Anderson, 19d 17h 9m on October. 27, 2016
Average Time: 6–8 weeks to complete the entire trail
Highpoint: San Francisco Peaks, on a proposed section of the trail, 9,600ft/2,900m
Best time to hike: October/November or March/April
For more info: aztrail.org
The Arizona National Scenic Trail links deserts, mountains, forests, canyons, wilderness, history, and communities over its 800 miles. The trail isn't just for hikers. While it's designated non-motorized, cyclists and equestrians are also welcome, though it's most popular with people traveling by foot. Most hikers who tackle the Arizona Trail go NOBO from the Mexico border to Arizona's border with Utah. The trail connects the dots of Arizona's 'sky island' mountain ranges, gaining and losing thousands of feet and traversing biomes from desert to boreal forest. The Sonoran Desert, Gila River, Superstition Mountains, and Mazatzal Wilderness are all stunning, but it's hard to beat crossing the Grand Canyon, especially if you've never seen it. Top out on the North Rim, then get some hiking time in the conifer forests of the Kaibab Plateau before red bluff desert reclaims the landscape and sagebrush pepper the landscape, not trees. The trail ends at Vermilion Cliffs National Monument. Around 100 hikers complete the trek each year. Currently, just 35 miles of this National Scenic Trail's 800+ mile length remains to be completed.
Florida Trail
Location: Florida
Length: 1300 miles/2092km
Self-supported FKT: Dan Munsell, 24 days, 11 hours, 45 minutes on February 26, 2018
Average Time: 4 months
Highpoint: 102ft/31m Jr. Walton Pond in the Titi Creek section on the Eglin Air Force Base
Best time to hike: January to April
For more info: floridatrail.org
If elevation's not your thing, the Florida Trail is the thru-hike for you. The highest point is 102 feet/31m, but there's plenty of wildlife and many stunning sights along the way, from Gulf Islands National Seashore to Big Cyprus National Preserve. You just don't have to climb to see them. Alligators, black bears, and mountain lions all populate Florida. And in this populous state, some of the highlights are spots where nature has prevailed, including Big Cyprus National Preserve itself, where environmentalists, cattle ranchers, and oil-and-gas explorers compromised to protect an area that's critical to the Everglades' ecosystem. The Cypress Swamp is a magical ecosystem, comprised of mangrove islands, hardwood hammocks, slash pine, prairies, and marshes sprinkled with wild orchids. But there is magic all along this low-barriers trail that will entice explorers of all experience levels, as long as you can handle the humidity.
All the latest inspiration, tips and guides to help you plan your next Advnture!
Vermont-based writer, photographer and adventurer, Berne reports on hiking, biking, skiing, overlanding, travel, climbing and kayaking for category-leading publications in the U.S., Europe and beyond. In the field, she's been asked to deliver a herd of llamas to a Bolivian mountaintop corral, had first fat-biking descents in Alaska, helped establish East Greenland's first sport climbing and biked the length of Jordan. She's worked to help brands clean up their materials and manufacturing, and has had guns pulled on her in at least three continents.