River Trent trout shock for angler trying to catch pike
Chris Brentnall showed there are still surprises to be found as he landed this 9 lb brown trout.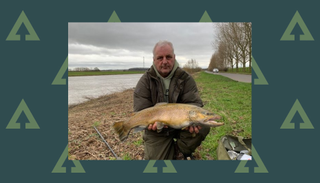 (Image credit: Angler's Mail)
Welcome to Advnture, the new home of AnglersMail.co.uk
The River Trent trout shock came when the 59-year-old Nottinghamshire angler was seeking pike.
His stunning specimen looks like it has turned 'ferox', or cannibalistic.
Chris explained how he struck lucky.
"It came during a couple of hours on the Trent, which I know really well," said Chris.
"It produced a surprisingly unusual take to my float fished three-quarter mackerel bait.
"To say that I was shocked when it came to the surface is an understatement."
Chris said: "In 40 years of fishing on the Trent it was the strangest catch I've had.
"I released her unharmed back in, and she swam off strongly.
"I've never ever seen a trout caught off the River Trent by another angler in all that time.
"I also had two pike on that session, but these were only small jacks," added the courier.
The term 'ferox' refers to a trout that has turned exclusively predatory, eating small fish, even its own kind.
The term was first coined in 1835 by the renowned Scottish angler and naturalist Sir William Jardine.
Top piker Nige Williams said: "I've caught a few big trout while pike fishing, but I haven't heard of one from the Trent before."
Other notable recent accidental trout
Match ace Simon Willsmore landed a big River Trent trout during a match in 2015. His eight-pounder was beaten on a pole after it took worm in a contest at Radcliffe.
As it was a game fish, it didn't count in the match, though Simon jokingly tried to convince the scalesman that his River Trent trout was a 'spotty barbel.'
Another unusual 'ferox' report was a 14 lb beast that came totally out of the blue for carper Mark Clegg in 2016.
Mark tempted it on a Mainline Cell boilie from a small farm pond in Northumberland.
Winter pike anglers on the big trout reservoirs, notably Bristol Water's Chew Valley Lake, also connect with occasional stunning, big old brown trout.
All the latest inspiration, tips and guides to help you plan your next Advnture!
Running from 1964 until 2020, Angler's Mail was the UK's leading weekly magazine devoted to coarse fishing, telling readers everything they needed to know about which fish to catch, where to catch them, and what kit they needed to do it. Now, loads of the magazine's expert advice can be found on Advnture.com, as a helpful resource for angling newcomers and experts alike.