River fishing venue still awaits justice 18 months on
The polluter linked to one of Britain's worst-ever fish kills is yet to be prosecuted.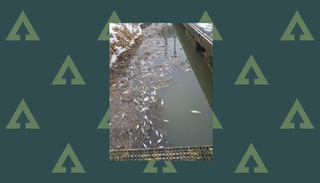 (Image credit: Angler's Mail)
Welcome to Advnture, the new home of AnglersMail.co.uk
Back in March 2018, the River Witham fishing scene, in Lincolnshire, was rocked after one of the biggest fish kills since the industrial revolution.
The Environment Agency have not yet pushed through a prosecution of the firm they named, Omex Agriculture Ltd. That's despite well over 100,000 prime coarse fish perishing after an ammonia leak.
As we reported, the polluters were ordered to repair the river.
Craig Aston, owner of nearby Horncastle Angling Centre, said: "Everyone is in the dark about what is happening and wondering when some action will be taken against the company which caused such damage."
Manuela Puricelli, media officer, at the Department for Environment, Food and Rural Affairs, said: "Since the company were instructed to submit proposals to remedy the damage in January, the EA have been working with the company, reviewing their proposals to remediate the river, to make sure these offer the best benefit to the environment.
"Alongside this, the EA is still conducting a criminal investigation which may lead to further action.
"Given that the EA have two different legal procedures going on at the moment, it is deemed inappropriate to provide further details," she added.
Martin Salter, head of the policy at the Angling Trust, commented: "The whole investigation and decision process can take an age and is unbelievably slow.
"One case I was involved in concerning a small tributary of the River Kennet near Reading took two years to settle with an Environmental Undertaking."
Fish Legal representative Justin Neal noted: "In our experience the EA often fails to fully investigate pollution incidents and underplays their significance, especially their effect on fisheries.
"Very few prosecutions take place and they have a tendency towards accepting enforcement undertakings.
"We believe that they really do not represent the position of a strong regulator but a regulator that fails to adequately protect and enhance fisheries to the full," Justin concluded.
The EA have been restocking the River Witham regularly this year with the latest consignment of 17,000 fish in July making 91,000 in all as well as 1.5 million larvae.
Meanwhile, River Witham fishing is very slowly beginning to recover on affected lengths, with a few tench and bream coming out. But the stocked fish were tiny, and no pike have shown yet.
River campaigner Ray Walton said: "What seems strange about this case is the EA are saying that they are working with the company on their proposals, yet the EA have already virtually re-stocked the river themselves with nearly as many fish that perished, presumably at their own expense!
"So I can't see why the authorities don't just get on with it and prosecute the company so they get the punishment they deserve."
All the latest inspiration, tips and guides to help you plan your next Advnture!
Running from 1964 until 2020, Angler's Mail was the UK's leading weekly magazine devoted to coarse fishing, telling readers everything they needed to know about which fish to catch, where to catch them, and what kit they needed to do it. Now, loads of the magazine's expert advice can be found on Advnture.com, as a helpful resource for angling newcomers and experts alike.