Runner completes Britain's longest National Trail in record time
We meet Kristian Morgan, the ultrarunner who has just set a blistering new FKT on the 630-mile South West Coast Path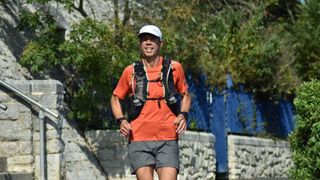 (Image credit: Sharon Mullan)
A new speed record has been set for running the South West Coast Path, the 630-mile National Trail that traces the clifftops and beaches of Dorset, Devon, Cornwall and Somerset. Kristian Morgan, a 43-year-old London-based ultrarunner, completed the epic run in a staggeringly fast time of 10 days, 12 hours and 6 minutes, shaving just over three hours off the previous fastest known time, set by Damian Hall four years ago.
Kristian, who works as a running coach, set off from the path's south coast trailhead in Poole, Dorset, at 3.33am on Sunday 13 September. He was supported by his mother, Sharon Mullan, and sister, Stephanie Morgan as he ran well over two marathons a day along the rugged rollercoaster route to the opposite trailhead in Minehead.
On the final day, he ran over 100 miles with just one 30-minute power nap to nail the new FKT.
Completing the path means tackling 115,000ft (35,000 metres) of ascent and decent – the equivalent of scaling Mount Everest four times over – and Kristian was forced to run through severe fatigue, muscle injuries, extreme chafing and all kinds of conditions along the way.
Amid the pain and punishment, there were plenty of highs. "One day I ran past a group of men in their sixties, there were about nine or 10 of them, and they were all sitting in the front of a garden singing fisherman songs," he told us, while recovering from the record-breaking run. "I could not help but shed a few tears of happiness as I passed."
"Each day I started at about 4am, which meant that I needed a head torch for the first three hours. Most mornings the sky was so clear I could see the Milky Way, and one morning I saw a meteorite slowly burn up against the earth atmosphere. The level of team work between my mother and I was unbelievable, my sister even drove all the way down from London on the final day and ran a whopping 40 miles with me, which included going over the highest point, Great Hangman. Mark Berry – a previous record holder – even came out and did a crucial section with me, and kept me focused."
A seasoned ultrarunner – who has 130 marathons, ultras and 100-mile races under his belt – Kristian had originally intended taking on the Appalachian Trail in the US this year, making a second attempt to set a new FKT on that 2,190-mile route, after his first try ended in disappointment in 2019. The global pandemic forced a change of plan, however, and instead he refocused on the South West Coast Path (SWCP).
"I wanted to go after a long trail, and the SWCP is Britain's longest," he told us. "The SWCP holds its own personality and by no means was a substitute for the AT, just an alternative. It's very beautiful and rugged with an abundance of wildlife and fauna. I feel privileged to have spend 630 miles of running along this treasure of ours."
Just days before Kristian set off on his run, Leah Atherton had to abandon her bid to set the first solo female FKT for the South West Coast Path, when injury forced her to pull out 12 days into the attempt, after she had already run over 475 miles from Poole to Port Isaac.
A number of people have tried to best Inov-8 athlete Damian Hall's FKT over the last few years, but it has proved a very tough time to beat. Kristian, however, who was also running in Inov-8 kit, including Trailroc G 280 shoes, had done his homework: "I know Damian is a great athlete with many accomplishments, but his daily mileage for whatever reason was not consistent. I exploited his lower mileage days and tried to stay consistent with a small lead that I managed to maintain throughout."
Not that everything went entirely to plan. "I tweaked my right quad muscle at the end of day 9, while descending a hill during which I should have been wearing a headtorch," he told us. "I thought it was all over – I slept on night 9 hoping my quad would have healed by morning but it still hurt and reduced my range of movement of my right leg at least 40%. So on the morning of day 10 at about 3.30am I set off, knowing I had lost a little of my lead against Damian and would need to run the final 110 miles in one big push."
Damian, having kept the record warm for four years, was magnanimous as he passed it over to its new owner. "It was a really gutsy effort," Hall told us. "I was watching avidly and cheering him on from afar. Though, of course, I'd rather still have the record, I'm happy to hand it over to a great guy who went about things the right way."
Damian now has other high profile FKTs to his name, including the Pennine Way. The big question, though, is… will he be tempted to try and wrestle the SWCP record back. He's keeping us guessing on that one. "I had such a wonderful time on the SWCP last time, it doesn't seem smart to try and relive it," he told us, before adding: "However, never say never…".
Kristian, however, knows exactly what his next challenge is. Next year he will make another attempt at setting a new Appalachian Trail speed record (the FKT is currently held by Belgian ultrarunner Karel Sabbe, who completed the trail in 41 days, 7 hours and 39 minutes in August). You can follow Kristian's progress and contribute to his go-fund-me fundraiser via his website.
For now, though, he is rather enjoying a well-earned period of rest and recovery. "It's been 13 days since I finished and I have not run yet, and do not intend to run," he says. "I am fully aware that after running 630 miles with 115,000 feet of climbing over some of Britain's most rugged terrain I deserve a good rest. I joked with people who came out to help me that I would be wearing a robe and slippers for 10 days after, and it's not far from the truth. My version of that is board shorts an old t-shirt with fluffy slippers."
All the latest inspiration, tips and guides to help you plan your next Advnture!
Author of Caving, Canyoning, Coasteering…, a recently released book about all kinds of outdoor adventures around Britain, Pat has spent 20 years pursuing stories involving boots, bikes, boats, beers and bruises. En route he's canoed Canada's Yukon River, climbed Mont Blanc and Kilimanjaro, skied and mountain biked through the Norwegian Alps, run an ultra across the roof of Mauritius, and set short-lived records for trail-running Australia's highest peaks and New Zealand's Great Walks. He's authored walking guides to Devon and Dorset, and once wrote a whole book about Toilets for Lonely Planet. Follow Pat's escapades on Strava here and instagram here.