Runners complete impressive 'in-a-day' mountain challenge
Athletic club pulls off feat to reach 282 iconic Scottish summits in 24 hours from Isle of Skye to Loch Lomond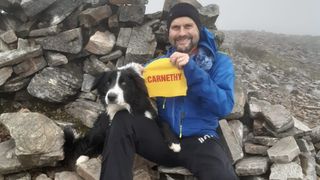 (Image credit: Mark Hartree)
It takes the average person more than a decade to reach the summits of all 282 Scottish mountains famously known as Munros. On Saturday, a running club got together to tick off all the 3000ft summits in just one day.
The impressive feat by some 100 members of Carnethy Hill Runners (opens in new tab) started with a first summit of Toll Creagach at 07am on Saturday August 14. The final Munro of the day was Gairich at 11.48pm on the same day.
The total time to reach all 282 mountains was just 16 hours and 48 minutes.
President of the Edinburgh-based club Mark Hartree said: "It was a pretty epic challenge. We think we are the first club to achieve this – and maybe the first group of people to record all the Munro summits within 24 hours."
It was Carnethy HRC member Iain Whiteside who suggest the @munrosinaday idea. He followed the lead of a group of runners in Keswick, England, who reached all the Wainwright fells in the Lake District in a day.
Mark said: "Iain suggested the idea and we thought that if a club could do all the 214 Wainwrights then why not try for all the Munros in a day. It seemed like a great club focus as we all came out of the Covid restrictions."
Mountain of a challenge: 282 Munros in a day
Reaching the top of all 282 Munros in Scotland in one day was always going to be a huge logistical feat, even if you have a group of willing and fit athletes.
The Munros are widely spread across Scotland, from the Isle of Skye in the west, to Mount Keen in Aberdeenshire in the east and from the most southerly, Ben Lomond in Loch Lomond & the Trossachs National Park (opens in new tab), to the most northerly, Ben Hope in Sutherland.
In addition, Scotland's notoriously fickle weather could easily have hampered progress and put an end to the challenge. As it turned out, the conditions in the north-west were tough with very little visibility due to low cloud and rain.
To start with the Carnethy Hill Runners asked which members might be available for the Munros challenge. They then set up a spreadsheet and identified single mountains, as well as groups of mountains for the runners to reach within the 24-hour window.
Mark, who reached the club's second Munro of the day, An Coilleachan at 8.39am, said: "It was a huge logistical task and everyone had to be very committed to the plan."
The age range of Munro baggers included three-year-old Rowan, daughter of high achieving ultra runner Jasmin Paris, who recently set a new solo Munros record, to 79-year-old Keith.
Some of the longer outings on the day included 12 Mullardoch Munros in under 12 hours, running almost 57km and a total elevation of 4409m; the 11 Munros on the Cuillin Ridge on the Isle of Skye; and a 42km and 3000m outing to the nine Munros of the Fannichs (opens in new tab).
A finish with just minutes to spare
At 9.30pm it became apparent to the co-ordinator of the event who was back at base tracking the Munro summits that they might end up a Munro short of the full 282 round.
Mark said: "We had a system where each time someone reached a summit they texted the co-ordinator of the challenge. Every time that happened, he would tick off a Munro on the Walk Highlands (opens in new tab) map. We saw all the Munros go from red to blue throughout the day.
"But there were runners who had planned a big day out of multiple Munros in the Knoydart area and late on it looked like they might not reach their final summit, which was Gairich on Loch Quioch.
"Suddenly, we had to scramble for help and two members, Jonathon Marks and Mick James, who were staying nearby said they were available to do another Munro."
Jonathon had already run the so-called Five Sisters and the Three Brothers of Kintail, as well as another Munro, Ciste Dubh, when he received the call for help. Mick had summited A' Ghlas-bheinn and Beinn Fhada during the day, too.
The club members didn't head off for Gairich until past 10pm.The final Munro summit was reached with just 12 minutes to spare before midnight.
Mark said: "It was a stressful time where everyone was hoping they would make it to the summit but we just didn't know if they would. We were relieved when we heard they had made it."
All the latest inspiration, tips and guides to help you plan your next Advnture!
Fiona Russell is a widely published adventure journalist and blogger, who is better known as Fiona Outdoors. She is based in Scotland and is an all-round outdoors enthusiast with favourite activities including trail running, mountain walking, mountain biking, road cycling, triathlon and skiing, both downhill and back country. Her target for 2021 is to finish the final nine summits in her first round of all 282 Munros, the Scottish mountains of more than 3,000ft high. Aside from being outdoors, Fiona's biggest aim is to inspire others to enjoy the great outdoors, especially through her writing. She is also rarely seen without a running skort! Find out more at Fiona Outdoors (opens in new tab).
All the latest inspiration, tips and guides to help you plan your next Advnture!
Thank you for signing up to Advnture. You will receive a verification email shortly.
There was a problem. Please refresh the page and try again.