Sabrina Verjee takes a break during Wainwrights record bid
Ultra runner rests half way through Lakes fells round after brutal day and night of blizzards and rain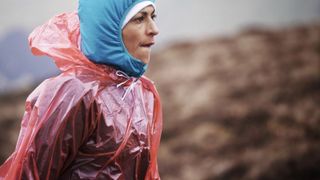 (Image credit: Steve Ashworth Media)
Severe weather has hampered the progress of ultra runner Sabrina Verjee during her record attempt of the Wainwrights Round.
After three days of running the iconic 214 fells in the Lake District, the Cumbria veterinary surgeon was 11.5 hours ahead of her self-imposed timetable.
She was reportedly still going strong and making time on her schedule during the following day despite blizzards on the tops of the fells and heavy rain at lower altitude.
But today, the support crew has reported Sabrina was resting after a "day and night of brutal conditions".
The Wainwrights round takes in 214 fells over a distance of 525km and some 36,000m of ascent.
Sabrina was aiming for a new record time for the Wainwrights having set off early on Friday morning. The current fastest time is six days and six hours, which was set by Paul Tierney in 2019.
Last year, Sabrina completed the round in under seven days, but a knee injury slowed her down and forced her to accept physical assistance during some technical descents.
Wainwrights round records
The first recorded continuous round of the Wainwrights was completed by Alan Heaton in 1985, in nine days and 16 hours. Two years later, Joss Naylor set a record of seven days, one hour and 25 minutes.
That stood for 27 years, until Steve Birkinshaw knocked almost 12 hours off the time in 2014, when he completed his run in six days and 13 hours.
In the summer of 2019, Paul Tierney, from Windermere, lowered the record by another seven hours.
Sabrina's planning for the 2021 round has taken very careful account of Covid-related restrictions. Her support team is led by her husband Ben Turner and they will be following government guidance while running.
Like last year, Sabrina is asking members of the public to not join her at any time on the fells, or at the finish. Her progress is live online by Open Tracking (opens in new tab).
Sabrina's Wainwrights bid 2021
Sabrina revealed that despite the injury, last year's journey around the Wainwrights was "a wonderful experience". She said she had been planning to repeat it ever since, but in even better style.
Before setting off, she added: "My aim is to complete my round in under six days, or at the very least, faster than last time. I have a very special team of close friends willing me along and it's that element that means the most to me.
"Running is an amazing sport for mental health – for me it's not actually about setting a record at all, but about the enjoyment, the camaraderie and the support team. This is a team effort – like football with one person scoring the goal, but the whole team wanting the same thing.
"Our fingers are crossed that the weather will be kind and that my body behaves."
Brutal conditions on Lakes fells
The weather started to wreak havoc around 3.5 days into Sabrina's bid. The support crew were ready with extra clothing and equipment but scenes from above 500m looked very tough.
Snow covered the ground and there were high winds and blizzards. Lower down, the rain was heavy and continuous.
Until mid-morning today, Sabrina was still moving forwards, but then her tracking dot stopped.
A team member said: "After a day and a night on the fells in brutal conditions with her great support runners, Sabs has stopped and she is resting. She is well. We will see what happens next."
Former Wainwrights rounds record holder Steve Birkinshaw described the challenge as the hardest thing he had ever done. He added: "It took me two of there years to recover from. Mentally it was mammoth, too.
"The way that Sabrina is doing it, without any sleep is pushing the boundaries."
Sabrina: an accomplished ultra runner
Sabrina is one of the UK's leading ultra-runners, having completed the five-day Dragon's Back Race in Wales on three occasions. She finished runner up in the women's race in 2017 and 2019.
In 2019, she won the women's Spine Race along the Pennine Way, finishing fifth overall.
Last year, she returned to the Pennine Way and set a female FKT for the run from north to south.
Sabrina's Wainwrights run is being filmed and photographed by Steve Ashworth Media and Summit Fever Media thanks to support from La Sportiva, Berghaus and Right Lines Communications. Other sponsors include, Petzl, Dexshell, Supernatural Fuel, Gingerbakers and Mountain Fuel.
All the latest inspiration, tips and guides to help you plan your next Advnture!
Fiona Russell is a widely published adventure journalist and blogger, who is better known as Fiona Outdoors. She is based in Scotland and is an all-round outdoors enthusiast with favourite activities including trail running, mountain walking, mountain biking, road cycling, triathlon and skiing, both downhill and back country. Her target for 2021 is to finish the final nine summits in her first round of all 282 Munros, the Scottish mountains of more than 3,000ft high. Aside from being outdoors, Fiona's biggest aim is to inspire others to enjoy the great outdoors, especially through her writing. She is also rarely seen without a running skort! Find out more at Fiona Outdoors (opens in new tab).