First authenticated 50 lb carp caught from the Thames
Nick Helleur sets a new River Thames carp record.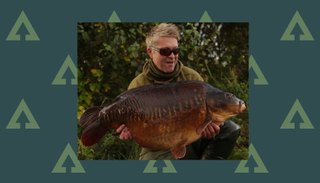 (Image credit: Angler's Mail)
Welcome to Advnture, the new home of AnglersMail.co.uk
Full-time angler Nick Helleur beat the Thames carp record with this stunning 50 lb 14 oz linear mirror.
The 47-year-old caught the fish from his own trailer boat on the middle Thames after a two-year campaign on the venue… a campaign that's ongoing.
It is the same fish as the old official Thames carp record of 48 lb 7 oz in 2017 caught by Steve Shenfield.
But it is definitely a different fish to Ash Geden's 44 lb 10 oz linear caught in September.
Nick said: "I'm fully aware my life is different to most other anglers, it's like Groundhog Day.
"I nearly always wake up on the bank, head off to a café for a coffee and maybe some breakfast and then go onto a different water.
"And if that isn't right, I head off for another venue.
"I've always had an insatiable thirst for catching carp but I get bored easily and move around a lot.
"I've done more fishing than most people with a full-time job could do in ten life-times.
"I've been after this fish for the past two years and I'd says it is the best carp in the country.
"I baited up a lot as there are just so many bream in there, putting in ridiculous amounts," added Nick.
Tactics were fishing a snowman rig with a glugged Sticky Baits Krill bottom bait and a Signature Squid pop-up over lots of peanuts and Krill boilies.
Nick also fished a bit different, not using bite alarms, but sea fishing-style bells added to the rod tips.
It means he can fish tight lines and get instant indication as he doesn't want to wind in bream the next morning that have been hooked all night.
All the latest inspiration, tips and guides to help you plan your next Advnture!
Running from 1964 until 2020, Angler's Mail was the UK's leading weekly magazine devoted to coarse fishing, telling readers everything they needed to know about which fish to catch, where to catch them, and what kit they needed to do it. Now, loads of the magazine's expert advice can be found on Advnture.com, as a helpful resource for angling newcomers and experts alike.