River Thames carp haul is possibly UK's greatest
This stunning 44 lb 14 oz linear mirror carp was caught in an epic haul.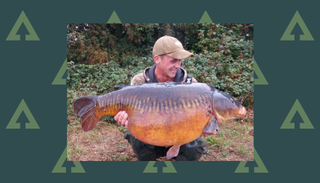 (Image credit: Angler's Mail)
Welcome to Advnture, the new home of AnglersMail.co.uk
The River Thames carp specialist notched possibly the second biggest carp from the waterway with his latest fantastic fish.
Just 19 days after matting a 42 lb 10 oz mirror from another stretch, Ash took an amazing trio in just three hours for over 90 lb. And he then banked another impressive lump.
His haul is quite possibly the best of big river carp in such a short space of time from any running water here in the UK.
Ash said: "After a few more sessions in the area where I'd had the '42', it had become obvious that they had 'done the off,' so I moved onto plan B and another area I had been prepping for a while."
Epic River Thames carp night
The Windsor, Berkshire-based angler continued: "I had a feeling they would be there and in my first session in the new zone I had 90 lb-plus of carp in just three hours.
"I had takes at 3 am, 4 am and 5 am which resulted in a 23 lb 12 oz mirror, a 28 lb 12 oz ghostie common and the cream of the crop, the 44 lb 14 oz river Thames linear, a new PB.
"Fishing into the daytime then resulted in a 35 lb 10 oz scaly beauty.
"All were taken on Dynamite Complex-T fluoro pop-ups fished over a pre-baited area of the same boilie heavily glugged in Sweet Tiger Liquid.
"I used a stiff hinge rig with a size 4 chod hook, 25 lb braid, 20 lb Amnesia boom with 18 lb main line," added Ash.
Ash's fish is thought to be the second biggest River Thames carp behind the now-accepted Thames Anglers' Conservancy best of 48 lb 7 oz.
That epic River Thames carp was caught quietly by Steve Shenfield back in June 2017 but has only recently come to the fore officially.
All the latest inspiration, tips and guides to help you plan your next Advnture!
Running from 1964 until 2020, Angler's Mail was the UK's leading weekly magazine devoted to coarse fishing, telling readers everything they needed to know about which fish to catch, where to catch them, and what kit they needed to do it. Now, loads of the magazine's expert advice can be found on Advnture.com, as a helpful resource for angling newcomers and experts alike.