Turning trash into tents
Vango teams up with the National Trust to make a range of tents and sleeping bags from recycled plastic bottles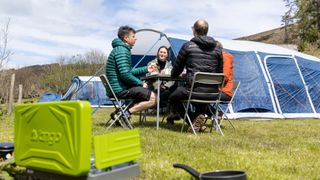 (Image credit: Sam Dugon)
Leading outdoor brand Vango (opens in new tab) have discovered a brilliant way to put unwanted plastic waste to a very practical use. Over the past year they have designed and produced two new collections of camping equipment – including tents and sleeping bags – made from plastic bottles rescued from rivers, seas and garbage dumps, which otherwise would have lived on for centuries (opens in new tab) as litter or landfill.
The latest launch, which follows hot on the heels of the release of the Earth Collection, saw the unveiling of the National Trust range (opens in new tab), – created (as the name suggests) in conjunction with Europe's largest conservation charity, the National Trust (opens in new tab).
Featuring four different designs of tent, and three separate styles of sleeping bag, the National Trust range is all constructed from Sentinel Eco fabric, a poly material made entirely from recycled plastic bottles – all recovered from seas, waterways, streets and landfills.
In total, it is forecast that some 300,000 discarded plastic bottles will be retrieved and repurposed in the first year of the collaboration between Vango and the National Trust.
The shelters range from the 2- to 3-person Devon 300 tent (opens in new tab), which uses 69 recycled bottles and is a perfect lightweight backpacking tent, right up to large family friendly tents. The biggest tent in the collection is the positively palatial Antrim Air 600XL – a home from home that can comfortably sleep six people, with plenty of room remaining for stretching, and which is made from 301 recycled bottles.
The National Trust collection was officially launched earlier this year, and at a recent unveiling event – appropriately held at a stunning new National Trust campsite called Cloud Farm at the heart of Exmoor National Park – advnture.com was given a unique opportunity to explore and test out the full range of products out over several days.
Watch this space for extensive reviews of each model of tent and sleeping bag, but suffice to say we were particularly impressed with the depth of the range and the sophistication of the shelters, which feature shaded Nightfall Bedrooms (so you don' have to wake up at the crack of dawn), Vango's SkyTrack II hanging system (ideal for lights and storage) and Diamond Clear windows, the perfect portal to the great outdoors.
The best sleeping bags in the National Trust collection – which includes a two-season option, a three-season bag and a double design – feature a 100% recycled filling made from used plastic bottles that are reprocessed and turned into a polyester fill. Both the tents and sleeping bags are adorned with an iconic oak-leaf print, synonymous with the National Trust's logo.
Vango has displayed a long-standing commitment to exploring environmentally sensitive design processes and materials (opens in new tab) when manufacturing outdoor equipment, and the brand's marketing director Rob Birrell heralded the launch of the new range as the next step on this journey.
"This new collection introduces the opportunity for our sustainability conscious campers to use great kit which offers the trusted Vango performance whilst recycling some of the plastic bottle waste we see impacting our planet," he said.
"The outdoors is vital, not just for our enjoyment, but to the future of our planet. That's why this collaboration with the National Trust seemed fitting, to invest the time and effort into researching new ways of tent fabric construction aligned with the need for all of us to be more environmentally conscious."
Although associated by many with the preservation of large buildings and estates, the National Trust also manages and protects many thousands of acres of semi wild coast and countryside around the UK, and runs hundreds of campsites. As an organization, it too is committed to making camping – which has seen an upsurge in popularity since the pandemic encouraged more people to holiday at home – as sustainable as possible.
"We are delighted to have collaborated with Vango on this eco-friendly collection," said Clare Brown, Head of Brand Licensing and Retailer Development for the National Trust. "We know that the more connected people feel with nature the more likely they are to care for it. Camping is probably the closest anyone can get to nature, therefore this collaboration was an obvious one for us.
Besides Cloud Farm, notable National Trust campsites include Wasdale (opens in new tab) in the Lake District, Dolaucothi (opens in new tab) in Wales – the location of the only gold mine in the Trust's care – and Highertown Farm (opens in new tab) in Cornwall.
All the latest inspiration, tips and guides to help you plan your next Advnture!
Writer, editor and enthusiast of anything involving boots, bikes, boats, beers and bruises, Pat has spent 20 years pursuing adventure stories. En route he's canoed Canada's Yukon River, climbed Mont Blanc and Kilimanjaro, skied and mountain biked through the Norwegian Alps, run an ultra across the roof of Mauritius, and set short-lived records for trail-running Australia's highest peaks and New Zealand's Great Walks. He's authored walking guides to Devon (opens in new tab) and Dorset (opens in new tab), and once wrote a whole book about Toilets (opens in new tab) for Lonely Planet. Follow Pat's escapades here (opens in new tab).