'Killer' wels catfish rehomed by anglers
Anglers helped relocate catfish who had been devouring ducks near a huge shopping centre.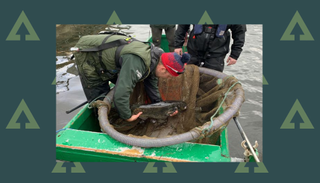 (Image credit: Angler's Mail)
Welcome to Advnture, the new home of AnglersMail.co.uk
The 25 lb wels catfish was captured by the Environment Agency from Alexandra Lake, directly adjacent to the busy Lakeside complex at Thurrock, Essex. The move came after fish had been reported eating ducks.
The big moggie was caught and successfully relocated through a partnership project the EA runs with the Catfish Conservation Group, run by anglers.
Ben Norrington, EA fisheries officer, said: "Invasive species pose a serious threat to our native wildlife and cost the UK economy a massive £1.8 billion a year.
"Working with the CCG, we're looking at high-risk waters where fish could escape into rivers and pose a risk to native fish and other wildlife.
"The fish (wels catfish) was relocated to a fully enclosed lake," Ben added.
Owner of that lake, Tony Wignall, explained: "When the EA or anyone else want to remove catfish from a water for any reason and re-home them they can get in touch with the secretary of the CCG who has a list of local contacts.
"I am the contact for this area and I just happened to be opening a new catfish lake on April 1, so was happy to accept another sample.
"I have a few syndicate fisheries in the area but this one, called Houchins, near Colchester, is my first day ticket water.
"There are two lakes, one for carp only and one for carp and cats, and both are available on a day ticket booked in advance or for lake hire.
"The lake the cat came from used to be a fishery but for some reason was closed, but the CCG has now been given permission to run a couple of night fishing competitions there over the next few years to help reduce the population.
"I'm sure there must be much bigger cats at Lakeside as I doubt the one removed could have been quite big enough to have taken a duck, although it could easily take ducklings.
"All catfish caught will be relocated to other enclosed waters with the help of the CCG," Tony concluded.
Canal wels catfish also given new home
There was also a similar move made with a 30 lb wels catfish. It was netted by Canal & River Trust staff on the Grand Union Canal and re-homed to Luton Angling Club's Beckerings Reservoir in Bedfordshire.
Richard Clarke, Secretary of the CCG, explained: "Since I first got involved with the CCG eight years ago we have steadily built a good working relationship with local EA fishery officers.
"They contact us if they come across any rogue catfish that have been caught or advise us in advance if they are going to net somewhere that has cats.
"As a result in that time we have relocated several thousand catfish to waters that have permits to stock them.
"I hold the permit for our own lake Adam's Pool and also have a licence to transport them in equipment we own.
"Numbers involved can range from a single specimen like the one at Lakeside to 20 or 30 if a lake is being drained, and I personally receive several enquiries a month.
"The EA don't have to come through us and they have direct contact with some clubs, as in the case of Luton AC which took the cat recently from the GUC, he added.
All the latest inspiration, tips and guides to help you plan your next Advnture!
Running from 1964 until 2020, Angler's Mail was the UK's leading weekly magazine devoted to coarse fishing, telling readers everything they needed to know about which fish to catch, where to catch them, and what kit they needed to do it. Now, loads of the magazine's expert advice can be found on Advnture.com, as a helpful resource for angling newcomers and experts alike.