World-famous trail runner launches pledge to save the planet
Kílian Jornet has released a campaign aimed at steering the outdoor industry in a more sustainable direction – but is it all hot air?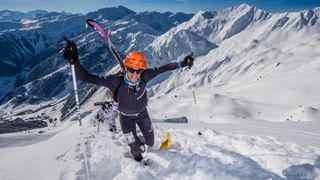 (Image credit: Jocelyn Chavy)
Earth's most famous off-road athlete, Kílian Jornet, has just launched a campaign he is calling the Outdoor Friendly Pledge, calling for everyone actively involved in the outdoors – professionals and enthusiasts alike – to take an oath committing to act in the interests of the planet from this moment on.
Urging the industry to start 'walking towards a greener sports model', the Pledge document contains specific guidance and actions for brands, event organisers, outdoor athletes and federations to take in order to lessen their impact on the environment and improve the sustainability of their practises by 2030.
"We are outdoor people, and we need to take care of our playground so future generations can continue to enjoy it," says the much-loved Spanish trail- and mountain runner, known also for his extreme skiing and climbing shenanigans.
The document has been released through the Kilian Jornet Foundation, which was established as an advocating force to promote the preservation of mountains and surrounding environments, the landscape where Jornet honed his skills and perfected his craft. It quickly goes on to acknowledge the tricky relationship between outdoor enthusiasts and the environment they play in.
'Outdoor sports play a key role in society,' the Pledge starts by stating. 'They contribute to the physical and emotional health of participants and have a big influence on the attitudes and habits of spectators and stakeholders. However, like most human activities, the practice of outdoor sports has adverse effects on the environment. For the sustainable continuation of outdoor sports and their many personal, social, and economic benefits, it is imperative to reduce this adverse impact to a minimum, or even to reverse it.'
After acknowledging that outdoor sports practitioners typically have a higher level of environmental consciousness than people participating in other sports, because they interact with the natural environment regularly and form close personal and emotional bonds with the natural world, the Pledge concedes that outdoor enthusiasts also cause more pollution.
Citing evidence from a 2018 report by Pamela Wicker called The carbon footprint of active sport participants, it states: 'Nevertheless, they [outdoor sports enthusiasts] have a 40% greater carbon footprint from practicing their sports than athletes from other individual sports, and the difference is even bigger when compared to team sports.'
While welcoming the ethos and ambition of the Pledge, and the fact that a trail titan like Jornet is using his elevated position for the greater good, some observers have raised an eyebrow at a few of the details. Jornet does, after all, live the life of an elite sponsored athlete, and besides working with outdoor brands such as Salomon, Suunto, GoPro and Maurten, he has deals with bottled water company Volvic and car manufacturer Mercedes-Benz.
Jornet's career has been built on travelling around the world to compete in races and complete expeditions that might showcase how fleet of foot he is, but which have a carbon footprint that is anything but light.
One element of the Pledge that some environmentally focussed outdoor organisations have particularly picked up on is the section where athletes are asked to 'Reduce their travel to a maximum of 3 CO2e tons/year'.
In a brilliant blog post about this issue, Runners Against Rubbish have noted that this is a huge annual allowance – in fact, it's so generous (and Jornet is such a powerful influencer) concerns have been raised that it might actually result in some runners thinking they can happily increase their travel to international events and running locations, because they're no where near the Pledge's maximum bench mark for CO2 emissions.
For example, runners could fly return between London and Sacramento every year and still have enough of their 3-ton total left to drive the length of the UK and back to attend a race on their own.
Others are concerned that detail is very light on the issue of excessive production and consumption within the industry, beyond a recommendation that sponsored athletes only accept what they actually need. According to figures from Fashion Revolution, 150 Billion items of clothing were made in 2015, and this has become an average yearly amount.
"Constant upgrades and new features on gear coupled with several sales a year lead us to over consume at times," says Charlotte Jalley from ReRun, a community interest company that collects and rehomes runners' unwanted garments and gear, prolonging the life of the equipment and cutting down on landfill.
"We receive at ReRun a lot of clothing with tags still on them. Being the voice of your old bit of clothing we would like to see brands, athletes and events championing that old and trusted bit of clothing that you love, and - in the case of brands - reducing, questioning and challenging the amount of units that they produce each year.
"Research from WRAP has found that extending the life of a garment by 9 months would reduce its carbon, water and waste footprints by 20-30% each. The most sustainable piece of clothing is the one that's in your wardrobe.
"I worry that, by associating themselves with this, with no accountability or reports, it can be just a 'badge' that looks good," concludes Charlotte. "I get that it's a start but it seems a bit vague right now."
The consensus among many groups long-dedicated to reducing the environmental impact of outdoor pursuits it that, while it's certainly very encouraging to see such a public and principled stance being taken by someone whose words carry so much weight within the trail community, Kílian still has a bit to prove about the practical impact his Pledge will have.
In terms of individual efforts and advice for event organisers, though, most agree that the Pledge contains good guidance on how people can make their trail escapades much more environmentally friendly and sustainable. Just don't feel you need to use up all your emissions allowance, which seems to have been calculated around Jornet's own race-related jaunts.
Perhaps we should be running towards a greener sports model, rather than walking toward it.
All the latest inspiration, tips and guides to help you plan your next Advnture!
Author of Caving, Canyoning, Coasteering…, a recently released book about all kinds of outdoor adventures around Britain, Pat has spent 20 years pursuing stories involving boots, bikes, boats, beers and bruises. En route he's canoed Canada's Yukon River, climbed Mont Blanc and Kilimanjaro, skied and mountain biked through the Norwegian Alps, run an ultra across the roof of Mauritius, and set short-lived records for trail-running Australia's highest peaks and New Zealand's Great Walks. He's authored walking guides to Devon and Dorset, and once wrote a whole book about Toilets for Lonely Planet. Follow Pat's escapades on Strava here and instagram here.