Scott Supertrac RC 2 review: a great all-round trail running shoe for firm and muddy terrain
Well cushioned and water repellent with a low drop, Scott Supertrac RC 2s can deal with distance and deep mud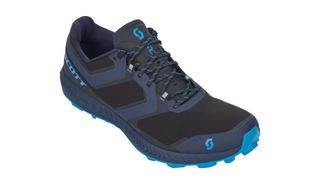 (Image credit: Scott)
Scott Supertrac RC 2: first impressions
While maybe not be the best trail-running shoes for deep mud, Scott Supertrac RC 2s can still handle some fairly soggy conditions (for alternatives see: Best mud running shoes).
The uppers are quick drying thanks to the 3XDRY coating, which repels water from the outside and draws moisture and sweat away from the inside.
There is a sturdy rand protecting the toes and a fairly stiff sole provides underfoot protection on firmer ground although we did feel that this compromised the precise feel on uneven terrain that some shoes offer.
The sole unit offers enough cushioning to deal with longer distances and firmer surfaces as well as muddy conditions. The low heel-to-forefoot drop of 5mm gives the Supertracs a stable feel, and the radial pattern of the lugs give multi directional grip.
With a mix of cushioning and grip, we think the RC2s are best suited to conditions that combine both mud and firmer ground. Combine them with a pair of the Best trail running socks for the most comfortable experience.
Specifications
• RRP: $160 (US) / £145 (UK)
• Weight (per shoe): 270g / 9.52oz
• Drop: 5mm
• Tread depth: 5mm
• Upper material: Mesh and thermoplastic polyurethanes
• Colors: Black & Midnight Blue / Black & Yellow
• Compatibility: Good for longer runs across mixed terrain
On the trails
We tested the Scott Supertrac RC 2s on the muddy trails and fells of the Peak District and in the mountains of Snowdonia.
I went with my usual shoe size in the Supertracs and found them slightly smaller than I would have liked. In hindsight half a size up might have been better.
Whilst the Scotts don't have the most aggressive tread pattern, they still coped well in wet and muddy conditions.
The 3XDRY® uppers proved to be extremely water resistant allowing my feet to stay dry for longer than with some other shoes I have tested. The downside of this is that if water does get in it then takes a while to drain out.
The tread pattern gave good grip without clogging up and the orientation of the lugs on the forefoot meant that traction could be maintained whilst traversing muddy slopes.
The uppers are robust and have stood up in a range of conditions, from the acidic bogs and rough heather of Kinder Scout to the rocky summits and rough vegetation of North Wales. After which you may find our article on How to clean trail running shoes useful.
I ran in the Supertracs in the Welsh mountains in summer for eight and a half hours non-stop without suffering from blisters or hot feet. This may have been down to the Schoeller Coldblack technology – designed to reduce heat buildup – or just luck, but it proves that the shoes are well suited to long distance runs.
All the latest inspiration, tips and guides to help you plan your next Advnture!
An experienced, competitive, fell runner and UK Athletics coach, Dave specialises in fell and mountain running. His personal achievements include winning the 2015 English Fell Running Championships (V50 category) and completing the Bob Graham, Paddy Buckley and Charlie Ramsay Rounds. He has contributed reviews and training articles to magazines including Trail Running, Outdoor Fitness and the Fellrunner magazine. His most embarrassing moment was having a running shoe fall apart completely while high in the Lake District fells.