How to clean trail running shoes
Our tips and advice on how to clean trail running shoes will help ensure your favourite running shoes last longer and remain sweet(er) smelling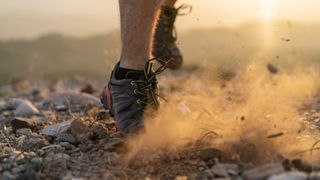 (Image credit: Getty Images)
Inevitably, trail running shoes end up wet and muddy. But if you don't clean and care for them, they will deteriorate more quickly.
Leaving mud on your best trail running shoes will cause the fabric to become dry and rigid. The dirt can also end up penetrating the fibres of the material, which causes wear.
If the trail shoes have a Gore-Tex membrane, any dirt left on the fabric will likely cause the shoe to be less waterproof and breathable.
Wet or damp shoes, of course, also become smelly shoes. The wet can come from rain, mud (see our guide to running in mud!) and puddles or from perspiration from your feet, which creates a humid environment that then facilitates the growth of bacteria. The result, as we all know, is a pair of shoes that pack a mighty pong.
Whether you own a pair to the best men's trail running shoes, best women's trail running shoes, or best barefoot running shoes, this kind of footwear don't come cheap. By following our forthcoming tips, therefore, you'll not only be keeping your shoes looking and smelling better but also saving yourself a handful of $ into the bargain.
How to clean trail running shoes: instructions for post-run cleaning

You'll need clean water, whether from an outside tap or indoors in a sink, as well as a soft brush or sponge.
As soon as you finish a trail run, especially one that has been muddy, look for a natural source of water. If your feet and shoes are already wet through, simply go for a paddle in the water to wash off the worst of the debris. If your feet are dry but the shoes are dirty, you could take them off and gently splash the worst of the muck from the shoes.
Once you are at home, give the running shoes more of a clean. Start by banging the outsoles of the shoes together to knock off any mud. Do this by holding the heel end and then holding the toe end, so you clear the mud from both ends of the outsole.
Next, remove the insoles from the shoes, give them a rinse in clean water and leave them to dry in a well-ventilated area but not on direct heat. Leaving insoles to dry on a hot radiator or in direct sunlight will cause the fabric to become stiff and/or misshapen.
Loosen the laces and wash the shoes by placing them under running water. Use the brush or sponge brush or a sponge to gently remove the mud and dirt if necessary. If you can avoid soaking the shoes all the way through this will allow them to dry more quickly.
If the shoes have a Gore-Tex membrane, pay particular attention to giving the shoes a thorough clean.
How to dry running shoes

After washing your shoes, proper drying is essential. Leave your shoes in a well-ventilated room at room temperature but do not expose them to direct sunlight or put them near a heat source like a radiator.
To speed up the drying, fill the inside of the trail running shoes with balled up newspaper.
If you want to waterproof or re-waterproof the exterior fabric pf the shoes, use a DWR tech spray (what is DWR?).
If the shoes end up with a bad odor (so many do!) you could buy an anti-odor product to sit inside the shoes when not in use or try an anti-odor spray.
It is not recommended that you put your running shoes in the machine or use any kind of washing powder or soap to clean them, as all of these can damage the fabric or impair the shoes' waterproofing capacity.
All the latest inspiration, tips and guides to help you plan your next Advnture!
Fiona Russell is a widely published adventure journalist and blogger, who is better known as Fiona Outdoors. She is based in Scotland and is an all-round outdoors enthusiast with favourite activities including trail running, mountain walking, mountain biking, road cycling, triathlon and skiing, both downhill and back country. Her target for 2021 is to finish the final nine summits in her first round of all 282 Munros, the Scottish mountains of more than 3,000ft high. Aside from being outdoors, Fiona's biggest aim is to inspire others to enjoy the great outdoors, especially through her writing. She is also rarely seen without a running skort! Find out more at Fiona Outdoors.